EV Fire Safety: Exploring Risks and Solutions [RR 869]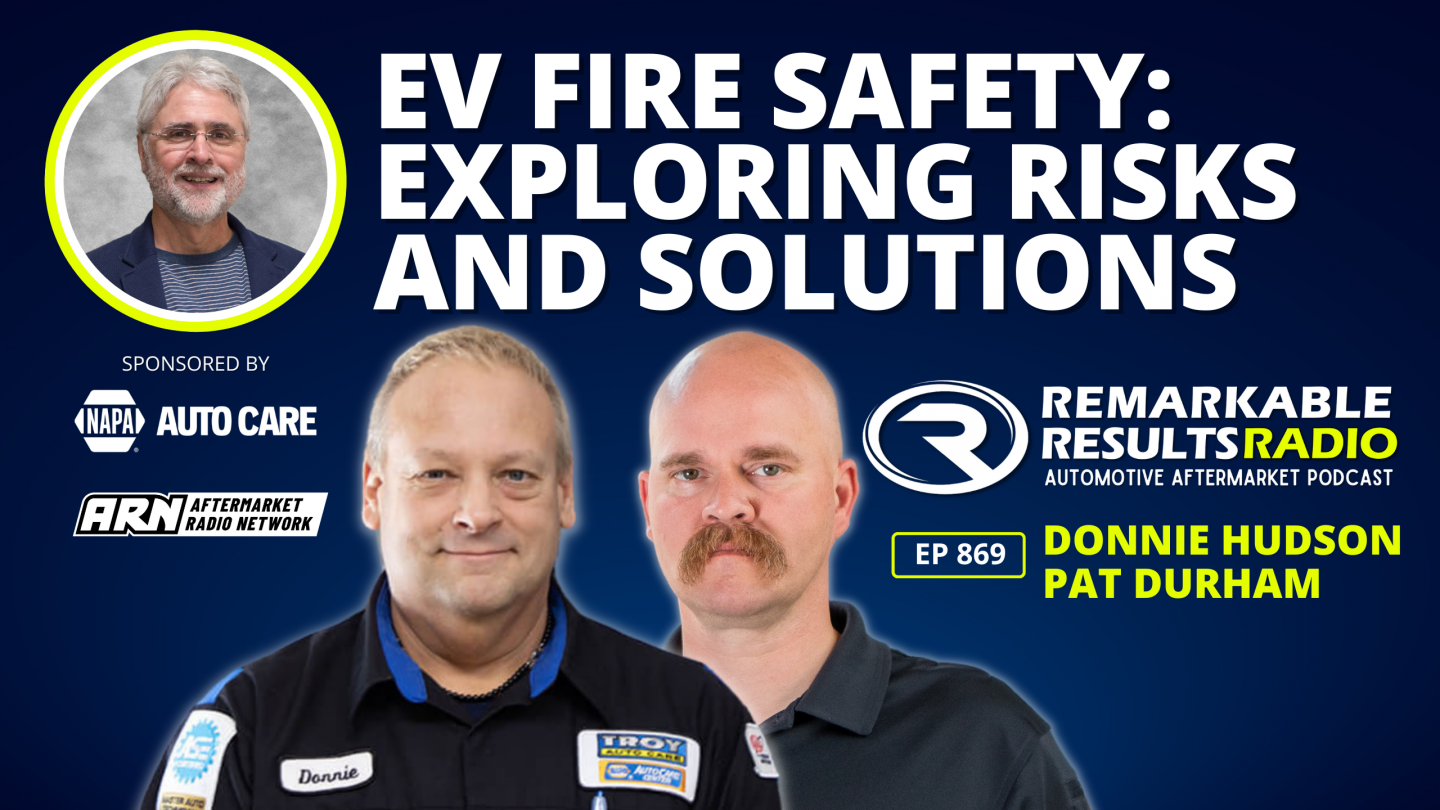 What are the hidden risks associated with Electric Vehicles (EVs)? Multi-shop owner and District Chief of the Troy Fire Department Donnie Hudson and mechanical engineer and Captain of the Troy Fire Department, Pat Durham, discuss the importance of awareness and proper training for EVs. EV fires can be complex and involve risks of corrosion and short circuits. Education and training are crucial for firefighters, first responders, and automotive professionals to ensure EV safety. Working on EVs can also have insurance implications, with potential surcharges. Despite the risks, being prepared and knowledgeable about EVs is critical when handling damaged vehicles.
Donnie Hudson, Troy Auto Care, Troy, MI. District Fire Chief, Troy Fire Department. Donnie's previous episodes HERE
Pat Durham, Captain, Troy Fire Department. StacheD Training.
Show Notes

The importance of proper towing for EVs (00:05:30) Why EVs should only be towed on a flatbed and the risks of towing them in other ways.
The potential dangers of EV fires and battery corrosion (00:02:43) Exploration of the risks associated with EV fires, including the potential for battery corrosion and subsequent fires.
The need for training and education on EVs (00:06:42) Discussion on the lack of training for firefighters, first responders, and technicians on EVs, and the importance of staying ahead of the growing popularity of EVs.
The surcharge for EVs (00:08:02) Discussion on the insurance surcharge for working on and storing EVs overnight.
The safety of EVs after a crash (00:08:44) The increased risk of fire and other catastrophic events in EVs after they have been in a crash.
Concerns about aftermarket batteries (00:10:31) The potential risks and dangers associated with aftermarket batteries in EVs.
The ineffectiveness of water in extinguishing EV fires (00:17:10) The misconception that water can put out EV fires.
The potential risks and limitations of using piercing nozzles (00:21:28)
The importance of immediate action after a crash (00:23:52)
Inspecting for road debris damage (00:25:38) The impact of road debris on EVs, including the need to inspect for visible damage and the measures taken by manufacturers to protect battery enclosures.
Inspecting EV components on a lift (00:27:52) The need for thorough inspections of EV components, such as the battery, wires, connections, and electric motors, and the importance of documenting any issues for customer safety.
Importance of understanding high voltage (00:32:25) The need for proper knowledge and safety precautions when working with high voltage in EVs.
Thanks to our Partner, NAPA AUTO CARE
Learn more about NAPA AUTO CARE and the benefits of being part of the NAPA family by visiting https://www.napaonline.com/en/auto-care
Connect with the Podcast:
-Join our Insider List: https://remarkableresults.biz/insider
-All books mentioned on our podcasts: https://remarkableresults.biz/books
-Our Classroom page for personal or team learning: https://remarkableresults.biz/classroom
-Buy Me a Coffee: https://www.buymeacoffee.com/carm
-The Aftermarket Radio Network: https://aftermarketradionetwork.com
-Special episode collections: https://remarkableresults.biz/collections