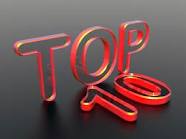 Do you have a list of your top customers? I'm sure you do. However it may be in the wrong place. I'll bet many of you have it filed in your head. A very safe place. You'll never lose it!
I suggest that list be written down, managed and known to your team. Your 'Top Ten List' may not be a Top 10 list at all. You may have a Top 20 list or 25 list. Your list may have an Agrouping of 10 and a B grouping of 10 and so on. It does not matter how you list or manage your top customers, but who knows who's on it is the key to this blog.
By exposing your list to your team they will have a sense of urgency when it comes to these customers. Your team will appreciate the value that these customers bring to your business. You don't want to be the only one who covets or appreciates the 'top gun' customers. So as the team knows who brings the most benefit to your company, there is combined effort from the group to keep and maintain their worth. I'm not condoning they are treated special compared to customers who are not on the list, but hey the business would take a big hit if for many reasons you would ever lose a top customer.
Don't take your list for granted. You may believe your people know who is important but don't take the risk that they think like you and value like you. It's always good to be on the same page when it comes to the revenue side of your business. This is not to say that a new customer deserves any less treatment, but the list puts focus on never ever losing a top tier client.
In your monthly meetings you can go over the list, move customers on it or off it or even engage the team to come up with their own Top 10 priority customers. An interesting exercise to see how well it meshes with yours. This gives them a sense and value to the customer and sets a tone on how important customer relationships and workmanship quality are to your business. And with the average visit to a shop being 1.4 times a year there is a lot of gap between visits that prompts the need to create a lasting quality impression. (All hands on deck)
There is nothing wrong with segmenting your customers. Your team will realize that their paychecks are lined with perfect customers. These are your toppers. The ones, that if you could clone them, life would be easier and richer. So take the David Letterman legacy and start top-tening!