THA 021: Getting Things Done: A Discussion on the Challenges of Time Management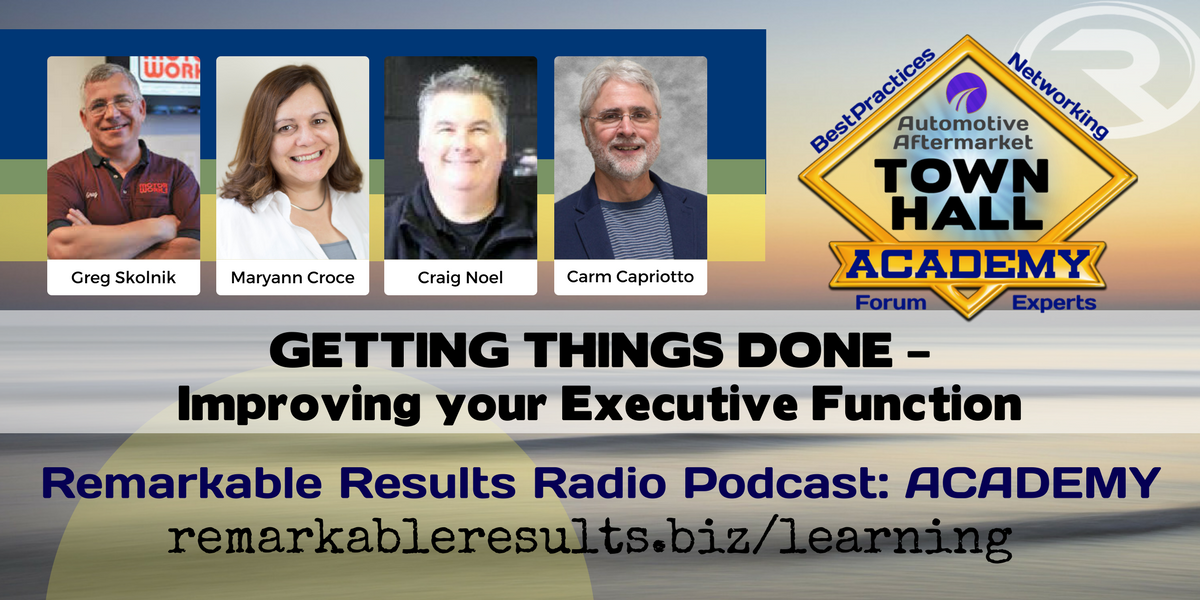 Learn from your industry peers in a round-table forum. Get new ideas, perspectives, trends, insights, best-practices and expertise from aftermarket professionals.
Watch like a DOCUMENTARY … Learn like a SEMINAR.
Helping automotive aftermarket professionals improve; one lesson at a time.
Academy Panel:
Greg Skolnik, Owner, Manager, and Master Technician, att Motor Works, Inc  in Rockville, MD.   He is certified as a Master Automobile Technician and holds the prestigious L-1 advanced engine performance and emission analysis certification. In November of 2004, Greg also received his (A.A.M.) degree from the Automotive Management Institute.  Hear Greg's episodes 46, 63 (the value of a business coach) and 69 (e-Myth)  and the Academy on Improving Customer Loyalty.
Craig Noel, Owner of 3 location Sun Automotive Springfield, OR .  Craig graduated from Lane Community College in 1987 with a Bachelor of Science in Automotive Repair and quickly went to work.  He worked for Ford as a Senior Master Technician and then working my way up through the ranks as Team Lead, Service Advisor, Assistant Service Manager.
He has also built ground up Street Rods/Show Cars for over 30 years as a hobby.  He was "head hunted" by the original owner of Sun Automotive in 2011 and became GM at that time. As of January 1st 2017,  he is the proud owner of Sun Automotive.  Craig was also on the Academy discussion on 250K Maintenance Program.
Maryann Croce of Croce Transmissions in Norwalk, CT and a former banker. Along with her husband Tony they own the shop they purchased 17 years ago. Their 4 bays, 4 techs and one service advisor shop is successful because as husband and wife Maryanne and Tony work at their roles and have abundant trust in each other. Maryanne is also a member of Women in Auto Care. Previous episodes 023 and Academy: Expense Control
Talking points:
Be aware of why we are doing things.
When creating you must have the foresight to the outcome.
"Your goals are in concrete but you get there in sand." Craig Noel
Wins build momentum.
You've got to decide what our responsibilities are to ourselves, our families, our business our communities.
Only character walks back from the graveyard. Craig Noel
Let your people do what they are supposed to do. Let them make mistakes and learn from their mistakes.
Awareness of your role. A shop owner has specific job descriptions. (From Bob Cooper episode 236)

Set short and long-term goals for the company
Create the plan to reach those goals
Find the right people
Make sure everyone in the organization is at their full potential
Assure long term viability. Fiscally sound. Stay out of the weeds.

Must work in the business and not on the business. (E-Myth)
Owners do not have a boss. You must schedule your time to make the most of it.
Have a theme day, create a chunk of time to get things done. Know your role and have accountability. Maryann Croce
We must develop ourselves and learn time management. We all have 24 hours in a day.
Time wasters:

Being on Facebook never ends. It can be a big time-waster; however, it is an emotional connection to people.
Technician coming to you to help solve a problem. Lean on you to help solve a problem.
Visual distractions.
Work to limit your distractions.

How to get more things done.

Close door.
Noise canceling headphones.
Clear your desk.
How efficient can you be? Make it a contest.
Define your time-wasting problems and how can you solve them?
Schedule Facebook time. Do it when you are on the treadmill!
Make a list of what you do every day for a week. Categorize them.

What can be delegated?
What is your value to the business?
You need to work on the higher-level tasks that you are most qualified to do.

Hiring great people and delegating to them gives you time back in your schedule.

The accountability factor and follow up. Owners have no boss.
We are time shifting too much that brakes our attention
Create a "roles and goals" sheet for all areas of your life. (Greg Skolnik)

If you try to do too many things you don't do any of them well.
Get time management classes on Lynda.com
Write down everything you must get done. Then review the list with a 'should do' mentality instead of a 'have to'. Delegate the 'should do' tasks.
When is enough, enough and to become a strong delegator?
Show people exactly what you want instead of telling them.
Be socially involved and in touch with the show:
Facebook   Twitter   Linked In   Email