THA 023: Social Media – How To Strategies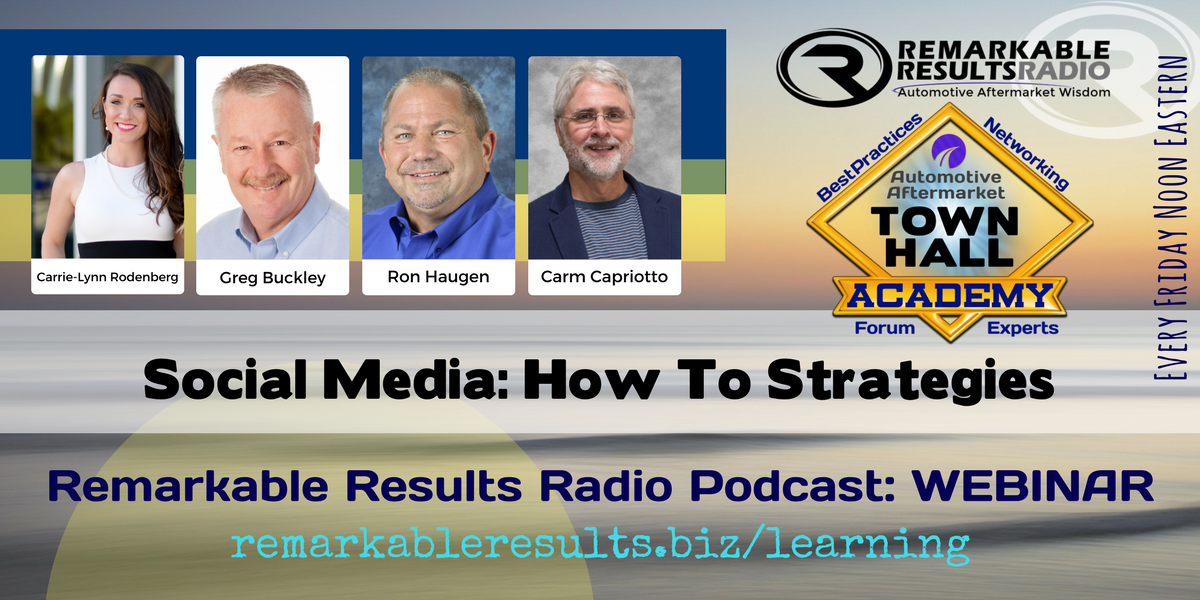 >
Learn from your industry peers in a round-table forum. Get new ideas, perspectives, trends, insights, best-practices and expertise from aftermarket professionals.
Watch like a DOCUMENTARY … Learn like a SEMINAR.
Helping automotive aftermarket professionals improve; one lesson at a time.
Academy Panel:
Carrie-Lynn Rodenberg, is owner of Turnkey Marketing that exists to help shops effectively communicate to your community, customers, and potential customers the good work you do. Your repair shop can be known as the trusted, "go-to" shop in your area. Their work provides cutting edge marketing that actually works and increases car count. You can hear Carrie-Lynn in episode 214
Greg Buckley is the CEO of the 50 + year young Buckley Personalized Auto Care in Wilmington, DE. He's a member of ASA, an ATI Coach, a member of the Delaware Automotive Service Professionals, past member of the NAPA advisory board council, is vice-president of NAPA business development group, and is involved as an advisory board member of Kukui, along with AutoVitals. Hear Greg's previous episodes HERE. (We covered Social Media in 54 & 155)
Ron Haugen owns Westside Auto Pros in Des Moines, Iowa. Ron is an ASE Master Technician, has his AAM certification and is an AMI Certified instructor. Ron is Co-Chair of Vision, Hi-Tech Training and Expo,  President of the Des Moines ASA chapter. You can hear Ron is episode 107, 204 and on Academy 003, 004, 014.
Talking Points:
Facebook is becoming more search.
You need to be active in social media and have a strategy.
Look at Facebook like King/Queen at Homecoming (Ron Haugen)

Facebook is just like that. The most popular in the school is what creams to the top.

You do not want canned content.
"Back in the day the full service gas islands were the social media of the day." Greg Buckley
Greg Buckley practices the five "E's": Educate, Engage, Entertain, Entice and Elevate.
You want engagement. You need a personality so people can relate to you.
Best time for a business to be in front of your client base: every day.
You need to be involved even if you use a company to support your social media efforts.

It must be personalized and only you can provide the story and picture.
Someone in the shop who can take one picture a day to send a picture to the person who may be managing your social efforts.

Involve your team to find photos and stories for content.
It needs to become culture in your business to find the photo and story so your social world can be engaged.
Use Social Media to bond with your customer.
You can post 5 engagements for the week in less than an hour on a Monday morning.
Facebook is the most intelligent marketing platforms; ever.
Don't be afraid to buy a Facebook 'Like' (Ron Haugen)

Run a 'Facebook Like Campaign'. Pay a community group X amount of dollars per like in short amount of time.

Facebook Ads are a replacement for direct mail.

It is a very powerful tool because you can get into finite detail in selecting who sees your ad. Facebook knows a lot about your customer.

You want to be known before a prospect comes in the door. Use your Social Media strategy to accomplish that .
Facebook Ads is an untapped resource.
What about Twitter, Instagram and Google Plus?
Website may become obsolete in the future as Google and Facebook ramp up their strategy to keep the user on their site.
Google Plus is coming back
#1 goal is to build out with social and grow it.
Be socially involved and in touch with the show:
Facebook   Twitter   Linked In   Email
---
This episode is brought to you by Jasper Engines & Transmissions. When a car's engine or transmission fails, it's

not the end of the road. A remanufactured drivetrain product from Jasper Engines & Transmissions will give your car a new lease on life. JASPER has over 2000 Associates, three manufacturing facilities, two distribution centers and 45 branch offices across the country. They're all working to produce, transport and deliver the perfect product. That's what they do best… keep customers happy. Visit jasperengines.com