THA 031: Twelve Tips on Holding GREAT Team Meetings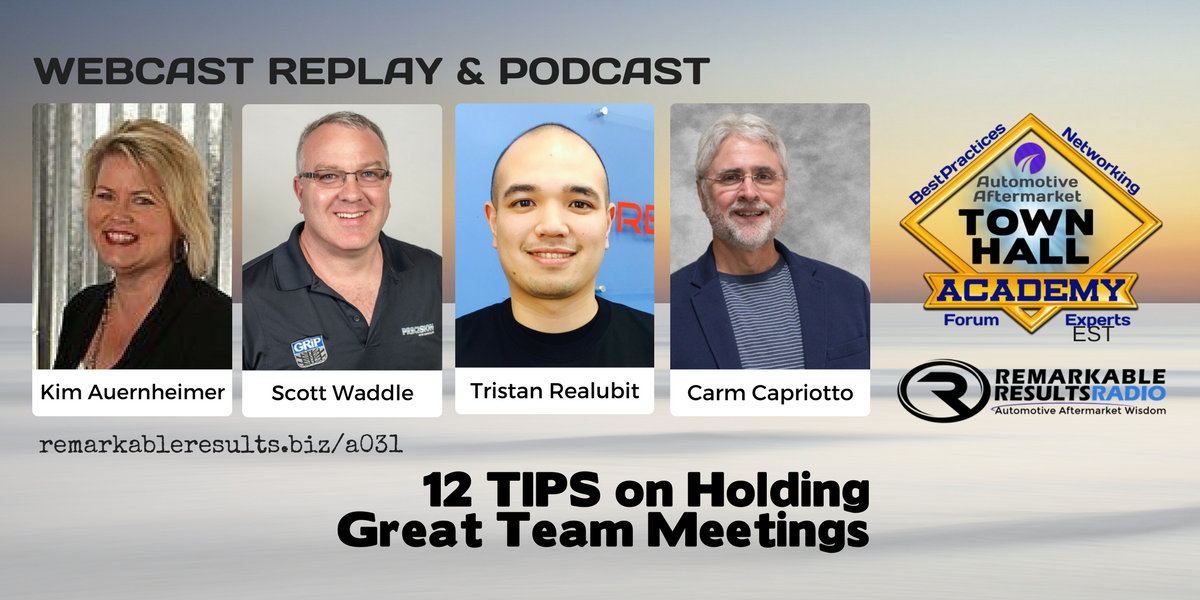 Learn from your industry peers in a round-table forum. Get new ideas, perspectives, trends, insights, best-practices and expertise from aftermarket professionals.
Watch like a DOCUMENTARY … Learn like a SEMINAR.
Helping automotive aftermarket professionals improve; one lesson at a time.
Academy Panel:
Kim Auernheimer is the Co-Owner of CS Automotive in Brentwood, Tennessee.  CS Automotive started in a back warehouse in 2006 now they call a 6,400 square foot, 10-bay shop home.  Prior to joining her husband Rob in the business, Kim had a career in Real Estate and Commercial Property Management. In July of 2011, she stepped out from the background and joined her husband in the venture of creating an industry-leading, stand out shop on a full-time basis. Listen to Kim in Episode 113.
Tristan Realubit is the owner of Real Autohaus Automotive in Westmont. Il. He is ASE L1, C1, X1, Master Certified Technician and an AMI AAM graduate. He got his start helping his father service cars in a mobile setting. He got his AAS in automotive technology from a local college. Tristan started his business at 19 years old and never looked back. Listen to Tristan in Episode 179 and 200
Scott Waddle opened Precision Auto Service in Langley, British Columbia in 1997 and it wasn't long until he realized that running a business, was nothing like fixing cars. He started taking business management courses at a regular pace and the rest is history. Their tag line is: "Where we worry about your car, so you don't have to!®"   They believe it is their responsibility to keep their clients safe and reliable on the road. Scott is building a brand-new facility and has been on the podcast in Episode 141.
Talking Points:
Meetings must have a purpose.
Communications is the driving foundation of what meetings are about.
Your team must know how important their presence is in a meeting.
Have a written agenda. Invest time to create quality purposeful content.

Agenda items can be procedural, safety, equipment maintenance, customer feedback both good and bad and then open discussion.
Be sure there are assignments to a task and a due date and the follow-through is done. Be sure the expectation is clearly defined.
Go over 'old news'. (notes from the previous meeting)
Let the staff contribute before and during the meeting to agenda items.

To innovate you need to stick stuff up on the wall.
If daily meeting:

A huddle to discuss what is coming in for the day. Quick to get everyone's mindset focused. This meeting can be delegated to the service advisor and tech.

If weekly meeting:

Management meeting:

Talk numbers for week prior and goals of the upcoming week.
Margins to understand where we stand because of larger jobs that can reduce the margin %
Tech productivity
Get your issues and frustrations out.

If monthly meeting:

Discuss, analyze, brainstorm and decide upon critical issues affecting long-term success

If Quarterly meeting:

Off-site Review. Review strategy, competitive landscape, industry trends, key personnel, team development/

Share the wealth. Don't hog the meeting.

Consider leader only talks 30% of the time. Do this by asking questions.
Expect your people to contribute.
Remember everyone is different.

Steer the meeting and develop your people
The Academy panelists businesses would not be as successful if they were not having meetings.
Time of day can vary while considering your peoples personal time is important.
Scott Waddle learned that the leader of the meeting should east first.

It is tough to eat at the same time as the meeting. Then there is wasted time.
Either eat before or after the meeting if a meal is served.

Kim uses an answering service to pick up the calls when her business is having a meeting.

The service will email the staff on the importance of any phone call they have.

Scott likes a casual meeting format and agenda
Kim has a strong format and meeting agenda.
Kim uses Google Keep to share ideas for agenda topics with her team.
Discussing customer reviews and your companies culture is very important in a team meeting.

Read the reviews verbatim and spend time on the negative ones. Use them as learning opportunities

A good meeting must include praises of a job well done.
Kim talks about "Let out the Dirty Mop Water Time". Her people feel free and safe to discuss tough subjects

Tristan believes that some people who would vent their feelings may not know how to do it best.
Scott's meetings started because one of his key people had no place to vent. His meetings have no negative vibe, they are always professional.
Never take it personal unless its personal

Tristan be sure your people know the meeting is for them.
Kim: By creating the culture that we want to hear from everyone, that we are transparent about our success and we are building trust in the organization; meetings help deliver on these factors in growing a great business.
Be socially involved and in touch with the show:
Facebook   Twitter   Linked In   Email
This episode is brought to you by Jasper Engines & Transmissions. When a car's engine or transmission fails, it's

not the end of the road. A remanufactured drivetrain product from Jasper Engines & Transmissions will give your car a new lease on life. JASPER has over 2000 Associates, three manufacturing facilities, two distribution centers and 45 branch offices across the country. They're all working to produce, transport and deliver the perfect product. That's what they do best… keep customers happy. Visit jasperengines.com