THA 057: Your Profit & Loss Statement. Learn it. Love it.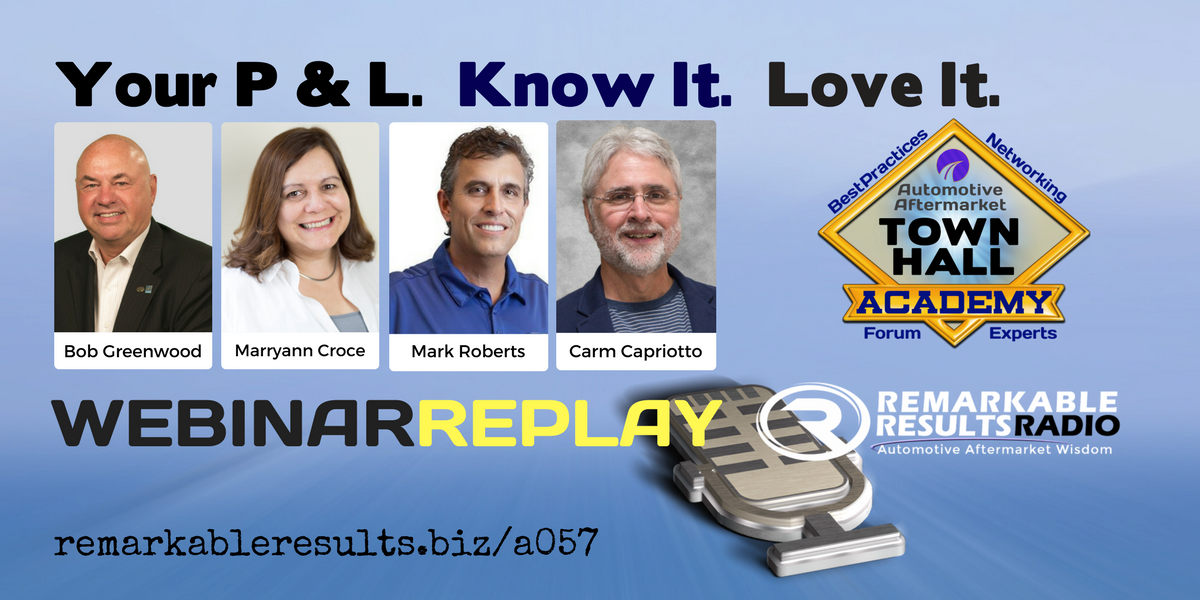 Your Learning Curve Never Sounded So Good!
Helping automotive aftermarket professionals improve; one lesson at a time.
Learn from your industry peers in a round-table forum. Get new ideas, perspectives, trends, insights, best-practices and expertise from aftermarket professionals.
The Academy Panel:
Maryann Croce of Croce Transmissions in Norwalk, CT was opened in 1999. Maryann was a banker turned business owner. Tony was technician turned shop owner.  A big transition on their parts and that extensive wisdom makes Maryann the perfect guest on the Academy series.
Their 4 bays, 4 techs, and one service advisor shop is successful because as husband and wife Maryanne and Tony work at their roles and have abundant trust in each other.
Maryann is also a member of Women in Auto Care and owns smallbizvantage.com. Hear Maryann in her previous episodes HERE.
Bob Greenwood, AMAM, is President and CEO of Automotive Aftermarket E-Learning Centre Ltd has over 40 years' experience working with Independent shops developing their business to maximize business net income.
Bob writes management articles for ASA's magazine Auto Inc as well has developed live business management classes for ASA. He writes monthly management articles for Motor Age magazine in the USA and writes semi-monthly shop management articles for CARS Magazine. Bob's previous episodes are HERE.
Mark Roberts is the owner of Schertz Auto Service in Schertz, TX. Mark is also the former owner of Auto Collision Works. Mark has been involved in the Automotive Industry for over 30 years and has served various positions within the auto repair industry. Mark came to the Collision Repair Industry from the computer mainframe industry and started out as a technician performing collision repairs on autos and trucks.  During these early years, he began attending Inter-Industry Conference's on Auto Collision Repair (I-CAR) classes in the evening to further his knowledge and skills.  Given his extensive electronics experience in the computer industry, he began teaching automotive electronics through I-CAR to other technicians in the industry.  During this time he discovered a need for specialists that had a better understanding of electronics related to the collision repair industry. Listen to Mark's previous episodes HERE.
---
Talking Points:
The Profit and Lost Statement is made up of Sales, Cost of Goods and Expenses. At the bottom is your Net Income.
The report is easy to navigate once you understand it and appreciate the information it contains and what you can do with the report.
Your emotions will try to override the numbers. But the numbers tell the real story.
Besides your P & L the Cash Flow Statement is as important. (Where does the money go)

Learn and understand the importance of cash flow.

If you have a good accounting system and you, for example, use Quick Books, you don't need to wait for your accountant to produce and send you a P & L. You can complete your month and print the report.
A comparative P & L report with budgeting and comparing to previous year is invaluable.
Bob Greenwood believes that productivity, your billed hours, is most important.

Are your billed hours improving?

Accounts Receivable should never exceed 20% of your average monthly sales.

Typically, the only charge account should be a fleet or government client.
If you hold a lot of charge accounts your cash is tied up in it.

Take advantage of your supplier's 2% cash discount when you pay on-time. That number goes directly to your bottom line.
Keep a clean P & L. Pure. Accurate. Healthy. On-Time and Clean.
A profitable. Strong Bottom line company can earn a great multiple from a potential buyer. The word multiple is the goodwill someone is willing to pay as a factor (multiple) of your net profit.
Your emotions will not get your business sold. It is always about the numbers.
Your role in the business also impacts your ability to sell the business. If you are the business you may not get what you expect, because you will leave and could impact the top line of the company.
When Bob Greenwood looks at a shops P & L he starts at the bottom (net income/loss) first and work his way up through the expenses and then Cost of Good (Margin) and finally sales. He also reviews the Balance Sheet.
On the Balance Sheet he wants to see the Net Worth of the business.

The Net Worth is your total net profit you made after tax and dividends for the entire life of your company. He will look at the growth rate of net worth.

Mark Roberts looks at his P & L weekly. If it is strong he knows the business is running strong.

It is your responsibility to manage the numbers.

Great Idea from Bob Greenwood. Save the mail for the week. Have your team open up the mail and look at the expenses that must be paid. An eyeopener for your team.
Raises comes from net profit. We invest for growth.
Don't get discouraged get encouraged, learn what you need. Easier than ever to learn. Ask another shop owner.
---
This episode is brought to you by Jasper Engines & Transmissions. When a car's engine or transmission fails, it's

not the end of the road. A remanufactured drivetrain product from Jasper Engines & Transmissions will give your car a new lease on life. JASPER has over 2000 Associates, three manufacturing facilities, two distribution centers and 45 branch offices across the country. They're all working to produce, transport and deliver the perfect product. That's what they do best… keep customers happy. Visit jasperengines.com