THA 085: 21 Tips to Gain an Edge over the Competition – Part 3!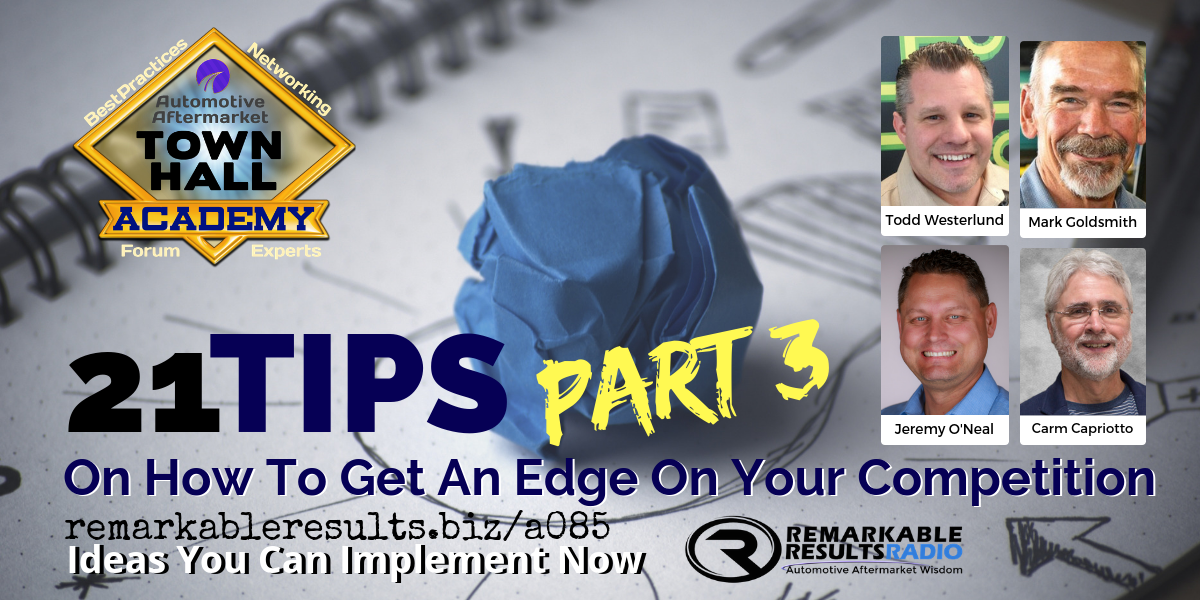 Your Learning Curve Never Sounded So Good
Helping automotive aftermarket professionals improve; one lesson at a time.
Learn from your industry peers in a round-table forum. Get new ideas, perspectives, trends, insights, best practices and expertise from aftermarket professionals.
The Academy: A Summit For the Forever Student!
Also, Click the links for PART ONE and PART TWO!
The Academy Panel:
Todd Westerlund, CEO of Kukui has been in the automotive industry for 28 years. Todd spent 15 years as an ASE Certified California Smog Technician and two years at a dealership. In 2013, Todd joined Kukui, a marketing software company with a mission to improve technology for the betterment of people and businesses worldwide.
As the CEO of Kukui, Todd is consistently studying, attending business classes and consulting with shops all over the United States. Some of his duties include: keeping industry leaders informed about new technology, setting Kukui's growth strategy including event planning, and planning industry sponsorships and partnerships.  Previous episodes HERE.
Mark Goldsmith found his passion for cars in 1971 when his first job was at an independent shop. He took all of the ASE required tests and earned his Master Technician Certification.
In 1988 Mark opened Mark's Independent Service in Chatsworth, CA. Mark's Independent Service works exclusively on Volvo, Lexus, and Toyota vehicles. Mark and his team have always focused on fair values that put the customer first. He's worked hard to create the type of auto repair company that has built trust with his customers and like to be known as a dealership alternative!  He is an ASCCA member and he loves it when his customers say his shop is better than the dealer. Previous episodes HERE.
Jeremy O'Neal  President and lead sales trainer for Advisorfix, began his career as a Service Advisor and moved into Service Management at the dealership level for VW, Audi, and Porsche. He consistently placed in the top 3% of Service Advisors across the nation.
With a passion for helping others, Jeremy started coaching Service Advisors in 2007. Jeremy also owns an independent auto repair shop. Previous episodes HERE.
Key Talking Points:
Make techs a real referral source. – Technicians can really bring in a lot of referrals but they aren't motivated enough. Do a friendly competition with an extra week off, a fully paid Cancun trip right now is $589.00   (TW)

Walk around marketing. Have your business cards with you (JO)

The fortune is in the follow-up!  (JO)

If you promise, you must call.

Paperless invoices and estimates. (MG)

Consumers are driving this. They are demanding a different sales process.`

Develop the best auto repair technical team you can….in the shortest amount of time. As a shop owner, the largest ROI you can gain right now is developing your technical team. Be the shop that can diagnose and fix the car right the first time.  (JO)

Comeback rate cannot exceed X%. A threshold

Increase your labor rate – Set the stage for everyone that you are the best and should be compensated accordingly. (JO)

Know that your labor rate is covering your costs and allowing you to earn the correct dollars to cover all costs associated or margins you need to make.

Holiday referrals programs are great – give away Turkeys and Christmas Trees.(TW)

A gift drawing basket for the holidays. We did one for Easter where guests picked Easter eggs that had candy and A prize inside like a free oil service, wiper blades,  tire rotations, and air filters. (MG)

Utilize the words "Hassle-Free" in your warranty (JO)

Use trigger words, but be sure you back it up. Put the customer first and the dollars will follow.

Mark uses what he calls an 'Accountability Cards' they're similar to the courtesy door hangers you see in hotels when you first get into your room to tell you that everything has been checked for quality.  (MG)  

DOWNLOAD Picture of the Card

Fire the person you know should be fired.  (JO)

Don't hold on to someone you know is not right for your team.

Open a spot to find the next perfect team member.

Watch the local pet shelter and randomly post a pet that needs a home. This will keep folks engaged on facebook (TW)

Run a competition on facebook and have your customers post their pets. (TW)

Fresh flowers weekly on the front counter.  (MG)

Women are making up the majority of Marks customers.

Selfie, Selfie, Selfie – Get involved in your social posts and include all staff members with customers and focus on the market you want to dominate.  (JO)

Get rid of your canned post and find all the real world situations that is going on around you.

Meet & Greets. Invite potential guests to the shop (no appointment needed) to meet the guys, see the shop (tour), before they book an appointment for their car. (MG)

Give the customer what they want without having to pick up the phone.  (book now appointment, Chat with us, Text us, and pricing info online) (JO)

Interactive countertop displays that show how timing belts, transmissions, and brakes work. (MG)

Post one type of sports scores on facebook. baseball, Hockey, football. Keep it simple. Just the final score. Make yourself a resource. (TW)

Partnerships will be the key to future business. Strategic partnerships that will drive large volumes of business ie: RepairPal Certified Connecting with CarMax, Other strategic partnerships through your vendors. (JO)

Partner with 4 shops that are 9 miles to 15 miles apart. Pull your marketing dollars, do large events together. (TW)

Join a networking group like BNI and post on facebook about networking like Dave Toole. (TW)  (BNI is the world's largest referral network)
BONUS
Host 'How to' classes or car care clinics at your shop on Saturdays. (MG)  Women's Clinics and Middle School Automotive STEM Classes (CC)

Nice employee jackets with your company logos on them. Not the cheap ones either (MG)

Rewatch all 3 parts of this show. That's 63 tips. Make 2019 your best year ever. (TW)
Todd Westerlund's Challenge:
The first entry into Carm with 60 of the 68 tips discussed in the three parts, documented and authorized by Todd will win the $1,000 challenge.  You will need to document via pictures or screenshots 60 of the tips. List the tip and show it implemented. Send an email of your completed challenge to Carm, HERE.  You may have many of the tips already completed and you'll just need to document them.
Resources:
Mark Goldsmith Accountability Card/Mirror Tag HERE.
Email Carm Capriotto with your challenge results HERE.
Books Page.     Leaders Are Readers
Link to 21 Tips Part One HERE.
Link to 21 Tips Part Two HERE.
Facebook   Twitter    Linked In    Email
---
This episode is brought to you by Jasper Engines & Transmissions. When a car's engine or transmission fails, it's

not the end of the road. A remanufactured drivetrain product from Jasper Engines & Transmissions will give your car a new lease on life. JASPER has over 2000 Associates, three manufacturing facilities, two distribution centers, and 45 branch offices across the country. They're all working to produce, transport and deliver the perfect product. That's what they do best… keep customers happy. Visit jasperengines.com