THA 087: Automotive Career's Starts in High School and in the Home!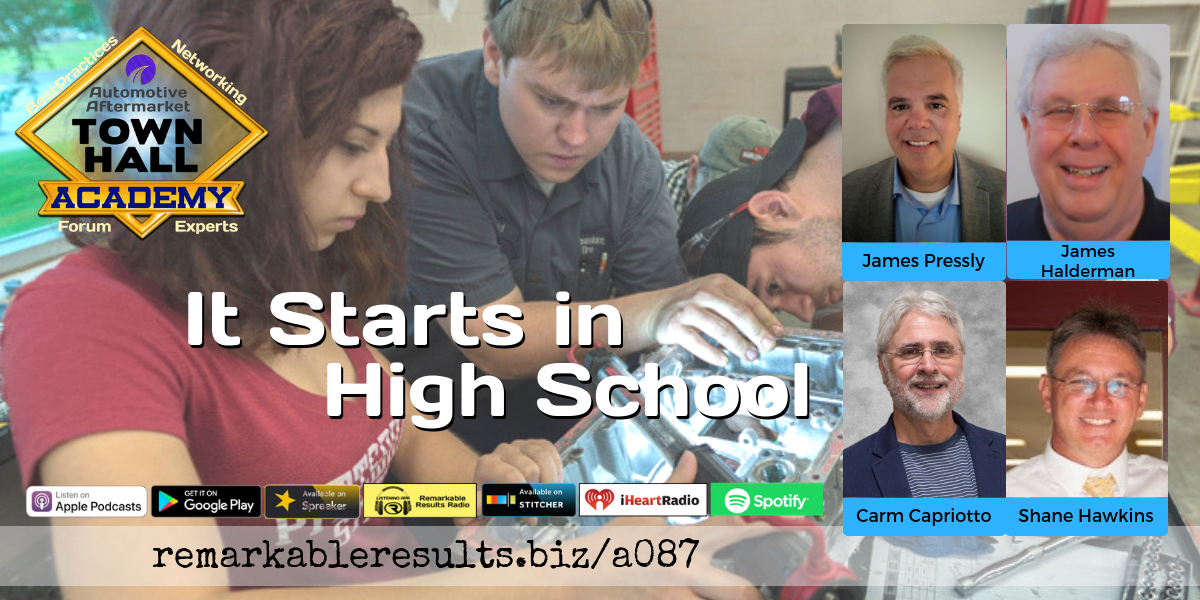 Your Learning Curve Never Sounded So Good
James Pressly, Trade and Industrial Specialist, Career and Technical Education, North Carolina Department of Public Instruction, Raleigh, NC
Jim Halderman brings a world of experience, knowledge, and talent to his work. His automotive service experience includes working as a flat-rate technician, a business owner, and a professor of Automotive Technology. He has a Bachelor of Science Degree from Ohio Northern University and a Master's Degree from Miami University in Oxford, Ohio. Jim also holds a U.S. Patent for an electronic transmission control device. He is an ASE certified Master Automotive Technician (A1-A9) plus G1, L1 and L3.
Jim is the author of 18 Automotive textbooks all published by Pearson. Jim has presented numerous technical seminars to national audiences including the California Automotive Teachers (CAT) and the Illinois College Automotive Instructor Association (ICAIA). He is also a member and presenter at the North American Council of Automotive Teachers (NACAT).
Jim was also named Regional Teacher of the Year by General Motors Corporation and a member of the advisory board for Technological Studies department at Ohio Northern University. Jim and his wife, Michelle, live in Dayton, Ohio.
Shane Hawkins is the Automotive Technology instructor at East Gaston High School and adjunct instructor for Gaston College.
Prior to teaching, he worked as an automotive technician at the local Chevrolet dealership for nine years before opening an independent shop. The desire to help others learn about a career in the automotive field and recognizing the difficulty in finding qualified technicians is what inspired him to become an automotive teacher.
Qualifications include an Associate degree in Automotive Technologies, ASE G1 certification, ASE Master Certified Technician, ASE L1 certified, Bachelor degree in Occupational Education, and NC professional teaching license.
Impromptu guest Kyle Holt from S/P2. Listen to Kyle's previous episodes HERE.
Key Talking Points:
Please stop talking about the need for quality automotive training and

get involved.

It will be our fault for the lack of young people joining our industry.

The schools are there for industry. Superintendents and presidents need to hear from industry.

You must get involved with the advisory committee.

A good advisory board will make a huge difference in the quality of instruction, investment from the school and placement of students.

We have so many jobs in the industry so automotive curriculum course can take the student anywhere.

Speak at high school career days and help encourage high school students to enter automotive technology in post-secondary (college)

Interest in the automotive starts in the home.

We, the industry, must support the counselors. Invite them to your shop. Explain that the technician of the very near future is all about having quality computer skills.

If you like cars and computers a career in the automotive is for you.

We must develop relationships with education so we can win the share of mind war with education and get the students that have this attitude and like working with their hands and minds

Text or write to the instructors and your department chair.

Get a group of independent shop owners together and sit with a department chair, school principal or superintendent.

Field trips to independent shops.

Bring a student to your shop to job shadow.

Get involved with the instructors in high school and college.

Build a mentoring program in your shop. Not easy to do. Many good programs exist to copy from.

Education continues it doesn't stop in school.  
---
Resources:
Books Page HERE
Leave me an honest review on iTunes. Your ratings and reviews really help and I read each one of them.
A special thanks to James Halderman, James Pressly, and Shane Hawkins and impromptu guest Kyle Holt.

Facebook   Twitter    Linked In    Email
---
This episode is brought to you by Jasper Engines & Transmissions. When a car's engine or transmission fails, it's

not the end of the road. A remanufactured drivetrain product from Jasper Engines & Transmissions will give your car a new lease on life. JASPER has over 2000 Associates, three manufacturing facilities, two distribution centers, and 45 branch offices across the country. They're all working to produce, transport and deliver the perfect product. That's what they do best… keep customers happy. Visit jasperengines.com