THA 096: Engaging Kids in the Automotive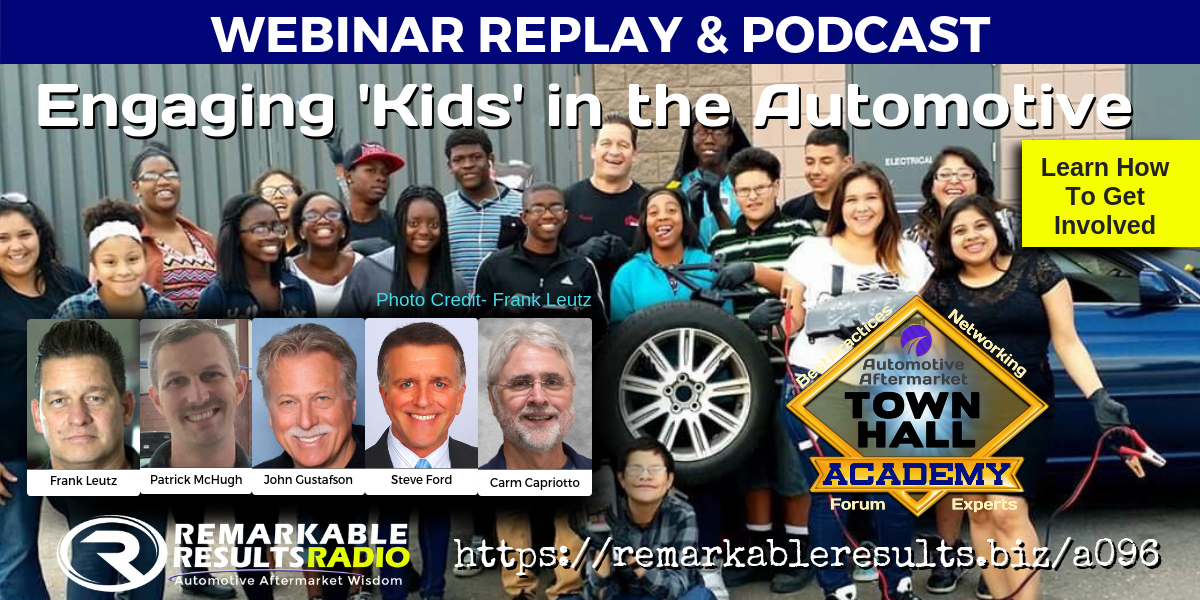 Your Learning Curve Never Sounded So Good
The Panel:
Frank Luetz from Desert Car Care in Chandler, AZ.  Frank has a weekly radio 'call in show' called 'Wrench Nation'. . Frank also does a video feature called 'Inside the Garage' where he discusses vehicle failures and cures. Listen to Frank's previous episodes HERE.
Patrick McHugh always tinkered with 'stuff.' His dad bought an '85 BMW when he was 14 when he noticed Patrick was running out of things to tinker with. A friend, Eric, had a lift and was a BMW person who helped Patrick and his dad learn everything about the car. Listen to Patrick's previous episodes HERE.
John Gustafson is the president and CEO of Gustafson Brothers, Inc. an auto service center in Huntington Beach, California. The company specializes in customer service and performs auto service work, collision repair, and paintwork along with other auto-related services for the community. Listen to John's previous episodes HERE.
Steve Ford – The Car Guy®, is a California-based lifetime car enthusiast and 35-year auto industry veteran n ongoing professional work as an award-winning broadcast journalist and educator today, he is a certified ASE Automotive Technician/Trainer. In volunteer work, he contributes to skilled trades and youth, careers outreach programs as an automotive technology instructor and career planning/motivational speaker to schools and at-risk youth programs. Listen to Steve's previous episodes HERE.
Key Talking Points
ASCCA, Automotive Service Councils of California, has a power point presentation for download that you can use today for your next speech at career days or at any community event. We must become advocates and ambassadors for the automotive industry. Download the powerpoint HERE.

You must volunteer to speak at rotary, chambers, schools, PTA's, career days all need speakers. Don't wait for an invite, invite yourself.

Every automotive radio show must involve our youth.

We are heading fast in the opposite direction as automotive school programs are being disbanded. We must step up.

Kids yearn to be a part of a tribe.
Frank Leutz
Meeting youngsters where they are at —the importance of taking educational clinics to their "sandbox".

Start your engines –why it is critical to go from show and tell to real-world active repair scenarios follow up in the garage.

How to DISENGAGE interest immediately–why the "ME" economy needs to be realized when engaging younger generations.

We need to mentor.

We are stretched for time so let's help each other. We all can chime in LIVE at classes. Be a guest presenter through technology. Help your local instructors without leaving your business.

Use technology and your smartphone or desktop to link up with the class and or students to do a Facebook Live

Get kids involved with data streams and identifying that cars have controlled area networks. Fluids are important but data and computers are exciting. The kids want to see technology, that is exciting to them.

Peer to peer sells. The language of their peer group helps engage. If one gets involved in automotive they have the power to influence a peer. We must start to engage our youth or we'll never seed our future.
John Gustafson
Student 'Boot Camp' called "Intro To Auto"

Students from 13 to 18 years old.

The schools in his market are not teaching auto which was the drive for John to start this program.

Course outline starts with concept, engineering, manufacturing, distribution, sales, financing, Insurance, Service and Repair, collision repair and recycle.

Engagement with 13 years through 18-year-olds.

We hold them winter, spring, and summer during school breaks.

Discuss career paths used to attract youth to our profession.

Lifting local visibility of dignity of the "can-do" skilled trades world.

John started this because in his community high schools do not teach automotive.

Email to John Gustafson:
Patrick McHugh: STEM Classes
His "Why"

Growing up as a tinkerer

From broken blenders to weed eaters, to lawn mowers, to tractors, to cars, to Cessnas, to Jets and Back to cars

Girls are a solution to the tech shortage, focus on them, show them that they can do it if they are hard working and use their head.

He has to do this because he is driven to help our youth appreciate the STEM (Science, Technology, Engineering, Math) side of the automotive.

The nuts and bolts of running a STEM class

Target age of 14 (+- 4 years) because that's the age that he needed it.

Separate boys and girls into separate classes.

My "lazy" way of dealing with the hardest part… marketing the class, find advocates to help you recruit.

David beats Goliath as long as he has enough leverage and brains!  Brains over brawn, you don't have to be strong!

Safety is #1, the point of the class is to give the kids 1 or 2 skills and to reveal a career path.

The incredibly thoughtful questions kids ask…  The heat shield, the radiator, cooling fins, energy transfer, the fuse blows to protect the wires!

Parents are required to come and be in the back of the class.

Speaking to kids and parents at the same time…  The parents are listening when you talk.

Download Patricks' STEM outline

HERE

.

The benefits to your shop

A chance to share your culture and get the best referrals

The STEM class has opened up opportunities that he never imagined through the parents. He discovered a politician who loved the class and he offered his voice to her for the automotive. He also found a realtor to help him find his first building.  

These classes make me feel good!  How many kids have I helped?
Steve Ford
Be entrepreneurs for education

Volunteer and engage with a local car museum.

Tap into challenge and leverage opportunity of American societal concerns to address "loss of the nation's hands-on celebration & culture"

Leverage and influence under-utilized capabilities of current and future auto enthusiast networks for "contagious collaboration" — engage car shows, cars & coffee events [all those "hoods up" just to 'look at(?)]; address the "why" behind the "how" of American car culture for youth and teens;  those who wouldn't otherwise be "aware/exposed" to tools, techniques and careers.

(Examples – local car museums, after-school programs [existing community centers (Boys & Girls Clubs, community non-profit youth centers, or we "start" them ourselves where space can be allowed, such as YMCAs, PTAs (Parent Teacher Associations)], and help local communities reach at-risk teens and youth, who are often those who are turned off or dropping out of school w/out hands-on connections.
Resources:
A special thanks to, Frank Leutz, Patrick McHugh, John Gustafson and Steve Ford for their contribution to the aftermarket.
Books Page HERE
Leave me an honest review on iTunes. Your ratings and reviews really help and I read each one of them.
Facebook Twitter Linked In Email
---
This episode is brought to you by Jasper Engines & Transmissions. When a car's engine or transmission fails, it's

not the end of the road. A remanufactured drivetrain product from Jasper Engines & Transmissions will give your car a new lease on life. JASPER has over 2000 Associates, three manufacturing facilities, two distribution centers, and 45 branch offices across the country. They're all working to produce, transport and deliver the perfect product. That's what they do best… keep customers happy. Visit jasperengines.com
---
RepairPal. Many of our industry's high-quality shops have gone through an evaluation with an independent automotive team to ensure their techs are trained, they use the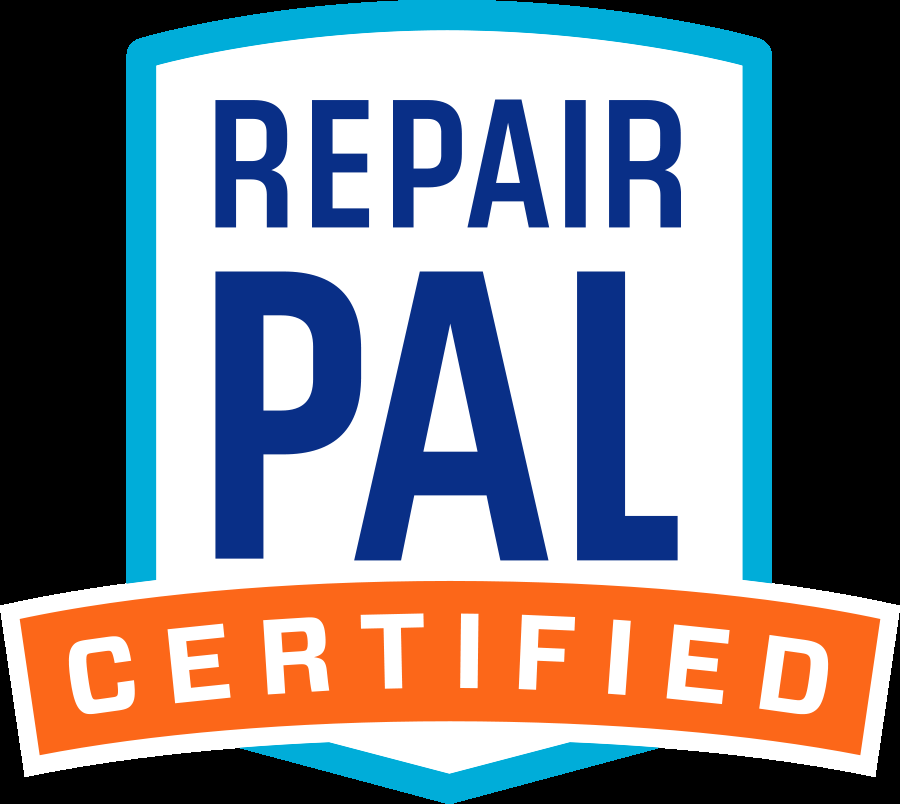 right tools, and their customers are happy. In fact, over 2,200 repair shops have met these requirements, have become RepairPal Certified and are getting new customers every month.
Why has the number of RepairPal Certified shops grown so much? These shops are proud to have passed the certification and value the new customers they're getting, both from the 5 million monthly visitors to RepairPal.com and their partnerships with CarMax and USAA. Certified shops can cancel at any time, so RepairPal works hard to produce value for them. Learn more at repairpal.com/shops to learn more.