THA 139: Trending – Close the Shop and Take My Entire Team to Training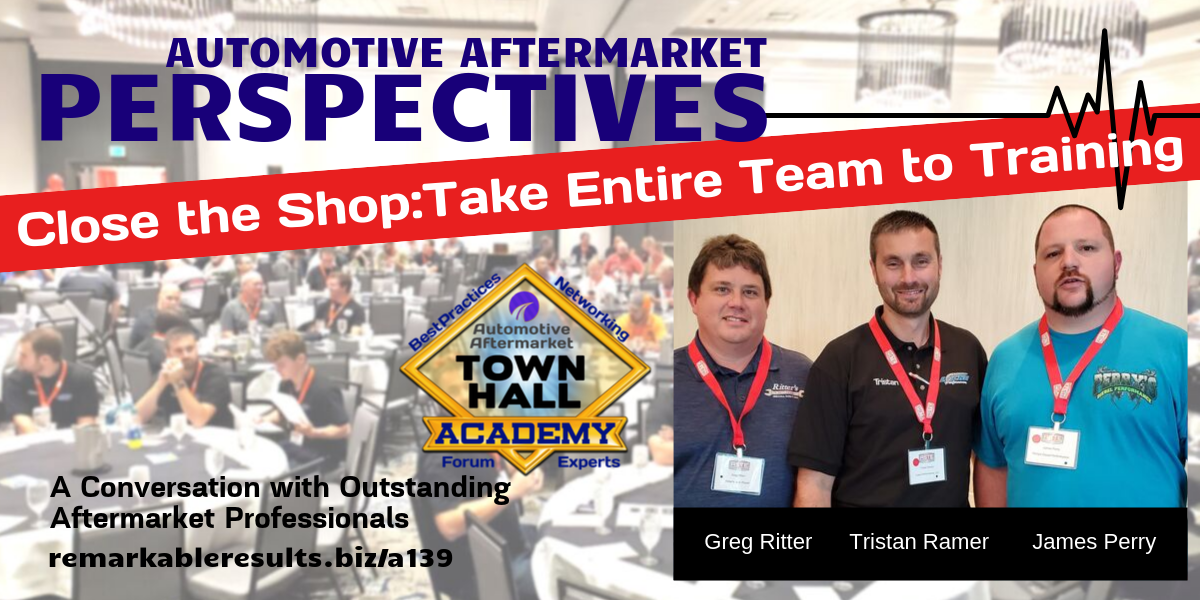 Tristan Ramer of Nappanee, IN, founded Locke Performance in 2014. Beginning his career as a teenager working in his father's mechanic shop; his interest in the light-duty diesel's was sparked with the inception of the common rail diesel in the early 2000's. Seeing the repair industries rapid changes; Tristan is committed to providing all the necessary resources, for those under his employ, to be successful in their respective duties. Diagnosing and repairing vehicles of today have many more requirements for up to date training than they did in years past. Today, a technician must network with other like-minded individuals, commit a lot of their personal time to craft their skills so they can confidently, efficiently and accurately diagnose the issues that they face daily. 
Greg Ritter is a 1989 graduate of Kinmundy-Alma High School in Kinmundy Illinois and married for 25 years with one daughter age 18. Greg attended Wabash-Valley College in Mt. Carmel Illinois. and graduated with a degree in Diesel Power Equipment Technology in 1991. Greg owns Ritter's Auto Repair in Kinmundy, Illinois and has been in business for 24 years. He holds the ASE Master Technician Certification since 1995 and serves his local College Advisory Board. Greg is a Napa Auto Care Center  and is a board member of the McKay Napa Auto Parts.
Greg has attended Vision High Tech Expo for 23 years has attend APPEX and SEMA as well as the NAPA Expo in 2015.  2019 is his secondyear attending ASTE 2019.
James Perry
Key Talking Points:
Excuses do not compute anymore
Daytime training more valuable
Tell your customers you'll be closed for training.

Include in mailers or your social posts
They will understand
You have plenty of time
They understand you close for Holiday, so why not for training
Technology is changing at a rapid pace and they need to understand the need
You are investing in training for your customers and for the efficiency of the shop

A weekend worth of training is intentional and concentrated

You get a lot more out of it vs. 3-hour evening classes

A lot of this type of training can't be covered in evening classes
Techs are impressed with the depth of training
No techs go to the same classes so they can get back to work and conquer and divide the training.

Share five key take-a-ways from each class

Build a training resume to be sure they are taking the training you know they need.
A key indicator to the value of training is to track, in-depth, your comebacks

Greg tracks in his SMSystem by creating a special invoice. He can pull back the info
It may not always be the techs fault, which is why you need to provide in-depth research
It may be the product, even having the right tool

The Power of Networking

PRICELESS
More learning happens out of the class than in it. But you have to engage and meet your peers
Technician networking is also very important
You will meet colleagues that care about your success

Greg has a spreadsheet to justify his investment in training

His comebacks have come down and his revenue is up 25%

Management training for the CEO is mandatory

Learn to be a better leader.

Training Improves shop efficiency.
Training reduces comebacks is a big way Greg Ritter looks to find his training ROI
Training keeps you relevant
Event or daytime training provides better knowledge transfer
Event training build strong networking opportunities that are priceless
Event training builds the team
You should feel the pressure to provide excellent content for your technician team
You make an investment in your team personally and in their career
Resources:
A special thanks to Tristan Ramer, Greg Ritter and James Perry for their contribution to the aftermarket.
Books Page HERE
Leave me an honest review on iTunes. Your ratings and reviews really help and I read each one of them.
Facebook   Twitter   Linked In   Email


Subscribe to a mobile listening app HERE.
---
This episode is brought to you by Jasper Engines & Transmissions. When a car's engine or transmission fails, it's

not the end of the road. A re-manufactured drive-train product from Jasper Engines & Transmissions will give your car a new lease on life. JASPER has over 2000 Associates, three manufacturing facilities, two distribution centers, and 45 branch offices across the country. They're all working to produce, transport and deliver the perfect product. That's what they do best… keep customers happy. Visit jasperengines.com