Search results for: "deb van batenburg"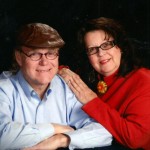 Craig Van Batenburg is the CEO of ACDC and a former repair shop owner. His wife Deb is his partner and vice-president. Craig is engaged full time in the understanding of the technology used in hybrid and electric cars. His 45 years of automotive experience serves him well.
Craig Van Batenburg gives some great insight into why his career took the path to Hybrid repair and training. He says back in the early seventies he worked at a Honda dealership. With a huge passion for Honda's, at 26 years old he opened a shop to work on Honda's only. He bought the first model Honda Insight which was the 23rd hybrid sold in Massachusetts. His wife Deb went to Kent State and was always into recycling and politics. NOTE: This is the first husband and wife interview on Remarkable Results Radio Podcast.
Listen and view episode notes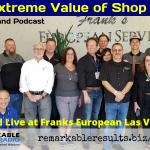 The Extreme Value of Shop Tours
Recorded live at Franks European in Las Vegas, NV, listen to Frank Scandura, Vinnie Lucido, Andy Bizub, Deb Van Batenburg, Greg Bunch, Jimmy Lea, Bill Nalu, Shari Pheasant, and Vic Tarasik all providing their wisdom and insights on shop tours. We had fun and you'll learn about what these professionals value by taking and giving shop tours.
You not only need to get a shop tour but also give them and ask for feedback. Sometimes you do not see things that your peers will see. Take their ideas and give your feedback constructively.
This team believes that shop tours are a very important tool in your perpetual improvement strategy. Growing your business comes from the ideas of others. As Frank Scandura says do R & D …. Rip off and Duplicate. Learn from your network and from shop tours.
Listen and view episode notes