Search results for: "redding"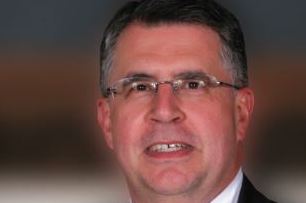 Bob Redding, ASA Legislative Representative goes ON-POINT with an eye opening discussion on the 2nd annual Safety Inspection Forum at the Hunter Engineering Center in St. Louis this year on December 2nd, 2015 … Noon till 4PM. ASA is a co-host again this year with ASA Midwest and the Missouri Alliance of Automotive Service Providers. …
Listen and view episode notes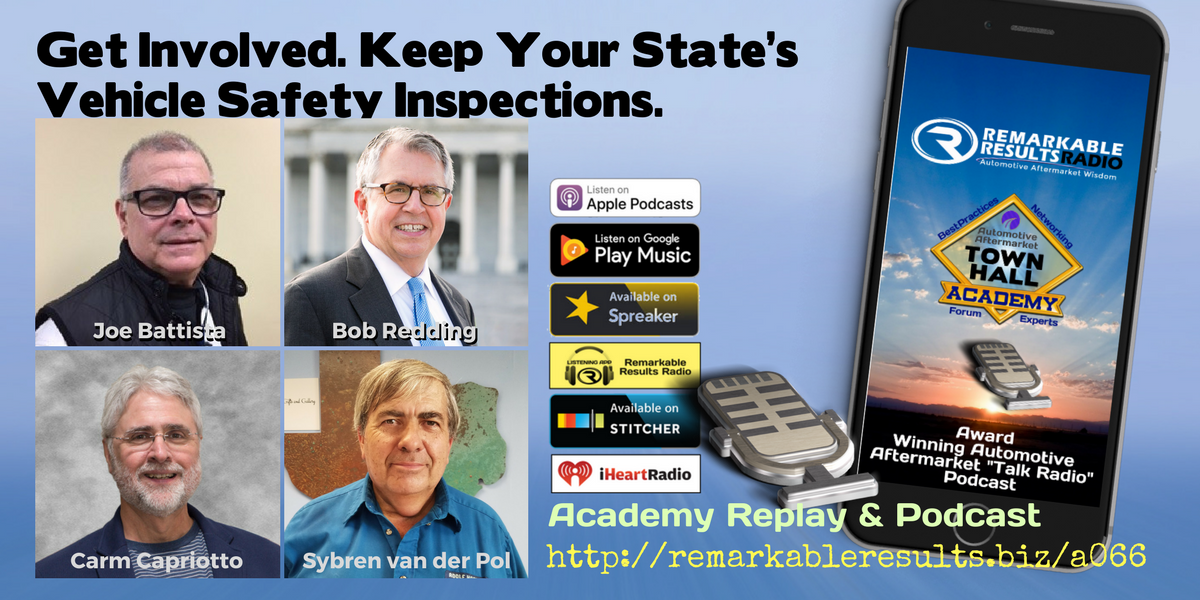 A discussion on the state of mandated periodic motor vehicle inspections.
There are only 14 states in the US that have some sort of mandated vehicle inspection. There had been almost twice that amount. There is momentum to eliminate these safety inspection programs.
The panel discusses the reason we are at such a low level and what needs to be done to help arrest additional states from phasing out any more inspection programs.
With Carm, recorded live with a studio audience is Robert L. Redding Jr., ASA Legislative representative, Joe Battista, the Vice President of Sales and Business Development for Parsons Corporation, and shop owner Sybren van der Pol, an ASE Master L1 Technician and owner of Adolf Hoepfl & Son Garage, in Houston, TX and serves on the local ASA Houston chapter Board of Directors.
Listen to find out what you can do to help bring awareness to safety inspections as all aftermarket professionals see first hand the number of unsafe vehicles traveling our roadways today.
Listen and view episode notes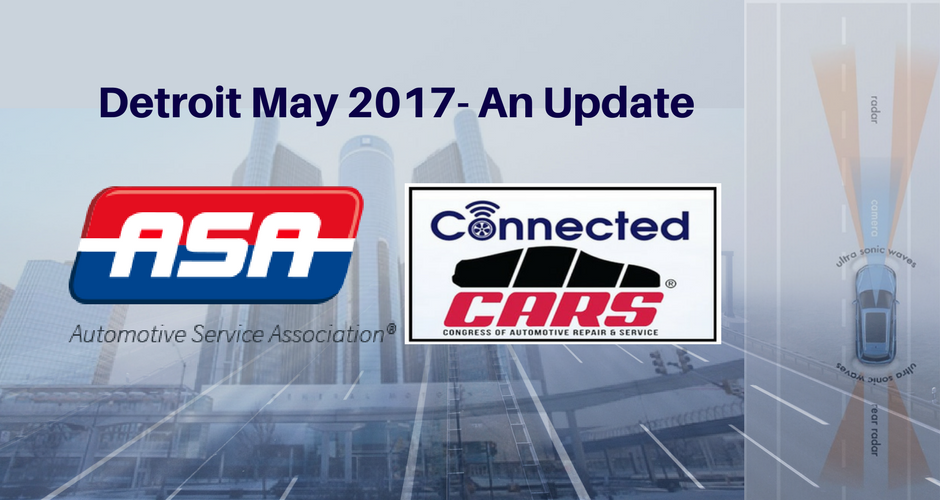 The Future is Now. Are You Preparing for the Future of Automotive Repair?
Held in Detroit on May 18th & 19th, 2017 and presented by ASA, Automotive Service Association, Connected CARS (Congress of Automotive Repair & Service) and organized by Donny Seyfer. This training conference brought industry trainers, automotive engineers and service professionals from all parts of North America to learn about rapidly advancing vehicle technology. Participants got an important glimpse into the world of the connected car with in-depth and detailed looks at ADAS, Next Gen Vehicle Networks and the future of diagnostics.
Listen to a compilation of seventeen of your industry peers as they discuss their reaction to this top industry event. There is no time like now to best understand the speed and gravity of technology. This conference helped serve up the enormous opportunities that lie ahead for the 'connected' service professional.
Listen and view episode notes