Search results for: rob rowsell
How to Handle the Overload of Information, Workload and All That You Have to Learn
We are in deep talking about how they deal with getting things done, keeping up on their learning curve, dealing with an overstuffed 'In-Box', prioritizing, delegating, learning, neural pathways, and exercise, just to name a few.
With me in studio talking 'Information Overload' is Donny Seyfer, Executive officer of NASTF and co-owner of Seyfer Automotive, Wheat Ridge, CO, Rob Rowsell, Family Auto Service La Mesa, CA (4 shop group) author of 'Addicted to Life; How I Went From Homeless to Extraordinary Success and Happiness in a Short Period of Time." and serial entrepreneur Mark Roberts, managing partner at Schertz Auto Service, Schertz TX
Guaranteed you'll pick up at least one thing on helping you become a more organized and effective person.
WEBSITE: www.remarkableresults.biz/
THIS EPISODE: www.remarkableresults.biz/a109/
APPS: www.remarkableresults.biz/app/
ALL EPISODES: www.remarkableresults.biz/episodes/
ALL ACADEMY EPISODES: www.remarkableresults.biz/academy/
ALL FOR THE RECORD EPISODES: www.remarkableresults.biz/ftr/
ALL CARMCAST EPISODES www.remarkableresults.biz/carmcast/
Listen and view episode notes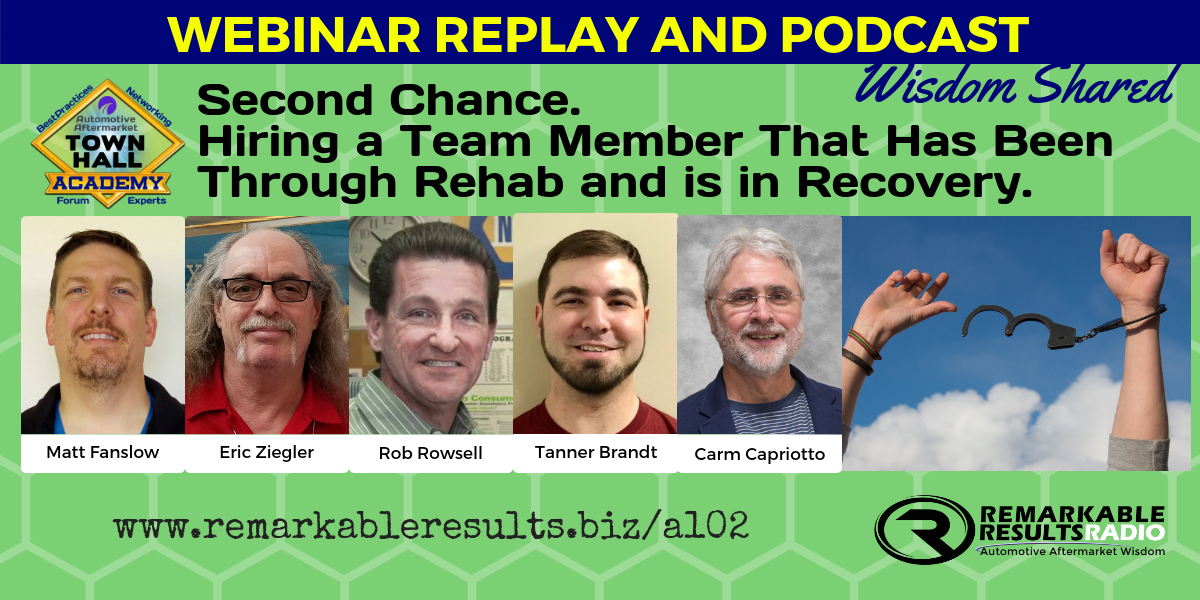 Second Chance – Working with and Supporting Addiction
We cover a lot of ground in this episode that will open your eyes to addiction including the way out, living life without, the law of exposure, the reward system, opioids, alcohol, and other addictions and the signs of relapse.
The panel: Matt Fanslow, Eric Ziegler, Rob Rowsell, and Tanner Brandt.
Here is a myth: People who struggle with addition come from a bad or broken home and have no support. And here is some truth: Until an addict says 'Done' no one can help them. Your heart may say you are done but your actions must demonstrate it.
At least one-third of you have an experience with addiction or have a close friend, family or significant other who is struggling. Use this episode to help in your desire to help yourself or someone you love with addiction.
Listen and view episode notes
Connect on Facebook Share Become an Insider. Join the Tribe Email Carm Powered by the Simple Social Press CarmCast 018 What was your best take-a-way from Vision Did you get your Vision shirt that supports scholarships Thanks: Thanks to Sheri Hamilton, Jerry Holcom, Joe Severt and Ron Haugen for such a great event and for…
Read More