THA 124: So You Need an Accountability Coach?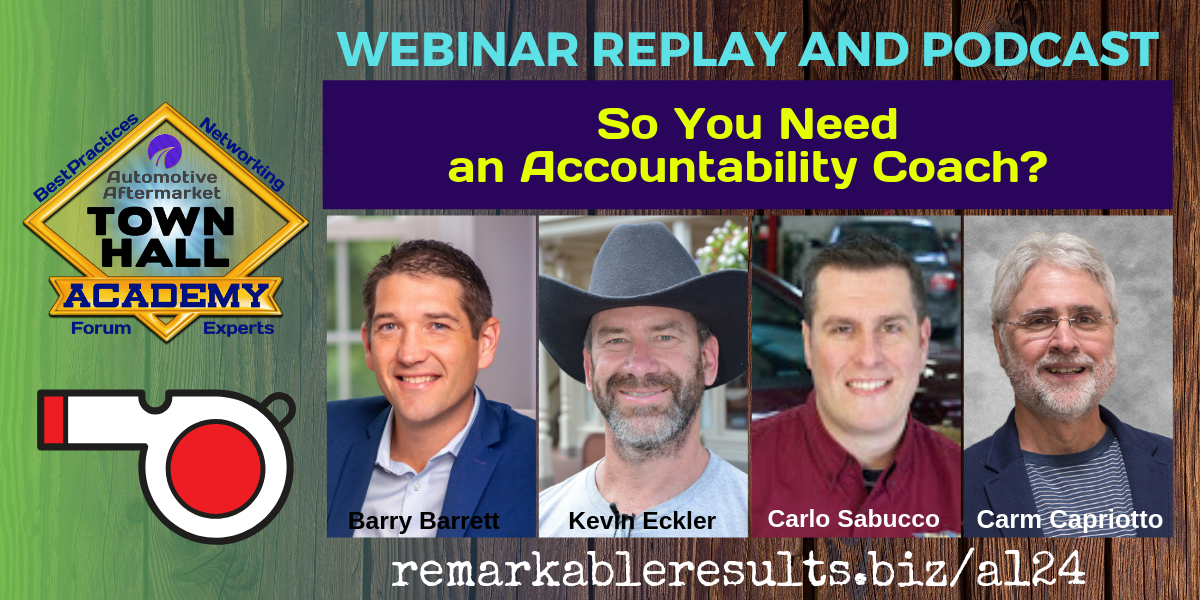 THA 124
These guys brought their A game and really were extremely transparent about their own personal story. The panel's message resonated and was on point about coaching and accountability. There is a lot of talk in the industry as to the value of an accountability partner or coach. It is a personal decision. It is not for everyone, but this summit will help you resolve some of your very own concerns and help you make a decision.
Barry Barrett covers the premise of the book that builds a foundation for negotiation on the basis of understanding the other party through empathy and active listening skills.
During Barry's career as a Service Manager and top salesperson, he honed his talents in communicating with people.
Barry is tireless in his pursuit of excellence in the automotive industry and in all that he does. His passion for providing tools to train owners and their teams to the next level is unlimited. He is a Ziglar Legacy Certified Coach. Find Barry's other episodes HERE.
Carlo Sabucco started in 1994 after attending several years at Ryerson University for business. Thereafter graduated Mohawk college Automotive Tech Program.  Carlo has devoted a great amount of time surrounding himself with some of the greatest shop owners in the market. Over the years, Carlo attended training from Bob Greenwood to Cecil Bullard, Dave Schedin, Elite and group process with Jim Murphy, thru to Kelly Bennett, now he is with ShopPros. Today Carlo operates Sils Complete Auto Care Centre, a successful 8 bay facility, approx 7,000 square feet on the east side of Oakville, Ontario. Listen to Carl's previous episodes HERE.
Kevin Eckler is a native New Englander who moved to New York State's Hudson Valley with his parents back in the mid-1980s.  Kevin began his automotive career at the age of 14, pushing a broom in a mom and pop shop in Rhode Island. He attended a trade school, graduating at the top of his class and went right to work as a tech in a prestigious Porsche/Audi dealership in Cape Cod.  Kevin continued his dealership work when he moved to NY and eventually came to work for two brothers who owned Foreign Car Specialists, Poughkeepsie, NY.  When the owners retired in 1995, Kevin bought the business and the rest is history. Find Kevin's other episodes HERE.
Key Talking Points:
If you are not willing to be held accountable do not consider hiring a coach. Do not listen to this episode. Stop reading

If you admit that you do not know it all, you may benefit from an accountability coach

You need to find a coach where the relationship is of mutual respect

You will not listen to a person who you don't value

Coaches are not trophy's on the shelf. You must listen and do what you both decide on

Don't pay if you will not play

None of Us is as Smart as All of Us

You need to find an accountability coach that is compatible with you. Not necessarily like you but understands you and will push you

Carlo found a 'C' suite coach to help him with his personal leadership skills. He also has a business coach

It allowed him to find an area that helps him and his business flourish

Not all coaching or all coaching is the same

The industry may not understand the 'I don't know what I don't know' business axiom and cannot admit that they could use help to discover what they need to know

Don't judge the coaching industry by just one coaching experience or one interview

Consider that your leadership team help hold you accountable

CEO's get paid to generate ideas

You must convince yourself that there is a better way. It is up to you who decides not your significant other, your partner, your friend or your coach. You.

Two of Barry's core values

Humble Confidence

Radical Transparency

How to find a coach

Based on your need. What specific areas of improvement are you looking for?

Get referrals from others that have had success

Match your profile on an intellectual and emotional level

You may want a coach that has been in the industry

To understand my needs

They must be successful with others like me

Be willing to say we did it not I did it. It takes a village

Build your business so that it doesn't collapse when you are not there

Make it a 'get to' not 'have to'

Are you ready? Have you had enough? Rob Rowsell. See episode

https://remarkableresults.biz/e417/

When the student is ready the teacher will appear.

Expect that you will learn that you will fire some of your people so you can create a better team

You hired the wrong person or you created the wrong person

You have a good coach if they want to fire you for non-compliance. They should not take your money if you are a non-player.

A coaching relationship must be a fit. Expect your coach to do due-diligence on you as well your due-diligence on them.

Keep in mind good coaches pull the answers from you. Consultants give you the answers. You want a coach.

You may not like the questions you are asked. That is OK

Your answers to the questions give you ownership of the answer as you discover that you need to do to improve yourself or your business

Look to discover your bad habits and change them with your coach. f you don't want to change; you may be the problem.

Sometimes you are in too close to see the big picture

Experience is the name we give to our mistakes. Barry Barrett

It starts by admitting your weaknesses.

Don't things correctly is better than being proud. Find humility

You can judge people by considering if you would work for them

Knowledge paired with execution is where the power is

Pick the right coach who can help in the areas that you need

Emotional intelligence

Business

Are coaches the right fit for you. Are they emotional or business processes, numbers, KPI type of coach

When you get new eyeballs on your company you get new ideas and answers
Resources:
A special thanks to Barry Barrett, Carlo Sabucco, and Kevin Eckler for their contribution to the aftermarket.
Books Page HERE
Leave me an honest review on iTunes. Your ratings and reviews really help and I read each one of them.
Facebook   Twitter   Linked In   Email
---
This episode is brought to you by Jasper Engines & Transmissions. When a car's engine or transmission fails, it's

not the end of the road. A remanufactured drivetrain product from Jasper Engines & Transmissions will give your car a new lease on life. JASPER has over 2000 Associates, three manufacturing facilities, two distribution centers, and 45 branch offices across the country. They're all working to produce, transport and deliver the perfect product. That's what they do best… keep customers happy. Visit jasperengines.com