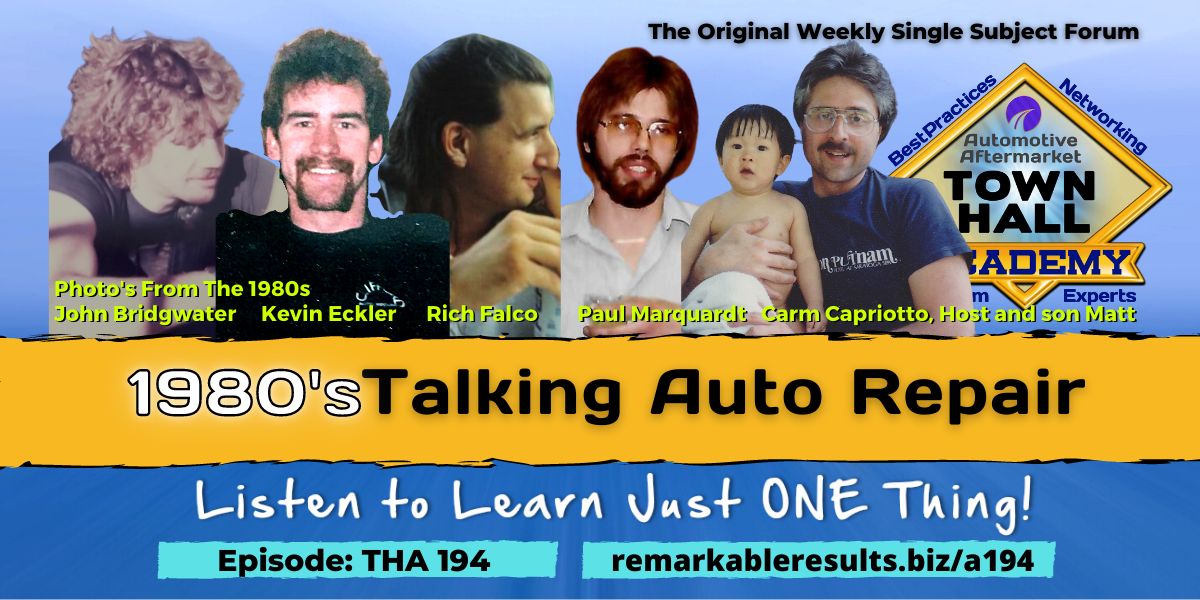 Auto Repair in the Decade of the Eighties [THA 194]
Welcome to another trip down memory lane and a flashback to the decade of the 1980s. My guests recall that the new tech that came out in the decade was learned through trial by fire and carburetors could be diagnosed with your ears. A fun time where the music was made by hair groups…. what was your favorite group?
This was an era too where the Chrysler Caravan, Fiero and the IROC-Z debuted. When the phone rang during this period, they said that 80 percent of the time that caller would-be customers and 12 D Cell Batteries to make the Boom Box work. And of course, the mullet was the hair cut of choice. If you don't remember because you are too young, then listen to what your brethren, who came before you, remember about the decade of the eighties. BTW There are pictures of the entire panel from the 1980s in the show notes
The panel, Kevin Eckler, along with wife Lisa own Foreign Car Specialists, in Poughkeepsie, NY, Paul Marquardt, Northwoods Auto Techs, Rhinelander, WI was the National NAPA ASE Tech of the Year for 2010 and is a NAPA Autotech Trainer
Rich Falco, Instructor at CTI (Carquest Technical Institute) and John Bridgwater, Wright's Automotive Service, San Leandro, CA. The show notes at remarkableresults.biz/a194 where you'll find pictures and links to my panel's previous episodes.
Listen and view episode notes