Hiring Gen Z Mechanics [THA 347]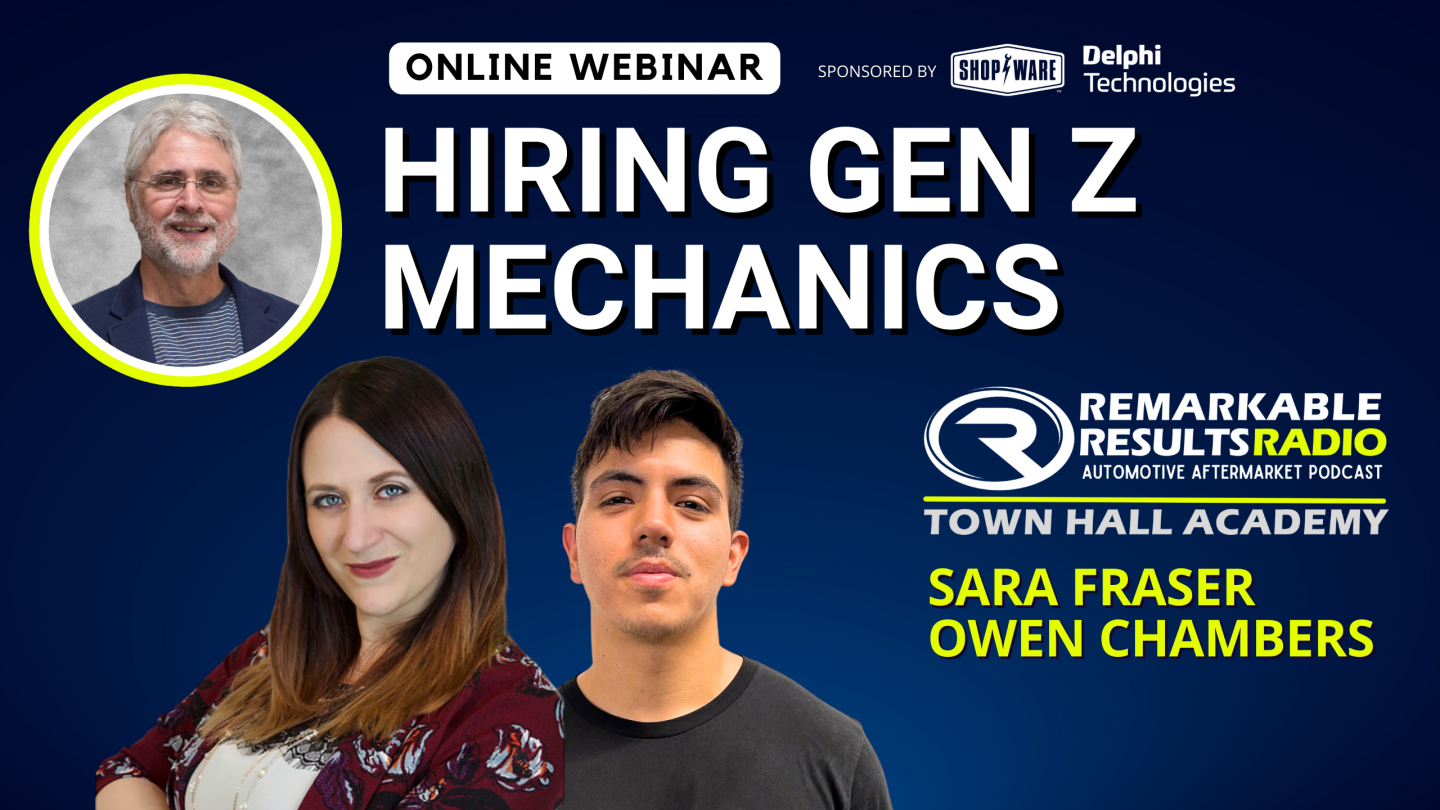 Carm Capriotto welcomes Sara Fraser and a Gen Z mechanic, Owen Chambers, to discuss his motivations for entering the automotive repair industry. Owen shares his transition from a career in finance to automotive repair, his aspirations within the industry, and the financial consciousness of his generation. The discussion also touches on the cost of entry in the automotive industry, the importance of understanding younger workers' needs and expectations, and the multitasking habits and attention span of Gen Z. Understanding the motivations, aspirations, and mindset of Gen Z workers is crucial for the future of the automotive industry.
Sara Fraser, Haas Performance Consulting, Sara's previous episodes HERE.
Owen Chambers, B & G Automotive, Buffalo, NY.
Show Notes:
Owen's motivation for entering the automotive repair industry (00:03:00) Owen discusses his decision to switch from a career in finance to pursue a hands-on career in automotive repair.
Gen Z's tendency to leave their current jobs (00:04:16) Sara highlights the statistic that 40% of Gen Z individuals plan on leaving their current jobs within the next two years, and Owen shares his perspective on why this might be the case.
The influence of social media on Gen Z's career choices (00:05:06) Owen discusses how social media, particularly Instagram, influences Gen Z individuals in exploring different career paths and pursuing their interests.
Gen Z's awareness of mental health (00:08:30) Gen Z's realistic perspective on time management and the importance of mental health compared to millennials.
Financial consciousness of Gen Z (00:12:12) Gen Z's focus on financial stability, saving money, and the challenges of high living costs and student debt.
The mindset of Gen Z workers (00:17:21) Discussion about the trade-off between financial stability and job fulfillment for Gen Z workers.
Having multiple jobs and side hustles (00:19:16) Exploration of the trend among Gen Z workers to have multiple jobs or side hustles for additional income.
Employee benefits and expectations (00:23:36) Insight into the changing expectations of Gen Z workers regarding employee benefits, including mental health days and job flexibility.
The concept of unlimited time off (00:25:19) Discussion on the idea of unlimited time off and its potential impact on attracting young people to the automotive repair industry.
The mindset of Gen Z workers (00:27:12) Exploration of the Gen Z mindset, including their tendency to ask for forgiveness rather than permission and their resourcefulness in finding answers and solutions independently.
The importance of explaining the "why" to young workers (00:29:28) Highlighting the significance of explaining the reasoning behind rules and processes to young workers to increase their understanding and compliance.
The multitasking debate (00:32:54) Discussion about the effectiveness of multitasking and its impact on cognitive abilities.
Generation Z's attention span (00:33:38) Exploration of how Generation Z's short attention span is influenced by their need to filter through large amounts of content.
Gen Z slang words (00:34:37) Sara quizzes Carm on Gen Z slang words!
Thanks to our Partners Shop-Ware and Delphi Technologies
Shop-Ware: More Time. More Profit. Shop-Ware Shop Management https://getshopware.com/
Delphi Technologies: Keeping current on the latest vehicle systems and how to repair them is a must for today's technicians. http://DelphiAftermarket.com
Connect with the Podcast
-Join our Insider List: https://remarkableresults.biz/insider
-All books mentioned on our podcasts: https://remarkableresults.biz/books
-Our Classroom page for personal or team learning: https://remarkableresults.biz/classroom
-Buy Me a Coffee: https://www.buymeacoffee.com/carm
-The Aftermarket Radio Network: https://aftermarketradionetwork.com
-Special episode collections: https://remarkableresults.biz/collections