The Google Nerds' Guide to Streamlining Your Business [RR 887]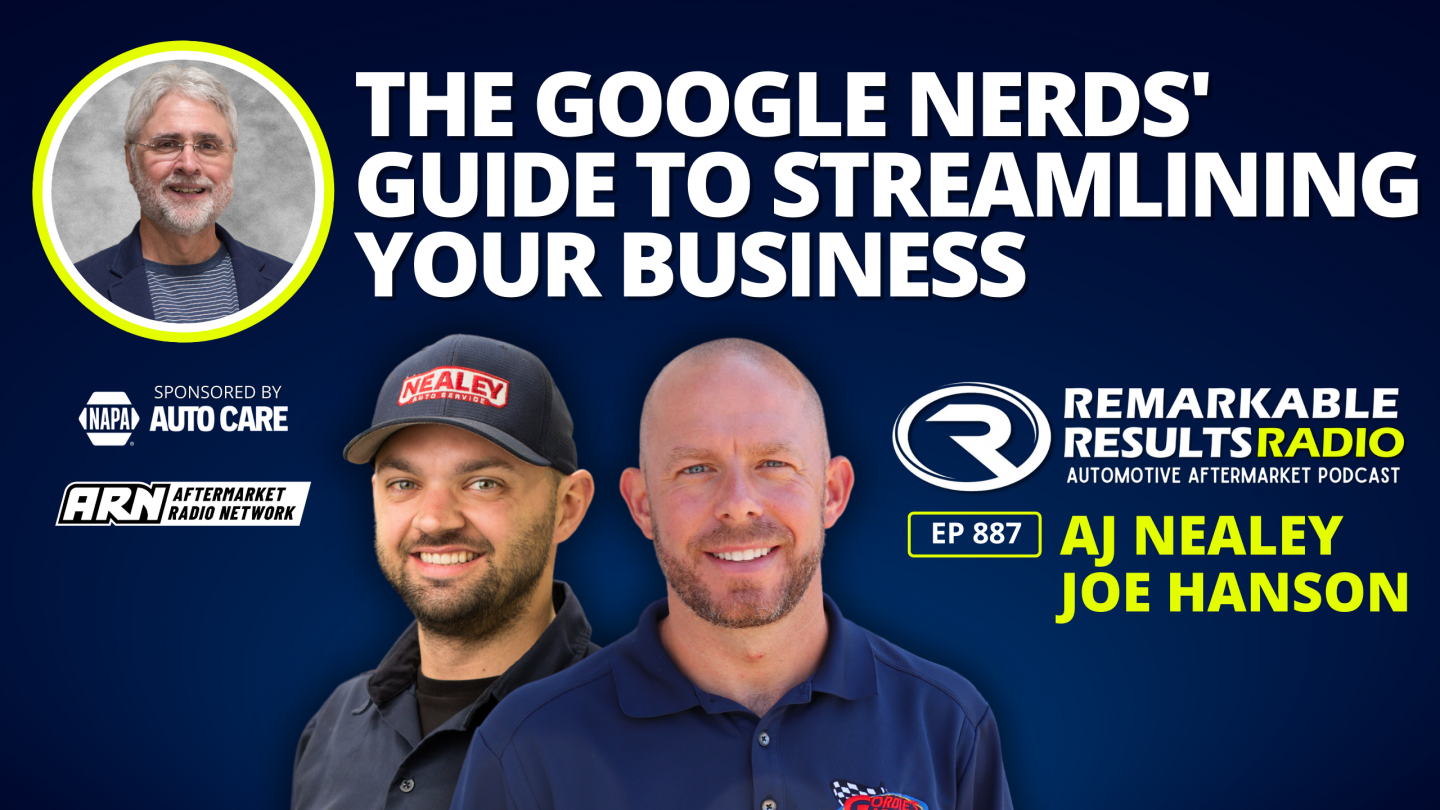 AJ Nealey and Joe Hanson discuss the use of Google Workspace in their businesses. They explore the different applications within Google Workspace, such as Google Meet, Gmail, Google Sheets, Google Docs, Google Slides, Google Calendar, and Google Drive, and how they utilize them for communication, document storage, and collaboration. They also discuss the benefits of controlling intellectual property, and the efficiency and organization that Google Workspace provides.
AJ Nealey, Nealey Auto Service, Edgewater, MD. AJ's previous episodes HERE
Joe Hanson, Gordie's Garage, Roseville, MI. Listen to Joe's previous episodes HERE.
Show Notes
Google Workspace Overview (00:02:00) The different applications within Google Workspace and give a high-level overview of its capabilities.
Using Google Workspace for Data Storage (00:04:11) Using Google Workspace for data storage, specifically for storing scanned invoices and documents.
Collaboration and Communication with Google Workspace (00:06:05) Google Workspace for collaboration and communication within their teams, including weekly meetings, document sharing, and multi-location file management.
The use of Google Workspace (00:08:28) Discussion on the different levels and costs of Google Workspace, the importance of being logged into the correct account, and the benefits of using Google Admin and email groups.
Creating users and email groups (00:09:24) Explanation of how to create users and email addresses in Google Admin, the use of email groups for appointment requests, and the ability to add people outside of the organization to certain groups.
Protecting intellectual property and controlling access (00:11:19) Overview of using Google Vault to control downloads and reset passwords, the importance of protecting intellectual property, and the ability to control access to shared drives and apps.
OCR and Scanning in Google Drive (00:18:34) Explanation of how OCR works in Google Drive and the importance of properly scanning documents for accurate indexing.
Using Google Forms for Time Off Requests (00:20:23) Explanation of how Google Forms is used to streamline the time off request process and improve organization and communication within the team.
Internal Chats and Spaces (00:25:04) The use of Google Workspace for internal communication and collaboration, including one-on-one and group chats, similar to Slack, and the creation of spaces for specific teams or topics.
Assigning Tasks and Accountability (00:27:01) Google Workspace allows for the creation of to-do lists and the assignment of tasks to specific employees, increasing accountability and streamlining workflow.
Collaboration and Communication (00:32:30) How Google Workspace has improved communication and collaboration within their auto service businesses.
Creating and Updating Standard Operating Procedures (SOPs) (00:35:41) How Google Docs in Google Workspace enables them to create and update SOPs collaboratively, with input from the experts in the field.
Integration with AI in Google Sheets (00:41:06) AJ mentions his experience working on a Google Sheet and how it automatically recognized the formula he was looking for, showcasing the integration of AI in Google Workspace.
Google Looker Studio (00:41:58) A tool for creating scoreboards and dashboards. He mentions that he is working with someone else to help him create it, and it is a feature he is looking forward to implementing in his business.
Thanks to our Partner, NAPA Auto Care
Learn more about NAPA Auto Care and the benefits of being part of the NAPA family by visiting https://www.napaonline.com/en/auto-care
Connect with the Podcast:
-Join our Insider List: https://remarkableresults.biz/insider
-All books mentioned on our podcasts: https://remarkableresults.biz/books
-Our Classroom page for personal or team learning: https://remarkableresults.biz/classroom
-Buy Me a Coffee: https://www.buymeacoffee.com/carm
-The Aftermarket Radio Network: https://aftermarketradionetwork.com
-Special episode collections: https://remarkableresults.biz/collections