High Performance Leadership Training [RR 888]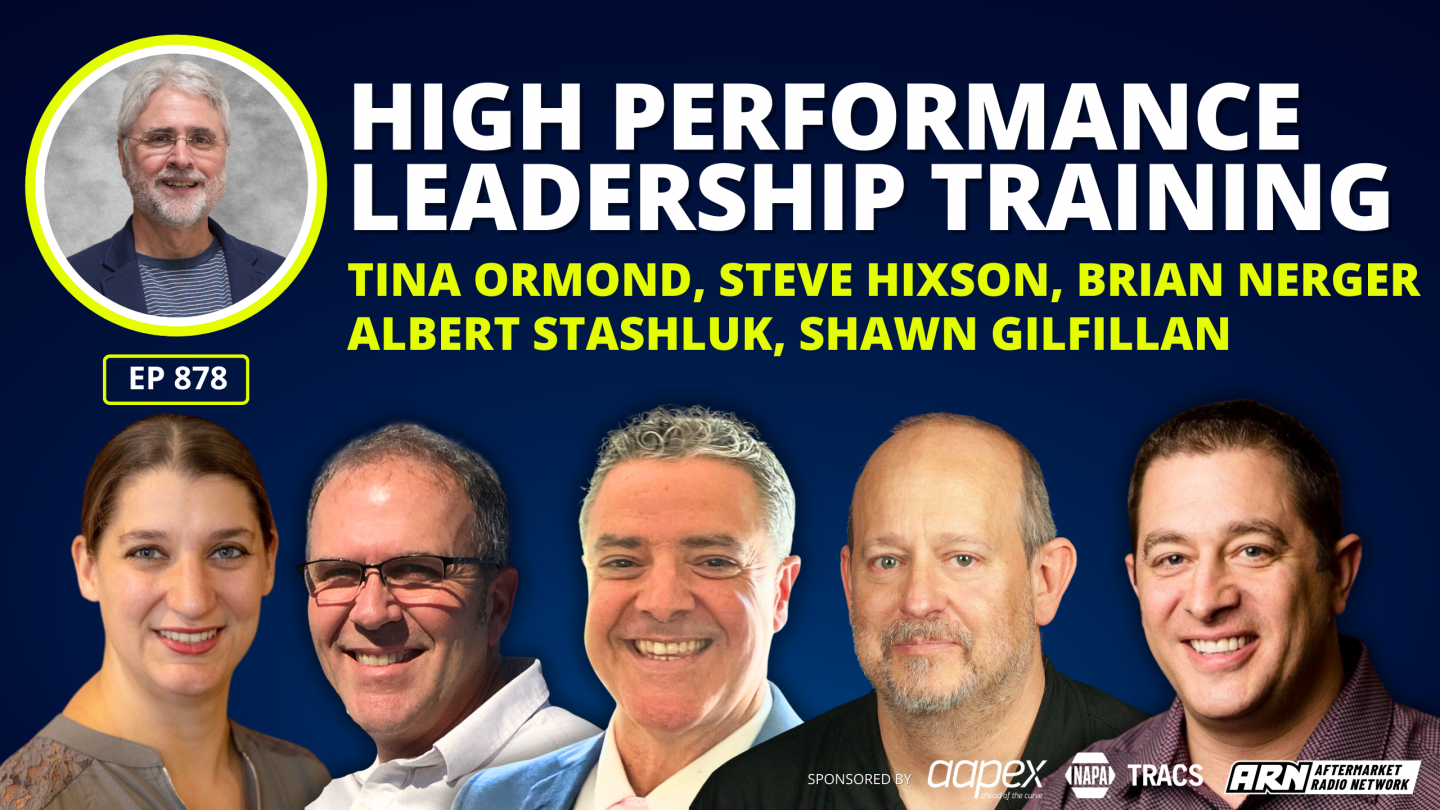 Carm Capriotto introduces a group of automotive industry professionals who are part of a leadership program led by Shawn Gilfillan. This group has been working on a 20-week program designed to enhance leadership skills and empower teams in the automotive industry. The program emphasizes the importance of self-talk and changing one's self-perception to become a better leader. They highlight the benefits of using the DISC test to understand themselves and their team members better, promoting understanding and empathy. They also discuss the positive impact of active listening and effective communication in resolving conflicts and improving relationships. They emphasize the value of continuous learning and the benefits of joining a leadership coaching group.
Tina Ormond, DeBoer's Auto Sales & Service Hamburg, NJ.
Steve Hixson, Arts Automotive, Estes Auto Center, Longview, WA.
Brian Nerger, Nerger's Auto Express, Bound Brook, NJ.
Albert Stashluk, Automotive Magic, Kenvil and Lake Hopatcong, NJ
Shawn Gilfillan, Automotive Magic, Kenvil and Lake Hopatcong, NJ. Shawn's previous episodes HERE
Show Notes
The Leadership Group Program (00:02:27) Discussion about a leadership program that helps owners and managers grow their team and improve their businesses.
The Imposter Syndrome (00:06:08) Discussion about imposter syndrome and how participating in the program has helped build self-assurance and fill knowledge gaps.
The Value of the DISC Test (00:07:33) Discussion about the benefits of using the DISC test to understand communication styles and improve team dynamics.
Understanding the DISC Test Results (00:08:27) Discussion about the experience of taking the DISC test and how it reveals strengths and weaknesses.
Using DISC Profiles in Hiring and Team Building (00:09:27) Exploring how DISC profiles can be used to assess potential employees and create a cohesive team.
The Importance of Self-Awareness and Communication (00:11:08) Highlighting the significance of understanding individual DISC profiles and adapting communication styles accordingly for effective teamwork.
The root of the problem (00:16:17) Discussion about identifying the root cause of a person's upset and resolving conflicts.
Active listening and transformation (00:17:10) Importance of actively listening to others and how it can lead to personal growth and transformation.
Benefits of team training (00:19:39) The benefits of team training in addressing interpersonal issues and improving communication within an organization.
The importance of effective communication (00:24:55) Discussion on the value of clear and articulate communication in a leadership coaching group.
The benefits of having a support network (00:26:33) Exploring the advantages of having a team outside of your own shop to provide support and guidance for leadership challenges.
Improving performance through clear communication (00:30:10) Sharing a conversation between a technician and a coach, discussing the importance of setting clear intentions and removing emotions to develop a plan for improvement.
The importance of effective communication (00:32:47) Understanding the different communication styles and needs of team members to improve productivity and support.
The significance of clear goals and roles (00:35:08) Highlighting the importance of having a clear mission and goals for the team to enhance performance and avoid confusion.
The power of active listening and understanding emotions (00:38:55) Exploring the three powerful elements of active listening: repeating the words, acknowledging emotions, and identifying commitments, to foster better communication and empathy.
The power of support pillars (00:40:43) Discussion on the importance of having support pillars in business and how they can help in times of conflict and change.
Availability of coaching and support (00:41:30) Encouragement to take advantage of coaching and support available outside of regular meetings to enhance learning and understanding.
Impact of improved communication (00:42:58) The positive effects of improved communication on business growth, sales, and productivity, as well as personal development and motivation.
Thanks to our Partners, AAPEX and NAPA TRACS
Set your sights on Las Vegas in 2023. Mark your calendar now … October 31 – Nov 2, 2023, AAPEX – Now more than ever. And don't miss the next free AAPEX webinar. Register now at http://AAPEXSHOW.COM/WEBINAR
NAPA TRACS will move your shop into the SMS fast lane with onsite training and six days a week of support and local representation. Find NAPA TRACS on the Web at http://napatracs.com/
Connect with the Podcast:
-Join our Insider List: https://remarkableresults.biz/insider
-All books mentioned on our podcasts: https://remarkableresults.biz/books
-Our Classroom page for personal or team learning: https://remarkableresults.biz/classroom
-Buy Me a Coffee: https://www.buymeacoffee.com/carm
-The Aftermarket Radio Network: https://aftermarketradionetwork.com
-Special episode collections: https://remarkableresults.biz/collections