Decade the Seventies – Talking Auto Repair [THA 184]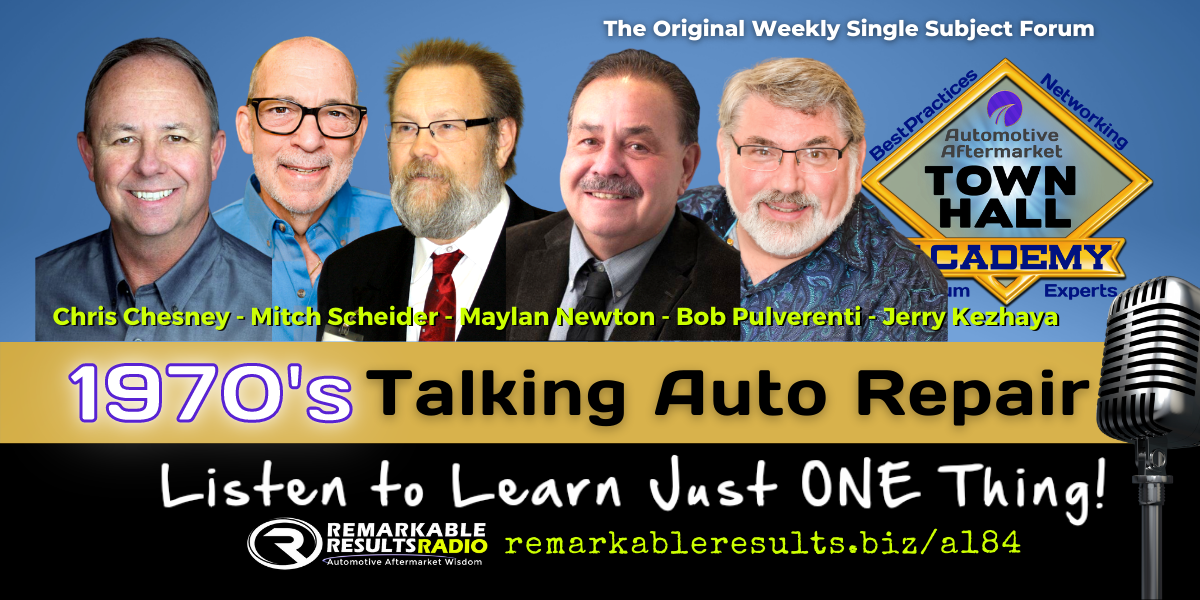 Chris Chesney is theDirector of Customer Training for Carquest Technical Institute. He is also a NASTF Board Member. Visit Chris's previous episodes HERE.
Mitch Schneider is a fourth-generation "mechanic/technician" recognized as a champion of service dealer and technician causes. Mitch is an award-winning journalist, former shop owner, and published novelist. For more than 37 years, Mitch operated Schneider's Automotive — a successful 6-bay, family-owned and operated service facility in Simi Valley, Calif.
Mitch has recent great news on the biggest challenge in his life as he has taken on Primary Myelofibrosis, a rare bone cancer, head-on. He is in his recovery after a successful stem cell /bone marrow transplant in April 2019. I'm so glad to have him back to discuss his novel Misfire: What to Do When Things Aren't Running on All Cylinders. Look for Mitch's other episodes HERE.
Maylan Newton from ESI – Educational Seminars Institute is a business coach, trainer and industry speaker. Maylan is no stranger to the podcast having paid it forward many times. He is a much sought our speaker at industry events in the US. Find Maylan's previous episodes HERE.
Bob Pulverenti is the Executive Director of the Independent Garage Owners of North Carolina and show chairman of ASTE (Automotive Service & Technology Expo), prior to working for IGO Bob worked as the Executive Director of SSRSOUNY in Syracuse NY. He had also operated automotive shops in Central NY for 25 years, as a shop owner he was triple certified with ASE & a nine time NAPA/ASE Technician of the year award winner. He holds the AMI Accredited Automotive Manager certification. He sits on the AASP National Board of Directors and is a registered lobbyist. Previous Episodes HERE.
Jerry Kezhaya from The Auto Shop in Plano Texas has been in business since 1981. Plano is a northern suburb of Dallas with a population on 280,000. According to Jerry, it is the top growing county in the US. His 35,000 sq ft shop has 21 lifts with two flats per lift.
Jerry is a business coach and prides himself for getting out of the shop between 80 and 120 days a year to work with clients, attends seminars and enjoys wine. Listen to Jerry previous episodes HERE.
Key Talking Points:
Some big work done in this decade was carburetors
Maylan was a Snap on Dealer and Mitch was a customer
Chris Chesney was also a Snap On Dealer. They kept you in debt so you got up everyday and went to workYou had to pay so you collected from your customer everyday
New Tech: Chrysler Electronic Ignition. No points and condensers. "Space Age Tech!!"
If you did not have a feeler gauge you used a match book cover
Sun engine analyzer. These guys are still waiting to learn how to use it
As is typical with each decade or new advances in technology many did not believe it would last
Bear static balancer and BADA Bubble Balancer to balance tires
New electronic balancer was about $6,000 at that timeTook forever to sell one and to get a shop to buy one
These guys pumped a lot of gas. Most shops sold gas.
Learning how it works was an incurable passion for these guys
Chris Chesney loved the new tech
The more cars at the pumps the more cars came into the bays. The gas pumps was 'social media' back in the day
Mitch won a bet if he could field strip a carburetor, $100It took skill to rebuild a carburetor
Electrical and carburetor shops were specialists in the dayThey used a growler to grind the armature
Curiosity drove the technician of the day
To the consumer nothing has changed.My car is broke, fix it
Training was big at dealerships back in the 70's
General Motors Training Center that provided training to dealer techs also provided training to the independent via their AC/Delco product division
Some training came from the parts people that was more of product training then technical
Everyone was in street racing or drag racing
The techs of the day in the 70's loved the machine called the automotible
We need to start attracting young people into our industry
Motor and Chilon were the repair manuals necessary to repair cars of the time
Be careful and mindful of the solvents you are working with.Wear gloves, glasses and steel toed shoes
Resources:
A special thanks to Chris Chesney, Mitch Schneider, Maylan Newton, Bob Pulverenty, and Jerry Kezhaya for their contribution to the aftermarket.
Link to the 'BOOKS' page highlighting all books discussed in the podcast library HERE. Leaders are readers.
Listen for free on Apple Podcasts, Google Podcasts, Spreaker, iHeart Radio, Spotify, Podchaser, and many more. Mobile Listening APP's HERE
Find every podcast episode HERE.
Every episode segmented by Series HERE.
Key Word Search HERE.
Buy me a coffee
Join the Ecosystem – Subscribe to the INSIDER NEWSLETTER HERE.

This episode is brought to you by Shop-Ware Shop Management. It's time to run your business at its fullest potential with the industry's leading technology. Shop-Ware Shop Management will increase your efficiency with lightning-fast workflows, help your staff capture more sales every day, and create very happy customers who promote your business. Shops running Shop-Ware have More Time and generate More Profit—join them! Schedule a free live demonstration and find out how 30 minutes can transform your shop at getshopware.com

This episode is brought to you buy Shop Marketing Pros. Your guides are Kim and Brian Walker with a rich history as shop owners and industry veterans. When someone searches for a shop, who are they finding? Your competitors? It should be you! The good people over at Shop Marketing Pros know how to drive website traffic and make Google work for you! www.shopmarketingpros.com