Ryan Clo – 20 Questions in 30 Minutes [RR 561]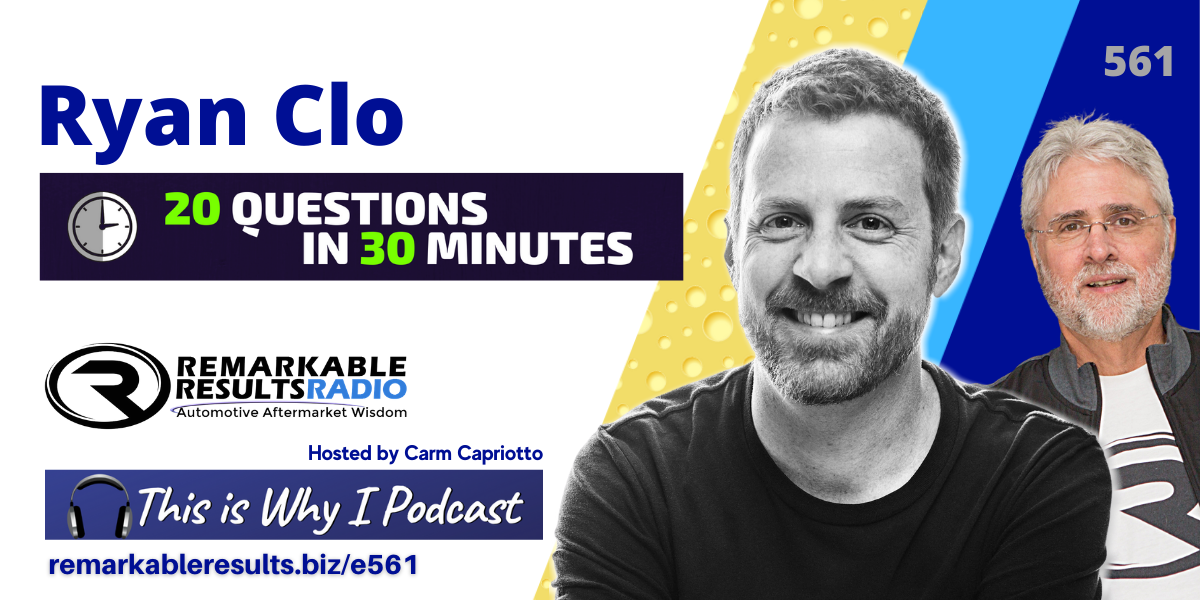 Ryan Clo is a twenty-year veteran of the Automotive Service industry. He currently owns two specialized Automotive Service businesses located in Cincinnati, OH. Both businesses have systems and processes in place so that his presence is not required on a daily basis. Ryan's first business, Dubwerx, has a 99% customer satisfaction rate while maintaining profitability and growth.
Ryan currently consults for the Institute of Automotive Business Excellence providing guidance to automotive businesses including on-site evaluations, off-site coaching, business plan development, and one-on-one coaching with owners and staff. He is known as the "Systems and Processes guy." Ryan teaches several business management classes for the Automotive industry.
Ryan is also involved in the growing startup community in Cincinnati, OH meeting with other entrepreneurs regularly to discuss best practices and the future of business. Ryan volunteers his time serving on the editorial board for an industry magazine and two community non-profits in Cincinnati, OH. Listen to Ryan's previous episodes HERE.
Key Talking Points:
Would your organization crumble if you stepped aside?Processes, employees, systems in place for day to day duties
How has your business changed in the last 3 years?Technology (DVI), dynamic management system, integrating software
If you could send a message to yourself 10 years ago, what would you tell the younger YOU?Raise your prices, hire the best possible help, spend on marketing, take on debt head-on
If you could pick up a new skill in an instant what would it be?Marketing video content
Recently fired a customer? The reason?Fixed accident damage but still wasn't driving right, the owner didn't want to authorize more. Gave money back to the customer. Situations like this come down to what you promise a customer.
What drives you?Being A-type personality, a strong need for efficiency, and productivity. Enjoys problem-solving and being organized.
Plan your day out with a google doc or calendar as a base- reassess and reprioritize when needed
Biggest mistakes?Understanding value-focused and not price-focused
Manage work-life harmony Balancing business so the owner is not doing all the tasks and jobs
Your biggest learning momentWorking with a coach- benefits your business, employees, and customers
How did you decide to become a shop owner?A hobby that became the only source of income. And people wanted a mechanic they could trust.
Last update on the website?Updated for COVID-19
Most recent updated to processes/systemsBusiness is like a tire, always something that happens- always tweaking processes and systems
Dream carPorsche 959
Latest book?"Zero to One" Peter Thiel
Learning from startup companies- create something from nothing
New technology added to the business? Text to pay system
The secret to conducting a good job interviewIs this the right fit for them? Avoid bad hire, is this right move for you? Is this position on your career path?
Ever make a major pivot in business? Started as a trade person and hurt back- hired partner but didn't work out, hired a coach and started working on the business than in business
COVID-19 pivoting
Resources:
Thanks to Ryan Clo for his contribution to the aftermarket's premier podcast.
Link to the 'BOOKS' page highlighting all books discussed in the podcast library HERE. Leaders are readers.
Listen for free on Apple Podcasts, Google Podcasts, Spreaker, iHeart Radio, Spotify, Podchaser and many more. Mobile Listening APP's HERE
Find every podcast episode HERE.
Every episode segmented by Series HERE.
Key Word Search HERE.
Be socially involved and in touch with the show:
Facebook Twitter Linked In Email
Join the Ecosystem – Subscribe to the INSIDER NEWSLETTER HERE.

The NAPA Smart Sign, previously known as Digital Menu Board, gives your shop a professional, state-of-the-art look and feel. It's a great way to educate and inform your customers about needed repairs and service, plus increase awareness of your current promotions. NAPA AutoCare Center that have installed a Digital Menu Board found one out of five consumers ask for a repair or service they've seen on the board. Targeted promotions resulted in double-digit increases. You choose the content from a library of auto care service and repair topics. The latest NAPA national promotions are downloaded to you automatically. And with the Digital Menu Board it's easy to change your services, prices, and video content anytime you'd like. Talk to your servicing NAPA store to find out more.
Learn more about Smart Sign and the hundreds of other benefits NAPA offers. Talk with your servicing NAPA store or visit, www.NAPAAutoCare.com.