Why Coaching is a Business Life Saver – Rick White [RR 562]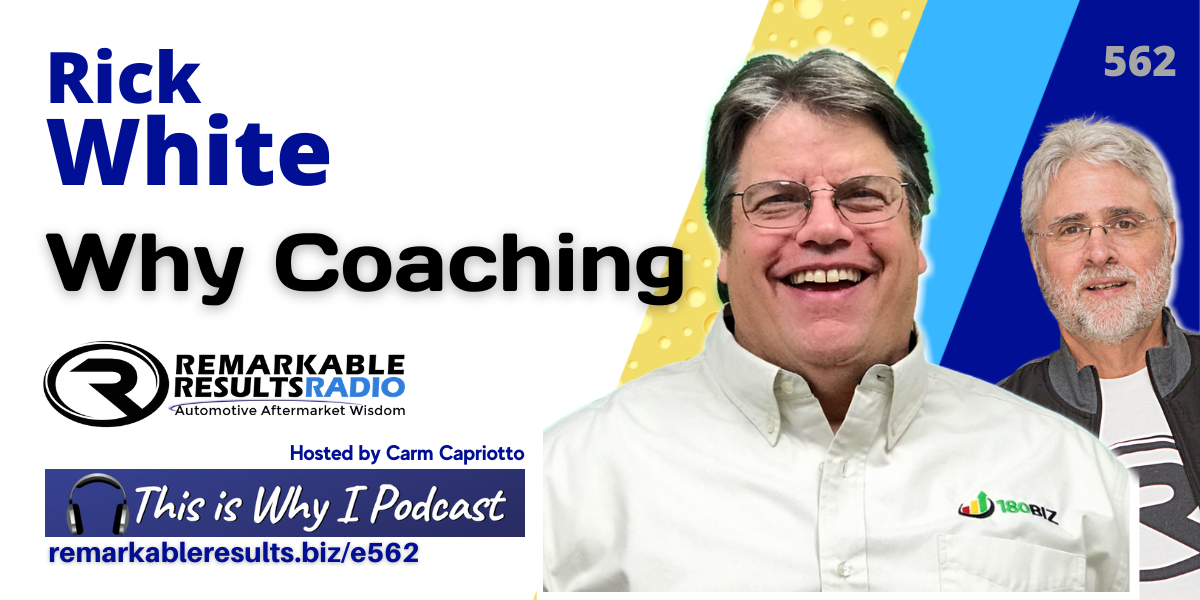 Rick White, President and Lead Coach for 180BIZ, an auto repair shop training and business coaching company. He also owned and managed several successful automotive repair shops.
Early in his career, Rick got his arm stuck under a vehicle while working underneath it. He managed to get out safely but it was a wake up call to him and for all of us as well. This is everyone's concern. There are too many distractions like cell phones, tablets, lackadaisical attitude of it never happening, not focused on job at task, talking to tech next to them and a whole lot more. We need to follow lift maintenance schedules religiously and document every procedure in order to check work properly.
Rick White's Previous Episodes HERE.
Key Talking Points:
Why does a shop not have a coach?False expectation- seeing other shop owners "making a lot of money" and thinking you can do the same. The national average net profit in industry is 5-7% ($4,000 day average shop made $200 profit)
Being the answer man- you have to know it all
I can figure it out myself- would take decades to do it, costs too much in profits lost
Embarrassment- where you are isn't who you are
Coaching condenses decades of learning into days
When you don't get the help you need for business you end up becoming disillusioned and bitter about things- effects personal life, not as engaged, self medicating
Picking the right coach- the right fit for your business and personality
Failure only happens when you refuse to learn from itWisdom comes from experience and experience comes from mistakes
Good result vs bad result- bad results are often seen as "failures" when they should be seen as learning opportunities
Failure as feedback- instead of always "putting out fires" in shop you need to be in "fire prevention" mode. What processes and systems can you put in place as a team so you never experience that "fire" again?
"Wherever focus goes, energy flows" Tony Robinson
Everything business owner wants out of their business and out of life is on other side of the fear holding them back
Coaching is about relationships and communication- purveyors of hope (hope in the future there's power in the present) Change starts with you
When you have a choice you can do the right thing, the wrong thing or nothing- the worst thing you can do is nothing
Coaching is an investment not expense
Money is easy to replace, cannot replace time with family
Embrace what your coach says, internalize it, then implement
Business during the pandemicDepends on owner's belief systemExample- owner believes no one is buying and everyone is out of work they will take poor actions with poor results in their business which furthers their beliefs even more
Do you see problems or opportunities and potential?
Expand your audience- people are consuming online content and videos which is an opportunity for your business
Resources:
Thanks to Rick White for his contribution to the aftermarket's premier podcast.
Link to the 'BOOKS' page highlighting all books discussed in the podcast library HERE. Leaders are readers.
Find every podcast episode HERE.
Every episode segmented by Series HERE.
Key Word Search HERE.
Be socially involved and in touch with the show:
Facebook Twitter Linked In Email
Listen for free on Apple Podcasts, Google Podcasts, Spreaker, iHeart Radio, Spotify, Podchaser and many more. Mobile Listening APP's HERE
Join the Ecosystem – Subscribe to the INSIDER NEWSLETTER HERE.
This episode is brought to you by AAPEX, the Automotive Aftermarket Products Expo. AAPEX represents the $740 billion global automotive aftermarket industry and has everything you need to stay ahead of the curve. With 2,500 exhibiting companies, you'll see the latest products, parts, and technologies for your business. As a result, the event also offers advanced training for shop owners, technicians, warehouse distributors (WDs) and auto parts retailers, as well as networking opportunities to grow your business. AAPEX 2020 will take place Tuesday, Nov. 3 through Thursday, Nov. 5, 2020 at the Sands Expo in Las Vegas. Therefore, more than 48,000 targeted buyers are expected to attend, and approximately 162,000 automotive aftermarket professionals. They will be from 135 countries which are projected to be in Las Vegas during AAPEX 2020. For information, visit aapexshow.com

This episode is brought to you by Shop-Ware Shop Management. It's time to run your business at its fullest potential with the industry's leading technology. Shop-Ware Shop Management will increase your efficiency with lightning-fast workflows, help your staff capture more sales every day, and create very happy customers who promote your business. Shops running Shop-Ware have More Time and generate More Profit—join them! Schedule a free live demonstration and find out how 30 minutes can transform your shop at shop-ware.com