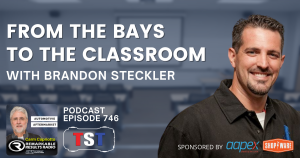 Do you have a passion for teaching others and watching them grow? Is it something you've been interested in doing? I'm with Brandon Steckler at the TST Big Event 2022 and we discuss his path to becoming a trainer and writer for MotorAge Magazine. He also shares a transparent review of one of his classes from a peer. A special episode I did with Brandon on his passion for teaching is episode 342. Speaking of training, did you know that auto tech colleges need part-time instructors? It is a great way to engage with auto tech students. How about being a high school night school trainer. Let's think outside the box and advance the aftermarket together.
remarkableresults.biz/e746
The Voices, Ideas and Insights that are Shaping the Future of the Automotive Aftermarket.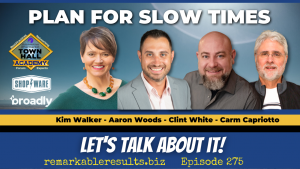 The aftermarket is blazing busy. We may think that boomtown will continue without an end in sight. But what are your 'slow day action plans?' Some who have not been doing things 'right' are feeling the ebb and flow of typical cycle times, holidays, back to school, vacations, weather, and travel. Let this episode help you re-think how you prop up your business. Stop stopping.
remarkableresults.biz/a275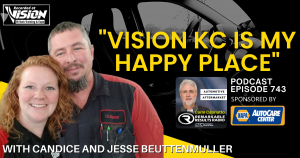 Candice and Jesse Beuttenmuller come every March from WaKeeney, KS. to the Vision KC Hi Tech Expo. Vision KC, they say, is their Happy Place, therefore shutting down the shop to attend. Their town is so small it doesn't even have a stoplight! Since we recorded the episode they changed the name of their business to 'Old 40 Auto Care'. We also discuss the importance of communication with their customers. As a side note, we had a lot of laughs and fun while recording this episode.
remarkableresults.biz/e743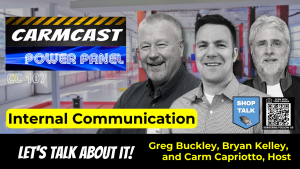 Communication is one of the biggest problems in human relationships and among a working team inside your business. We are talking about the power of top internal communication, front to the back of the shop and with your customer. My panel speaks about the process, communication tools, and how a well-oiled communication system makes for satisfied employees and a top customer experience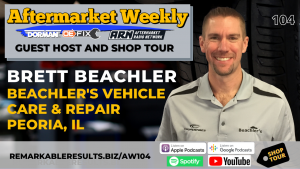 Guest host and a shop tour with Brett Beachler, Beachler's Vehicle Care & Repair, Peoria, IL. Find out how Brett's team seamlessly communicates between both buildings and their streamlined processes.
remarkableresults.biz/aw104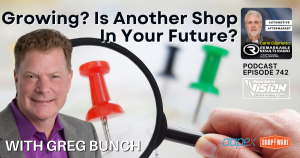 Ever heard of the 'entrepreneurial curse?' Do you see opportunity everywhere you look? Are you ready to go multi-location? Or have you been approached to sell? I'm with Greg Bunch from Transformers Institute at Vision 2022 and we discuss the boom in becoming a multi-shop owner and the future of our industry.
remarkableresults.biz/e742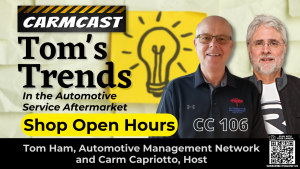 The theme/goal of this episode is to discuss hours open, hours closed. I'm with Tom Ham. Tom brings some interesting trends he's collected from surveying aftermarket professionals.
remarkableresults.biz/cc106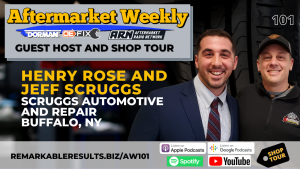 Guest hosts and a shop tour with Henry Rose and Jeff Scruggs, Scruggs Automotive Repair, Buffalo, NY. Find out why cleanliness matters and how to implement it within your business. Plus, get an inside look at their new Annex location across the street.
remarkableresults.biz/aw101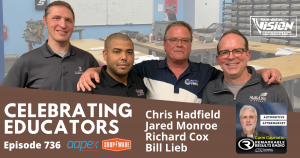 You know I am passionate and committed to education. A very informative discussion to keep you up to date with high school and post-secondary education with these educators who were at VISION KC to keep up with technology.
remarkableresults.biz/e736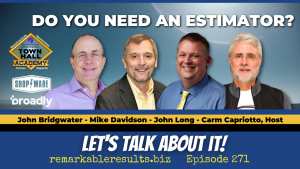 Is your service advisor stressed? Do you have a full lot of vehicles to repair but have technicians standing around? I've been asking shop owners if an estimator role in the business is an important hire. I got an ear full in this Academy Webinar on how the metrics work and the role and responsibilities to consider hiring an estimator or parts specialist in your growing busy shop. All three shop owners on my panel have this role in their shops. Stick around and learn.
remarkableresults.biz/a271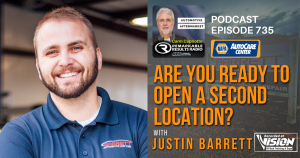 The leap from 1 location to 2 is never easy. But what if you also add in going to Vision 2022 days before the second location opens? How has Justin Barrett prepared his existing employees, while hiring new ones, for his second location? How did he know it was the right time?
remarkableresults.biz/e735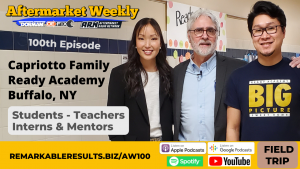 What better what to celebrate the 100th Episode of Aftermarket Weekly than with my family? We have a school field trip to the Ready Academy in Buffalo, NY where my son Matthew Capriotto is the School Counselor. Get an inside look at placing interns and working with local businesses. Hear from both students and teachers.
remarkableresults.biz/aw100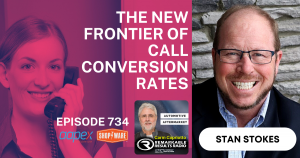 The phone call from a customer is always the beginning of the relationship. Are you tracking, measuring and holding your service advisor accountable for every phone call that comes into your business? What is your phone SOP? Do you have a conversion rate for phone opportunities? I'm with Stan Stokes, founder of Iron Fist Consultants, who has created the next level of measurement for service advisors.
remarkableresults.biz/e734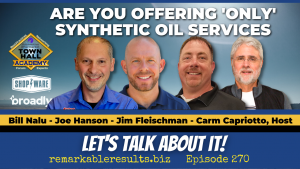 Questions, what is your customer oil change service like?  Have you transitioned to 'synthetic only' oil for your customers? How do you stock all grades and weights? The days of $20 oil changes every 3 months is gone. My panel of shop owners discuss why they have synthetic only oil service and how it's improved their efficiency in the bays and for their customers. If you have not implemented this business strategy learn in this episode why you need to do it.
remarkableresults.biz/a270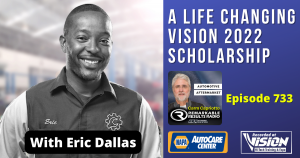 Are you ready for an inspiring story that will leave you with goosebumps? I'm with Eric Dallas at Vision 2022, one of the Technicians of Tomorrow scholarship winners, who shares his story about taking a pay cut from a dealership to work for ChangingGears. Their mission is to empower people who are working their way out of poverty by providing affordable transportation. Listen and be inspired and realize the good that scholarship programs are doing to invest in our future.
remarkableresults.biz/e733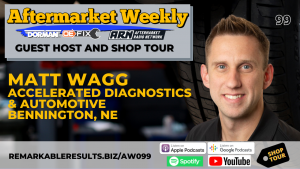 Guest host and shop tour with Matt Wagg, Accelerated Diagnostics and Automotive, Bennington, NE. How did Matt Wagg go from a dealership technician to a trainer and teacher, to now a business owner? What were his successes and failures along the way?
remarkableresults.biz/aw099