FTR 045: Brian Walker – Foundational Marketing Techniques – There Are No Silver Bullets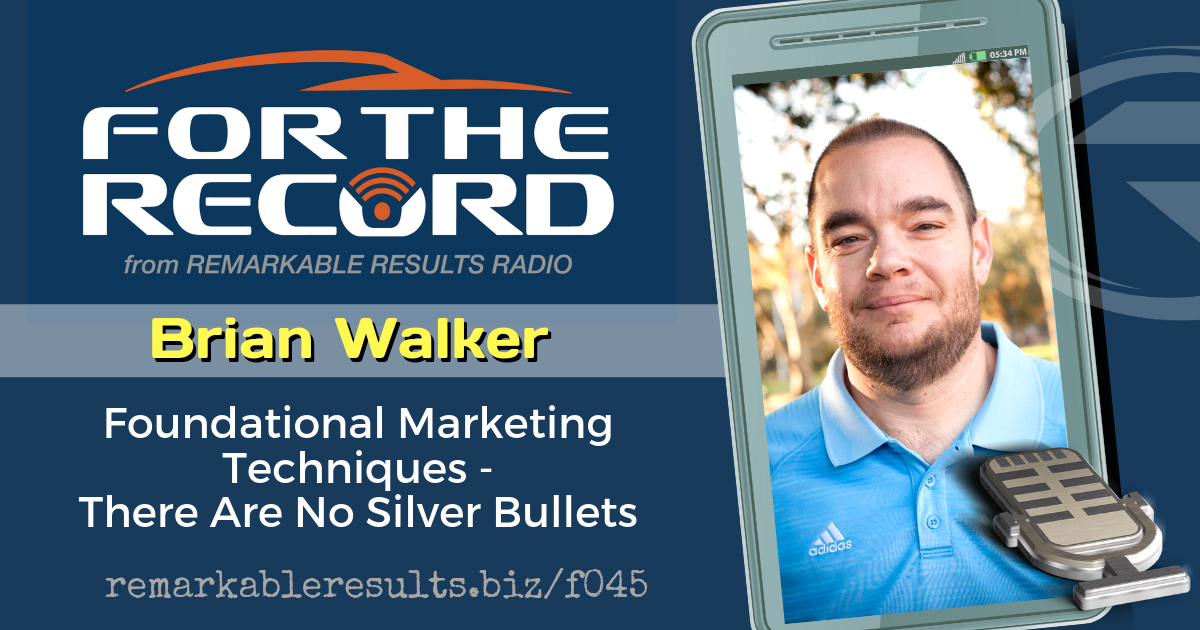 Brian Walker  was a Mercedes Benz Master dealer technician and was ASE certified with L1. He owned Peak Automotive in Apex, NC and was recognized by Motor Age Magazine as a Top Ten Shops twice. 

Brian is co-owner of Shop Marketing Pros. He does "Done for you" marketing services for auto repair shops. Brian believes that most people overcomplicate their marketing in an effort to make it easier

There is a 17,000+ word article on the Shop Marketing Pros website: "The Ultimate Guide to Auto Repair Shop Marketing shopmarketingpros.com/guide

Key Talking Points:
Stop looking for silver bullets

You need foundational marketing technics

Know who you are marketing to. Your avatar. Name them.

Have a good website that displays on phone, tablet and desktop

Make your website stand out to the search engines by consistently adding good quality content

Collect email addresses from your customer

Be active on social media

Pull out your phone and shoot pictures and videos

Once per week boost a facebook post

Give some money to Google to set placed at the top (pay per click)

Ask for reviews

Join your Chamber of Commerce. Show up and do the work.

Join a BNI group (Business Network International)

Sponsor a local little league team

Fix cars and be nice to people

Be consistent in your marketing

When business is good or bad keep marketing

Be patient. It takes times to build momentum
---
A special thanks to Brian Walker for sharing his passion – For The Record.
Books mentioned in the content library HERE
Leave me an honest review on iTunes. Your ratings and reviews really help and I read each one of them.
Email Carm HERE.

Be socially involved and in touch with the show:
Facebook   Twitter   Linked In   Email    Events   Instagram   Speaking
---
This episode is brought to you by FlexCheck Auto Digital Vehicle Inspection Software.
Savvy shop owners use vehicle inspections to find additional work on a vehicle that the vehicle owner may not know is needed. The most successful shop owners fully inspect every car, every time. It benefits the vehicle owner more than the shop because most vehicle

owners want their autos to be reliable.
FlexCheck Auto takes the power of a shop's inspection process and puts it in the palm of your technician's hand so that pictures, video and vehicle specific notes about a vehicle's condition can be shared quickly with vehicle owners. This simple, fully customizable system is designed to operate on any Android device. It improves technician efficiency in the bays, service writer efficiency at the counter, increases average repair order and builds trust with vehicle owners.
Today's vehicle owners want to receive their vehicles health status electronically, this makes FlexCheck Auto the most transparent way to do sell auto repair. Try it for free for 30 days! Go to FlexCheckAuto.com to learn more.
---

Download the Remarkable Results Radio listening APP for your smart device: