FTR 058: Tomi Oliva – Would You Work For You?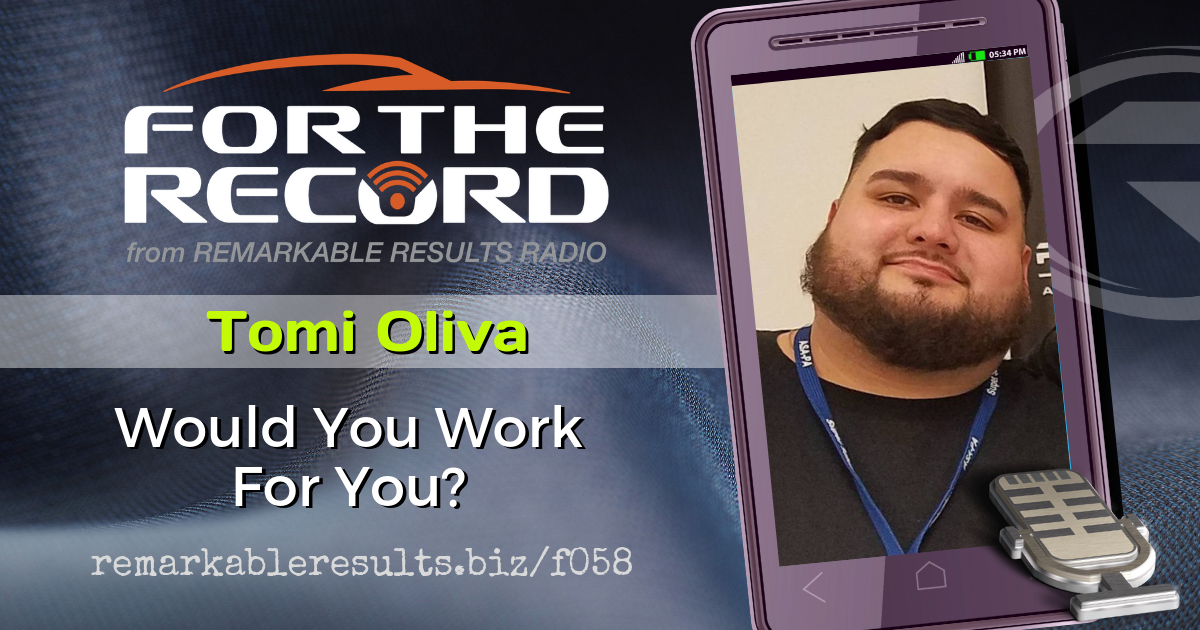 Tomi Oliva is the owner and operator of San Jose Automotive Center in Chicago, IL. He grew up working in the family business. The primary business back then was tire related, but they did venture into some general repair.
This is when he realized what he was going to be when he grew up . The tire side of the business was a chore but once he got a taste for the automotive service business, he knew his professional direction. So much so that he went against his father's wishes and attended UTI Glendale Heights where he graduated in 2004. After graduating, he worked for a Nissan Dealer for a while before returning to Chicago to take over his Father's Tire Business.
Tomi converted the tire shop into a full general repair business. San Jose Automotive Center is now an automotive general service business and has been since 2015.
About two years ago, he started attended technical training and meeting others that shared his same passion for diagnostics. The relationships that he developed from these courses and training events have opened doors to some awesome opportunities. To say that Tomi is satisfied with his career choice and industry involvement would be an understatement, but he's just getting started.  Listen to Tomi's previous episodes HERE.
---
A special thanks to Tomi Oliva for his contribution to the aftermarket.
Books mentioned in the content library HERE
Leave me an honest review on iTunes. Your ratings and reviews really help and I read each one of them.
Email Carm HERE.


Be socially involved and in touch with the show:
Facebook   Twitter   Linked In   Email    Events   Instagram   Speaking
---
This episode is brought to you by FlexCheck Auto Digital Vehicle Inspection Software.
Savvy shop owners use vehicle inspections to find additional work on a vehicle that the vehicle owner may not know is needed. The most successful shop owners fully inspect every car, every time. It benefits the vehicle owner more than the shop because most vehicle

owners want their autos to be reliable.
FlexCheck Auto takes the power of a shop's inspection process and puts it in the palm of your technician's hand so that pictures, video, and vehicle specific notes about a vehicle's condition can be shared quickly with vehicle owners. It improves technician efficiency in the bays, service writer efficiency at the counter, increases average repair order and builds trust with vehicle owners.
Today's vehicle owners want to receive their vehicles health status electronically, this makes FlexCheck Auto the most transparent way to do sell auto repair. Try it for free for 30 days! Go to FlexCheckAuto.com to learn more.