FTR 062: Rena Rennebohm – Stop Hiring Me To Fix Your Business From the Front Counter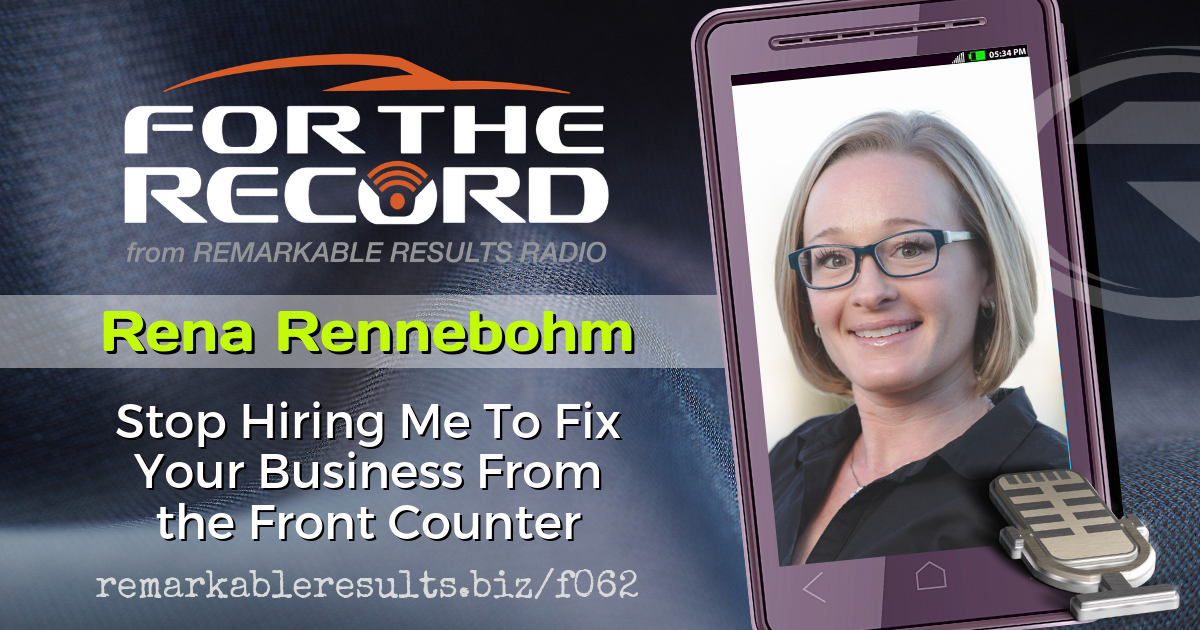 Rena Rennebohm is CEO and Creator of Empowered Advisor.
With over 20 years of experience in the automotive industry, Rena has always had a passion for helping people. As a Service Advisor, she found every way possible to improve and utilize her skills. Implementing new techniques with basic fundamentals gave Rena the ability to become one of the most sought after Trainers and Coaches in our field.
Dedicating her time training Service Advisors with one-on-one calls, webinars, and classes is what she lives for. With high energy and understanding, rapid and continued improvement has been shown across the board from her clients.
Listen to Rena's previous episodes HERE.
Key Talking Points:
Stop hiring me to change your business. She is there to enhance customer service. Their business management profit issues need to be placed in the hands of a business coach

She is a change agent for the service advisor, not the business

Too much pressure on the advisor to change the business. Not their responsibility

This training will not change the core of the business

Service advisor coaches support the owner at their counter. A strong third party to drive sales results

Service advisor training can discover if the role is or isn't right for them. Some leave and some are asked to leave because they cannot make the cut. Therefore the value of not keeping a marginal advisor on the counter. Rena sees the potential tenure (good fit) of the advisor within 30 -90 days

An owner can get into the way of training transfer because they get in the way of training and new systems

 

Not enough shop owners are committed to this type of training

One on one service advisor training is relatively new. A weekly call brings up the accountability to the training and results  
---
A special thanks to Rena Rennebohm for her contribution to the aftermarket.
Books mentioned in the content library HERE
Leave me an honest review on iTunes. Your ratings and reviews really help and I read each one of them.
Email Carm HERE.


Be socially involved and in touch with the show:
Facebook   Twitter   Linked In   Email    Events   Instagram   Speaking
Subscribe to a free mobile listening app HERE.
---
This episode is brought to you by FlexCheck Auto Digital Vehicle Inspection Software.
Savvy shop owners use vehicle inspections to find additional work on a vehicle that the vehicle owner may not know is needed. The most successful shop owners fully inspect every car, every time. It benefits the vehicle owner more than the shop because most vehicle

owners want their autos to be reliable.
FlexCheck Auto takes the power of a shop's inspection process and puts it in the palm of your technician's hand so that pictures, video, and vehicle specific notes about a vehicle's condition can be shared quickly with vehicle owners. It improves technician efficiency in the bays, service writer efficiency at the counter, increases average repair order and builds trust with vehicle owners.
Today's vehicle owners want to receive their vehicles health status electronically, this makes FlexCheck Auto the most transparent way to do sell auto repair. Try it for free for 30 days! Go to FlexCheckAuto.com to learn more.