FTR 066: Carm Capriotto – Struggling Shops and The Rule of Holes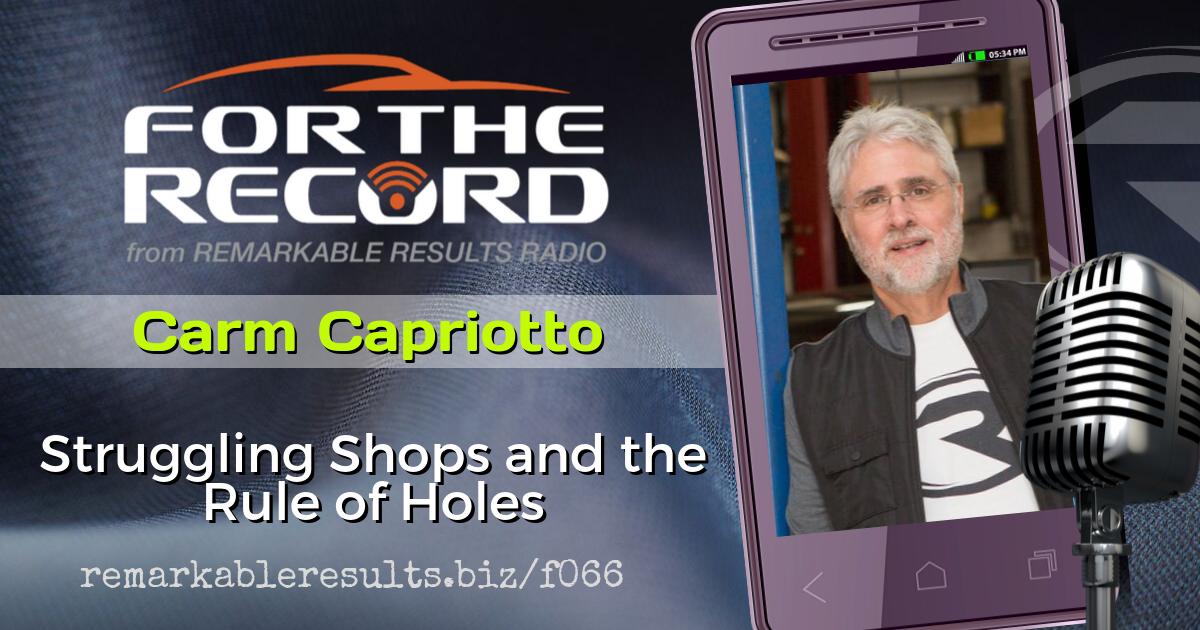 Key Talking Points:
Where are the struggling shops? They are hidden. They don't want to be discovered. But you know who they are. Just look at their shop you can tell. Knock on their door. Or better yet, if you are struggling, ASK, yes ASK. You will easily find help.

YES, it is highly personal to admit you need help, but it can be cathartic and the best first step you can make. 

I saw first hand at ASTE this weekend people that put their hands up and said 'Im' Struggling and I need Help' It was an awesome sight. I met a few and they are making the first steps to recovering their business.

Too many haven't cashed their last few paychecks, are on credit hold with their suppliers and need guidance and a new start.

PRIDE prevents asking for help. But we know that and you need to accept your circumstance and ASK
---
Books mentioned in the content library HERE
Leave me an honest review on iTunes. Your ratings and reviews really help and I read each one of them.
Email Carm HERE.



Be socially involved and in touch with the show:
Facebook   Twitter   Linked In   Email    Events   Instagram   Speaking
Subscribe to a free mobile listening app HERE.
---
This episode is brought to you by FlexCheck Auto Digital Vehicle Inspection Software.
Savvy shop owners use vehicle inspections to find additional work on a vehicle that the vehicle owner may not know is needed. The most successful shop owners fully inspect every car, every time. It benefits the vehicle owner more than the shop because most vehicle

owners want their autos to be reliable.
FlexCheck Auto takes the power of a shop's inspection process and puts it in the palm of your technician's hand so that pictures, video, and vehicle specific notes about a vehicle's condition can be shared quickly with vehicle owners. It improves technician efficiency in the bays, service writer efficiency at the counter, increases average repair order and builds trust with vehicle owners.
Today's vehicle owners want to receive their vehicles health status electronically, this makes FlexCheck Auto the most transparent way to do sell auto repair. Try it for free for 30 days! Go to FlexCheckAuto.com to learn more.