FTR 073: Bob Heipp – Stop Enabling the 80% Who Are Not Committed to Training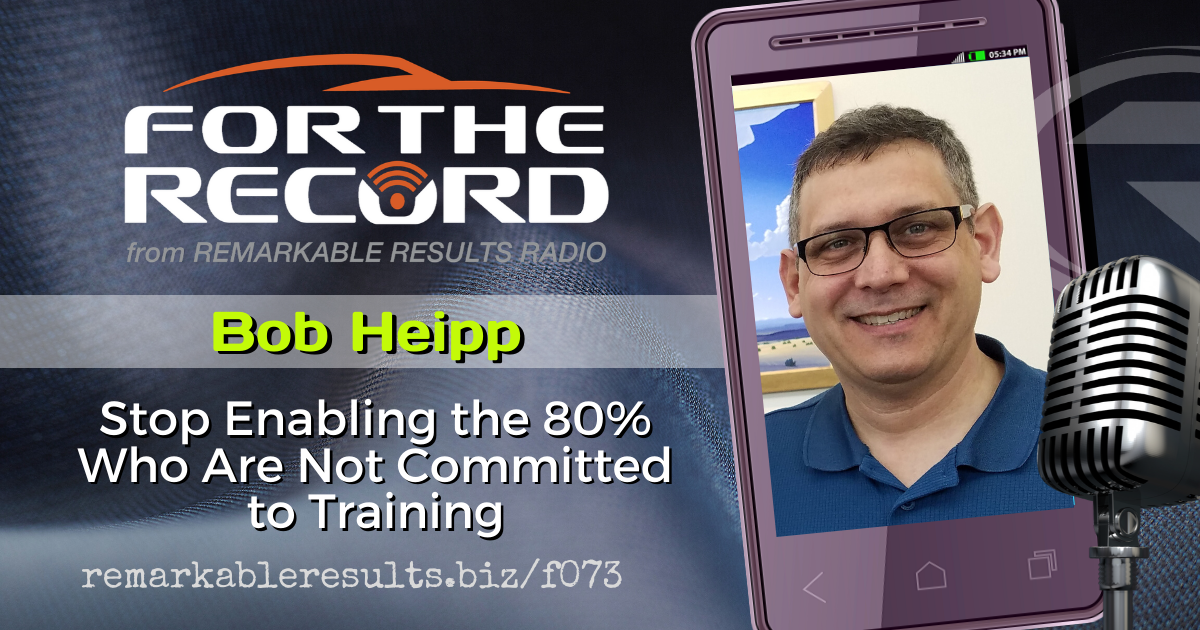 Bob Heipp works for Mobile Auto Solutions, LLC as lead tech and Technician Manager in the Chicago metropolitan area and northwest Indiana.
Having accepted a job that required passing an IM240 emission class, he was introduced to new alternatives for diagnostic testing. This spurred a quest for learning.
Bob believes his desire to learn is what opened doors to meeting technicians around the world. Hoping to help so others could have the same opportunities, he partnered with ASA-IL and initiated the CAN Conference after one of his favorite conferences (the Linder Conference) was no longer being presented. He considers these experiences have led him to the opportunity to work for Mobile Auto Solutions. Bob is also a dedicated Vision High Tech Training and Expo attendees. Hear Bob in his own interview and the round-tables HERE.
Key Talking Points
80/20 Rule. The Pareto Principle
Stop enabling the 80% who are not committed to training
Silver Bullets to not help anyone. They cost customers lots of money
Many want to help but it can be enabling and not teaching
We help people and inform them of the answers by encouraging training and a commitment to learn and not just use hand-outs to solve customer problems
A special thanks to Bob Heipp for his contribution to the aftermarket.
Books mentioned in the content library HERE
Leave me an honest review on iTunes. Your ratings and reviews really help and I read each one of them.
Email Carm HERE.


Be socially involved and in touch with the show:
Facebook Twitter Linked In Email Events Instagram Speaking
Subscribe to a free mobile listening app HERE.
This episode is brought to you by FlexCheck Auto Digital Vehicle Inspection Software.
Savvy shop owners use vehicle inspections to find additional work on a vehicle that the vehicle owner may not know is needed. The most successful shop owners fully inspect every car, every time. It benefits the vehicle owner more than the shop because most vehicle

owners want their autos to be reliable.
FlexCheck Auto takes the power of a shop's inspection process and puts it in the palm of your technician's hand so that pictures, video, and vehicle-specific notes about a vehicle's condition can be shared quickly with vehicle owners. It improves technician efficiency in the bays, service writer efficiency at the counter, increases average repair order and builds trust with vehicle owners.
Today's vehicle owners want to receive their vehicle's health status electronically, this makes FlexCheck Auto the most transparent way to do sell auto repair. Try it for free for 30 days! Go to FlexCheckAuto.com to learn more.