FTR 076: Josh McFarlin – Dream Big – You'll be surprised Where a Career in the Automotive Will Take You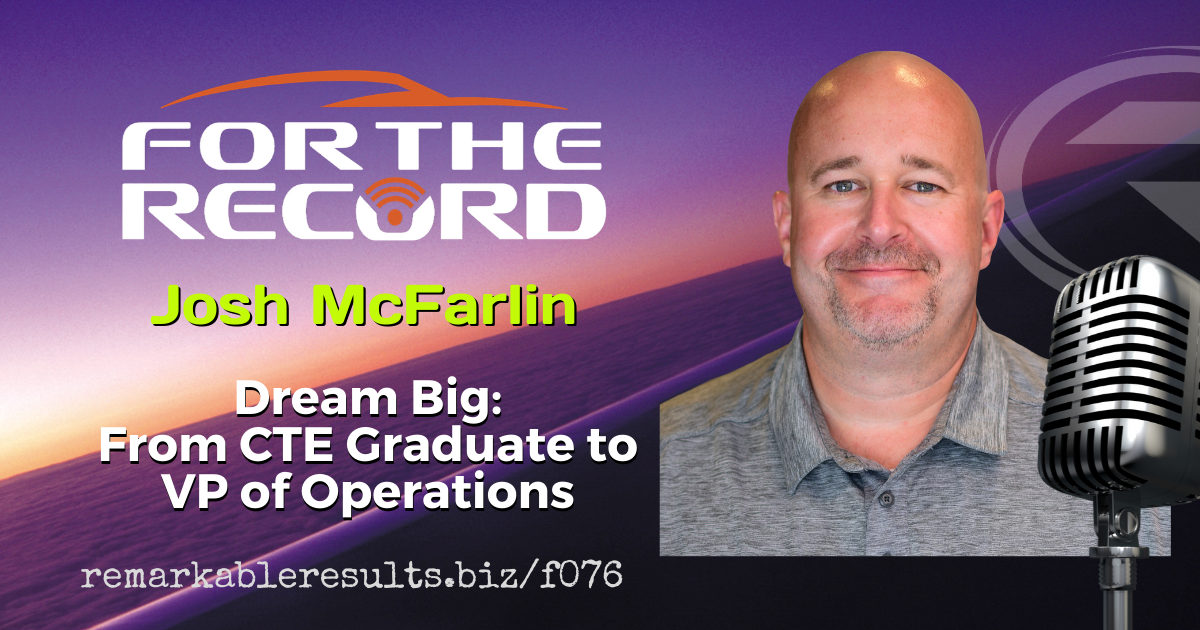 Josh McFarlin is an industry veteran, and a highly-regarded member of the automotive industry. Josh serves as VP of Strategic Business Operations for AirPro Diagnostics. In his position, Josh is responsible for all daily service operations including multiple technician service centers and all field personnel. Josh is ASE Master certified and holds an MBA from the University of Wisconsin. 
 Formerly Director of Curriculum and Product Development for I-CAR, Josh is known for his ability to form and mold strong collaborative teams, solve difficult problems and manage others with a leadership style that tackles challenges head-on. Josh's career includes stops at Raytheon, Audi AG, Ford Motor Company, and Greenway Ford. Outside of office hours, Josh still remains connected to the industry. Among other endeavors, he currently serves as a board member for the Automotive Training Managers Council.
Key Talking Points
The average age of working tech is climbing

Class size at CTE is declining

Can we share our stories of success within the aftermarket

Work ethic and passion got him where he is today

What is the potential of what is next in your career?

Are you willing to move to look for a new opportunity?

Do we know what opportunities exist in the automotive job market?

You may not see the crossroad coming. Keep your eyes wide open

Your opportunities may not be easily seen but they will get bigger every day

Grease monkey is a term of endearment for him and his colleagues but not healthy as a 'label' in the industry

Walk by an open door and find out what is inside

CTE Student to Ford Technician to the Ford Help Desk to Audi to Raytheon, to  I-Car to AirPro
---
A special thanks to Josh McFarlin for his contribution to the aftermarket.
Books mentioned in the content library HERE
Leave me an honest review on iTunes. Your ratings and reviews really help and I read each one of them.
Email Carm HERE.


Be socially involved and in touch with the show:
Facebook   Twitter   Linked In   Email    Events   Instagram   Speaking
Subscribe to a free mobile listening app HERE.
---
This episode is brought to you by FlexCheck Auto Digital Vehicle Inspection Software.
Savvy shop owners use vehicle inspections to find additional work on a vehicle that the vehicle owner may not know is needed. The most successful shop owners fully inspect every car, every time. It benefits the vehicle owner more than the shop because most vehicle

 owners want their autos to be reliable.
FlexCheck Auto takes the power of a shop's inspection process and puts it in the palm of your technician's hand so that pictures, video, and vehicle-specific notes about a vehicle's condition can be shared quickly with vehicle owners. It improves technician efficiency in the bays, service writer efficiency at the counter, increases average repair order and builds trust with vehicle owners.
Today's vehicle owners want to receive their vehicle's health status electronically, this makes FlexCheck Auto the most transparent way to do sell auto repair. Try it for free for 30 days! Go to FlexCheckAuto.com to learn more.