RR 492: YouTube – Benefit or Burden Part 2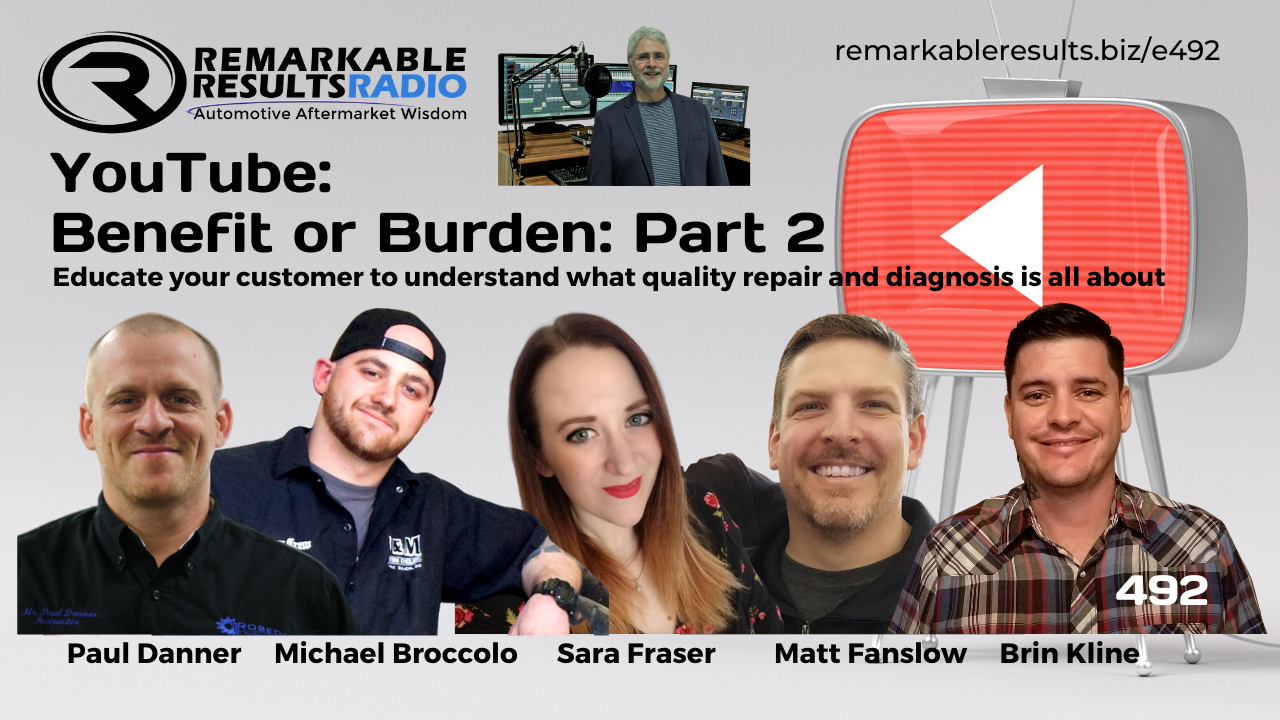 Paul Danner, aka ScannerDanner on YouTube clears up the misconception that his name is not "Dan," which he gets all the time. People think his name is Dan and he added "ner"  to rhyme with "Scanner"? He says it is not true and that that it would be really stupid!!!!
His career in the automotive field started as a junior in high school in 1990. He took two years of auto mechanics in high school, then another two-year program (post-secondary) at Rosedale Technical College in Pittsburgh (where he now teaches). After Rosedale, Paul entered the field and worked full time for about 8 years before coming back to teach at the school. This September 2018, Paul will be starting his 18th year as an automotive instructor. Listen to Paul's previous episodes HERE.
Brin Kline is the owner of Assured Auto Works in Melbourne, FL.  His career in automotive repair spans 17 years with nearly 8 years as an owner.
Brin knows that the automotive repair industry is ever-changing.  Diagnosing and repairing automobiles of today have many more requirements for up to date training than they did in years past.  Today, a technician must network with and befriend other likeminded individuals, commit a lot of their personal time to craft their skills so they can confidently, efficiently and accurately diagnose the issues that they face on a daily basis. Look for Brin's other episodes HERE.
Matt Fanslow is the diagnostic tech/shop manager at Riverside Automotive in Red Wing, MN.  His primary responsibilities are to diagnose driveability and electrical/electronic issues, and perform most all programming, coding, initializing, adoptions, etc. Basically, if it needs to be figured out or has wires, it goes to Matt. He's been a tech since 1996.
Matt is also a subject matter expert for ASE and has instructed at Vision Hi-Tech Training and Expo.
Matt has participated on 18 ASE technical committees for the ASE Practice Test, A6, A7, A8, and L1 tests. He's also done case studies for Standard Motor Products.
Fanslow's goal is to do everything in his power to improve the overall level of professionalism within the automotive and light truck repair trade and also raise the level of its public image. Hear Matt in previous episodes HERE.
Michael Broccolo is from Rochester, NY. His father has been in the automotive/collision/towing/salvage business since before he was born. Michael grew up around cars and attended BOCES (High School Cooperative Skills) for collision repair. In 2006 SkillsUSA Michael placed 1st in New York State in collision repair and attended the national competition.  Apprenticed at a high volume collision shop right out of high school. Michael currently owns Broccolo Automotive & Collison with his father. Broccolo's is a full service automotive/collision shop, a salvage yard/used & new auto parts, and offer towing services all under one roof. Michael's previous episodes HERE.
Sara Fraser is a millennial who has a love for life, travel, and connecting with other humans!  She has over 15 years of retail management experience, the last 6 of them as an office manager for a used car sales and service center.  To bring her customer service, marketing, and business knowledge to the automotive industry she has recently joined the team at Haas Performance Consulting.
Sara loves helping others grow and succeed and is excited to share her expertise on management and social media, her views on how and why the younger generations think and act, and how to work and manage a business within a multi-generational workforce.  When she isn't working Sara spends her time traveling, attending theatrical productions, music festivals, concerts, advocating for human and animal rights, celebrating life in general and connecting with other people from all over the world. Look for Sara's previous episodes HERE.
Key Talking Points:
Gen Z may wants a lot of information

Millennials and Gen Z want to see your reviews and what is on social media about you and your company

While attempting to put your company in a good light, you can put other companies in a bad light. For Brin it happened and he didn't mean to do that.

Re-educate the customer what they are paying for vs what they found on an internet search

Diagnostics doesn't mean much to a customer

The word most preferred is 'Testing'

You are selling a series of tests to pinpoint the problem. 

The doctor must see you before writing a prescription

Paul: Stop calling diagnostics a 'Time'.  It is a diagnostic service or an analysis for a certain fee for so much time

It is a flat fee to pay me to look at your vehicle

Make no apologies for your fee

Howeiver 90% of the industry connects a scan tool and replaces a part

Customer are getting mad because of this. Looks simple and degrades the shops doing a full diag and charging for it

If customers comes to you because parts swapping did not fix their problem, yu've got to charge correctly for applying your experience, training and equipment investment

85-90% of vehicles can be handled in the first hour if you are experienced and trained

Many shops are not diagnosing. They are retrieving a fault code and using statistical diagnostics to find a repair option

For a flat fee customers are paying for testing in Matt's shop

They are not paying for a result but are paying for testing that generates a result

What happens if you are hired to fix the repair the customer believes is the problem and it doesn't fix the problem?  Should it bring confidence to the customer when the technician does the proper testing finds the real problem.

Brin offers a free assessment no charge and then gives a price to repair

He offers a few minutes for the assessment

Create your own YouTube or Facebook Video explaining your process of testing and why it is so important to finding the root cause of the problem

Create customer rules for your ecosystem

Why you do what you do from diag time, loaner cars, waiting room, fresh coffee, training, expectations of your experience

Pull back the curtain and teach your customers what they can expect. Soften them up for the culture they will come to expect and appreciate

Take an offensive approach that some Youtube videos are preemptive to what you do

You do not need expensive equipment to create video, just a good smartphone to create good videos. Keep them organic and get them posted. Don't worry about length, become an expert. Show real tangible results of your testing procedures

We have a serious lack of technicians that can really fix a car. Going to YouTube to find real answers to problems has created a YouTube cult at top diagnosticians such as Paul Danner

Our compensation systems and shop cultures are not rewarding diagnosticians and analytic thinking

Current corporate culture is you are a Rock Star if you can produce, you are not a Rock Star if you are a great Diagnostician

Being a top diagnostician requires a lot of time and training

New generation looking for instant gratification vs the long term gains from training and the 'learn from your mistakes' wisdom

Turn your Instagram stories into highlights

Facebook or YouTube does not want you to move your people out of their platform

Put up your video on each platform separately you may get better traction

LinkTree can be used to provide a list of links for Instgram

The reference to Rick Flare is from the For The Record episode #50 with Matt Fanslow HERE. 

https://remarkableresults.biz/f050/

  
Resources:
Thanks to Brin Kline, Matt Fanslow, Paul Danner, Michael Broccolo and Sara Fraser for their contribution to the aftermarket's premier podcast.
Link to the 'BOOKS' page highlighting all books discussed in the podcast library HERE. Leaders are readers.
Leave me an honest review on iTunes. Your ratings and reviews really help and I read each one of them.

Be socially involved and in touch with the show:
Facebook   Twitter   Linked In   Email    Events    Speaking
Subscribe to a mobile listening app HERE.
This episode is brought to you by AAPEX, the Automotive Aftermarket Products Expo. AAPEX represents the $740 billion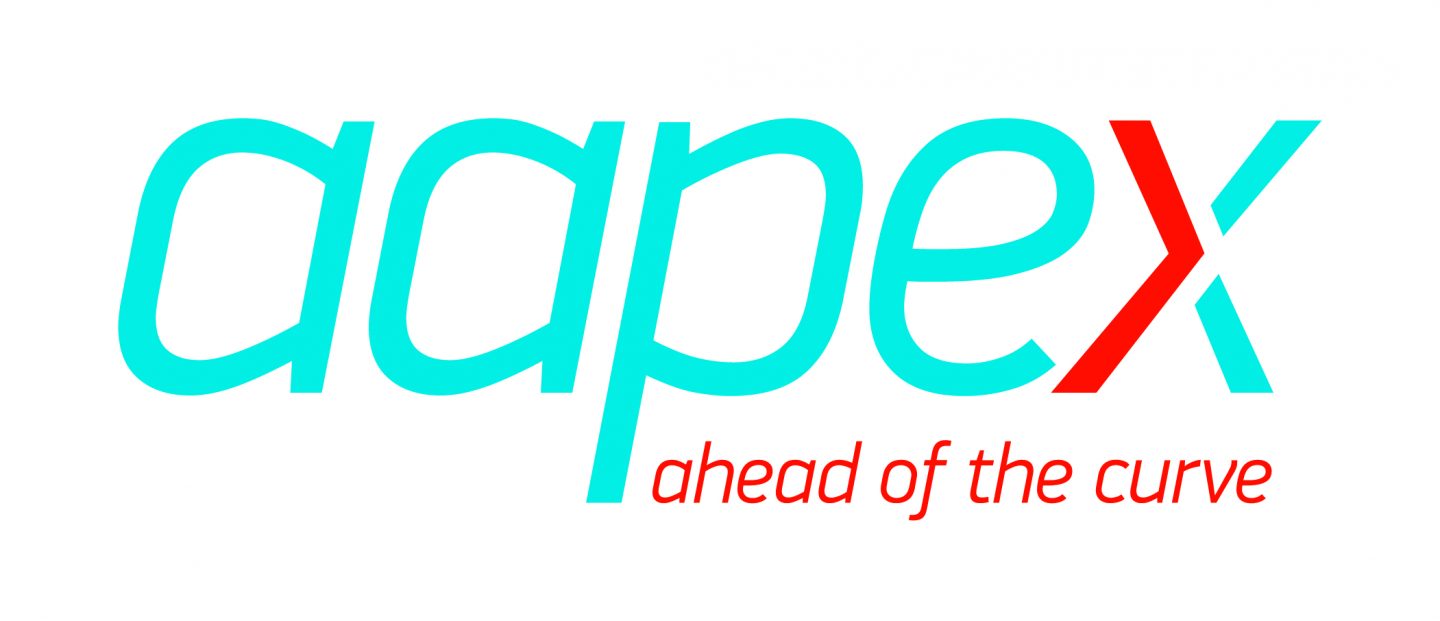 global automotive aftermarket industry and has everything you need to stay ahead of the curve. With 2,500 exhibiting companies, you'll see the latest products, parts, and technologies for your business. As a result, the event also offers advanced training for shop owners, technicians, warehouse distributors (WDs) and auto parts retailers, as well as networking opportunities to grow your business. AAPEX 2019 will take place Tuesday, Nov. 5 through Thursday, Nov. 7, at the Sands Expo in Las Vegas. Therefore, more than 48,000 targeted buyers are expected to attend, and approximately 162,000 automotive aftermarket professionals. They will be from 135 countries which are projected to be in Las Vegas during AAPEX 2019. For information, visit aapexshow.com