Kim Aurenheimer – Fall In Love With Your Business, Again [FTR 086]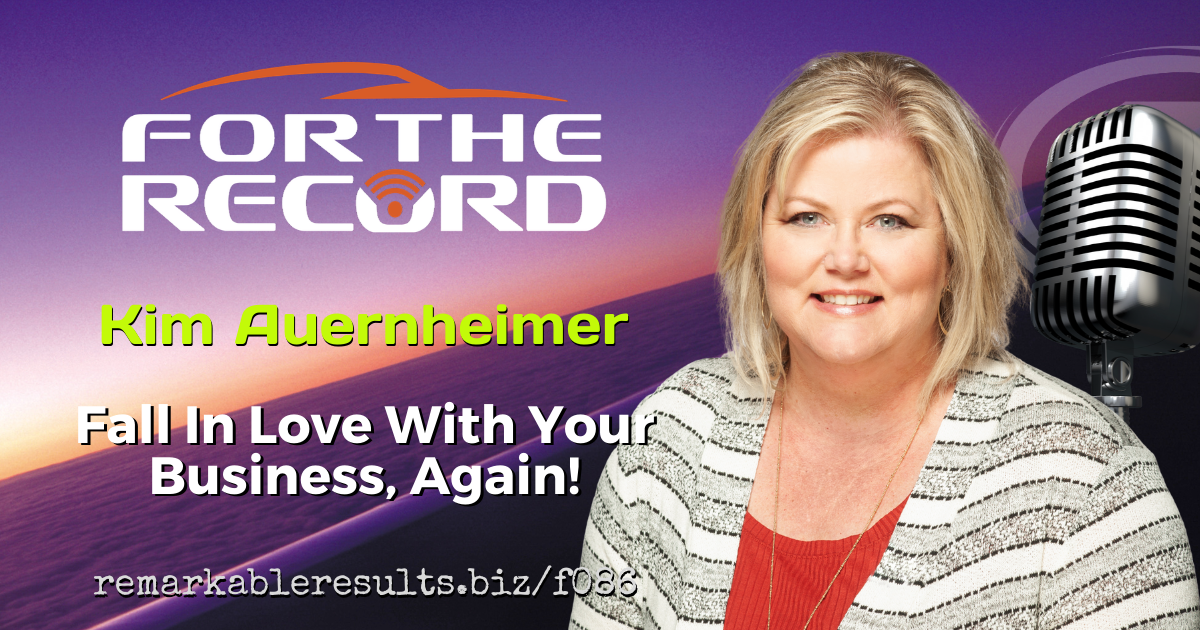 Kim Auernheimer, AAM is the Co-Owner & Business Manager of CS Automotive in Brentwood, Tennessee. CS Automotive was opened in October of 2006 in the back of a warehouse and now they call a 6,400 square foot, 10-bay shop home. Prior to joining her husband Rob in the business on a full-time basis, Kim had a career in Commercial Real Estate and Property Management. In July of 2011, she stepped out from the background of the business and joined her husband in the venture of creating an industry-leading standout
Kim continuously seeks out training for her and her entire team and put the teachings to use. Her belief in industry education has been a large influence on how much success and growth they have had over the last few years. She has a passion to improve the reputation of the Automotive Repair industry working alongside other shop owners and industry leaders to improve the overall experience of the customer from the moment they make that first call to the shop until they drive their car off the lot instilling transparency and developing trust during the entire process.
In 2017, she obtained her Accredited Automotive Manager (AAM) designation. This is a result of 120-credit hours of coursework in several core competencies including leadership, marketing, customer relations, accounting, and several other areas of automotive repair business management. Listen to Kim's Episodes HERE.
Key Talking Points:
Gallop poll says 70% of employees are not engaged in the business they work for
Reflect and identify a disengaged employee. Take note:Quick to complain
First to see the bad parts of their job
Complain about their co-workes
Do the basic/bare minimum in their work duties
Not willing to cooperate to find solutions
Fight the needs of the business
Quick to tell people that they are not happy
Not friendly to be around
Don't show at social events or team building. Loner.
They quit your business but keep getting a paycheck from you. They stay.
12% of happy workers are more productive than those that are not
The productivity of your business is dependent on happy employees
The biggest factor is the employee's relationship with their bossAre you the tripping point of disengaged employees?
The culture of our business, first and foremost, drives happy employees, customers and owners
Step back and make sure you (owner) is not the problem
Speak to your key people and find out why they like to come to work each day
Fall back in love with your business. Find your pride
Learn from others
Important links below:
Be socially involved and in touch with the show:
Facebook Twitter Linked In Email
Listen for free on Apple Podcasts, Google Podcasts, Spreaker, iHeart Radio, Spotify, Podchaser and many more. Mobile Listening APP's HERE
Join the Ecosystem – Subscribe to the INSIDER NEWSLETTER HERE.

Savvy shop owners use vehicle inspections to find additional work on a vehicle that the vehicle owner may not know is needed. The most successful shop owners fully inspect every car, every time. It benefits the vehicle owner more than the shop because most vehicle owners want their autos to be reliable. FlexCheck Auto takes the power of a shop's inspection process and puts it in the palm of your technician's hand so that pictures, video, and vehicle-specific notes about a vehicle's condition can be shared quickly with vehicle owners. It improves technician efficiency in the bays, service writer efficiency at the counter, increases average repair order and builds trust with vehicle owners. Today's vehicle owners want to receive their vehicle's health status electronically, this makes FlexCheck Auto the most transparent way to do sell auto repair. Try it for free for 30 days! Go to FlexCheckAuto.com to learn more.