In Search of Silver Bullets – Scott Shotton [RR 513]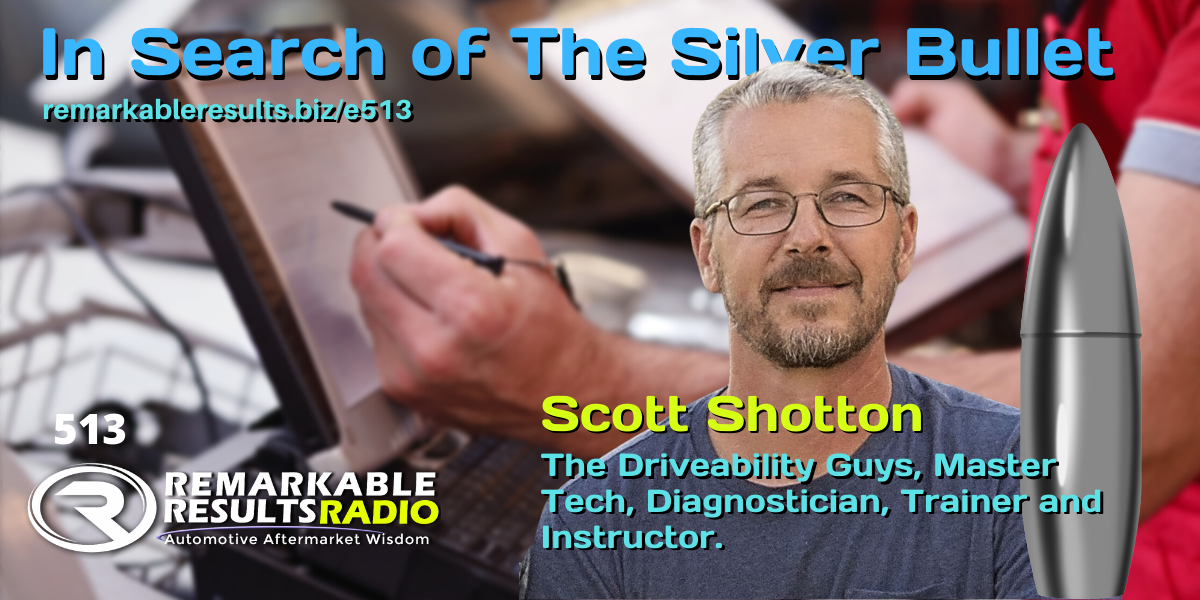 Scott Shotton has over 25 years of technical experience in automotive repair shops. As the owner of The Driveability Guys, Scott performs mobile diagnostics and reprogramming for local repair shops in the DeKalb Illinois area as well as industry training around the United States and Canada. He was also one of the four trainers for the Illinois EPA's vehicle emissions testing program.
Scott has been an automotive instructor at Kishwaukee College since 2009. Prior to Kishwaukee College, Scott was adjunct faculty at the College of DuPage for 7 years. He has a degree in Automotive Service Technology as well as many hours of training by manufacturers and independent training entities.
Scott is also recognized as an Illinois state emissions repair technician. He was also a technical trainer during his 8 year Army career. Scott has written many technical articles for Motor Age and Gears magazines. Scott became an ASE Subject Matter Expert (SME) in 2017.
Scott currently maintains 21 ASE certifications including Master Automotive Technician, Master Truck Technician, A9, L1, L2, L3, Alternate Fuels and more. Scott's previous episodes HERE.
TAC talking points
Silver bullets- pattern failure, silver bullet is the fix to that problemFailures in vehicles 10 years old- 13% were P0420, 10% were P0171/P0174, 8.2% P0401 (76% were Ford vehicles
Cannot gamble with silver bullet fix, silver bullet gives you direction but still need to test and prove root cause of car, saves time by narrowing options, reduce comebacks and retain customers
Getting silver bulletsExperience
Manufacturer technical service silver bullet
Internet- can find good sources and bad sources online
Resources:
Thanks to Scott Shotton for his contribution to the aftermarket's premier podcast.
Link to the 'BOOKS' page highlighting all books discussed in the podcast library HERE. Leaders are readers.
Listen for free on Apple Podcasts, Google Podcasts, Spreaker, iHeart Radio, Spotify, Podchaser and many more. Mobile Listening APP's HERE
Find every podcast episode HERE.
Every episode segmented by Series HERE.
Key Word Search HERE.
Love what we do? Buy Carm a cup of coffee HERE.
Be socially involved and in touch with the show:
Facebook Twitter Linked In Email
Join the Ecosystem – Subscribe to the INSIDER NEWSLETTER HERE.

The NAPA Smart Sign, previously known as Digital Menu Board, gives your shop a professional, state-of-the-art look and feel. It's a great way to educate and inform your customers about needed repairs and service, plus increase awareness of your current promotions. NAPA AutoCare Center that have installed a Digital Menu Board found one out of five consumers ask for a repair or service they've seen on the board. Targeted promotions resulted in double-digit increases. You choose the content from a library of auto care service and repair topics. The latest NAPA national promotions are downloaded to you automatically. And with the Digital Menu Board it's easy to change your services, prices, and video content anytime you'd like.
Learn more about NAPA Smart Sign and the hundreds of other benefits the NAPA family has to offer. Talk with your servicing NAPA store or visit www.NAPAAutoCare.com.