Open Forum: Ask the Shop Owner – Part 2 [THA 160]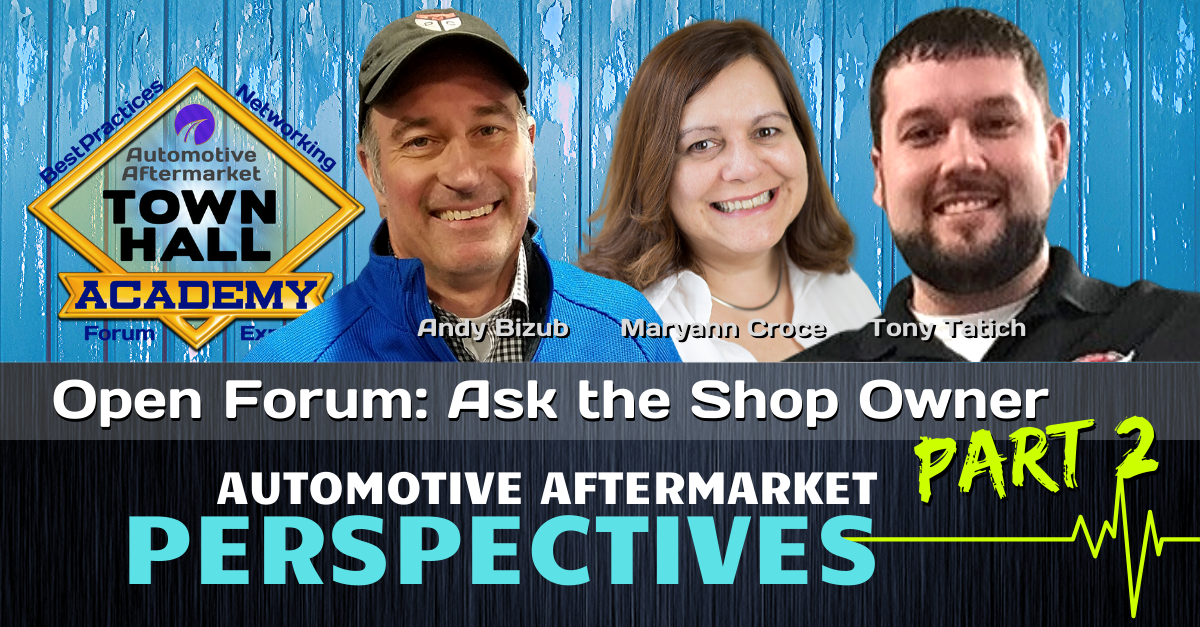 https://youtu.be/fi3oBrNmE9Q
Andy Bizub from Midwest Performance Cars in Chicago is also a native of Chicago. His first career was 25 years as a commodity trader. He entered the professional auto industry in 2014 by acquiring a failing shop in downtown Chicago that he was a customer of and started a turnaround. Andy now has two locations. He bought his first car at age 19, a 1972 Triumph Spitfire, which was the start of his gas, oil, and automobile obsession. Listen to Andy's previous episodes HERE.
Maryann Croce was a banker turned business owner. Tony was a technician turned shop owner. Her biggest mistake as a new business owner was thinking she had to do it all. This is one of the reasons why her signature talk "Gain Control by Letting Go" was created. Maryann is also a member of Women in Auto Care and owns smallbizvantage.com. Hear Maryann in her previous episodes HERE.
Tony Tatich is the General Manager of TMT Automotive, Bremen, IN. He works on solidifying his current shop while building human capital. He is, currently, exploring a second location with the second shop already located. One of his present challenges is finding the right person for the second location. He thinks about his continued growth personally, business, and into multiple facilities. he is working through challenges of growth & being a Yes shop in massive growth periods.
He is looking for harmony and to build a shop that runs 100% without his involvement. He leads a staff of technicians that are 21, 28, & 33 with a senior technician @ 54, Growing out next people homegrown! He is very excited about – 2nd child on the way, 19.8% growth in the first 6 months! Find out more about Tony's episodes HERE.
Key Talking Points:
Where are you getting your new customers?Old fashion mailers
Facebook groups
Small fleets (other business owners)
Building relationships from all sectors, building trust
Google ad words
Community
Social media. Paid and organic
Mailers
Show you are different in your value proposition
Google My BusinessAndy was able to cut his cost of clicks down substantially
Growth strategy from TMT (Tony) took them some time to find their first. They have a goal of 5 storesMany have goals to grow and sell to a regional consolidator
Time hack:Get off of Facebook
Manage your time by theme days or activities
Manage your tasksSend a text on your tasks to yourself and not open it until morning
Plan your day the night before
Find a brick of time (blocks)
Cross of a list and get the closure of completion
Average Repair Order GrowthLook for the 'Smalls'Lightbulbs, air filters, cabin filters
400% Rule100% Inspected
100% Quoted
100% Talked to Client
100% of Follow Up
Balancing with Rotation
Be responsible for your customer vehicle
Tony wants to find a shop with a low car count and low AROHe will increase that immediately, overnight with procedures and customer service commitment
Understand what the client's goals for their vehicle is. This will help you decide maintenance for the long term
'Call Us For Anything' A sign in your shop that professes your support to their vehicle safety and reliability. Texting, calls
A forever discussion with every client
Tony offers a loaner car on the weekends when they are closedWe are in a need it now world
Customers want help and assistance NOW
Create a lockbox with a code with keys for a loaner car
Maryann has any message answered when they are closed
Andy did an employee engagement surveyDiscovered internal communications was a weakness and easy to address
Trends.Andy says the industry is splitting into three segmentsVery High Service, High Touch, Specialists, BoutiqueInvestment needed in technology tools/solutions
ADAS example. Future self-calibration
Dealership
Chains
A one shop company may not be able to afford the equipment, tools, and training to keep up
Andy Bizub's business coach was quoted as saying, "The dealers around you want to raise their labor rates but they can't until you do".A vicious spiral
When you lead with your heart you many not be sustaining the business. You've got to thrive if you are going to stay in business. Charging for services rendered is tough but must be done. Charging commodity pricing will not sustain your business
Resources:
Facebook Twitter Linked In Email
Join the Ecosystem – Subscribe to the INSIDER NEWSLETTER HERE.

This episode is brought to you by Shop-Ware Shop Management. It's time to run your business at its fullest potential with the industry's leading technology. Shop-Ware Shop Management will increase your efficiency with lightning-fast workflows, help your staff capture more sales every day, and create very happy customers who promote your business. Shops running Shop-Ware have More Time and generate More Profit—join them! Schedule a free live demonstration and find out how 30 minutes can transform your shop at shop-ware.com