Aftermarket 2030 Consolidation – Opportunities – Challenges – Succession Planning [RR 514]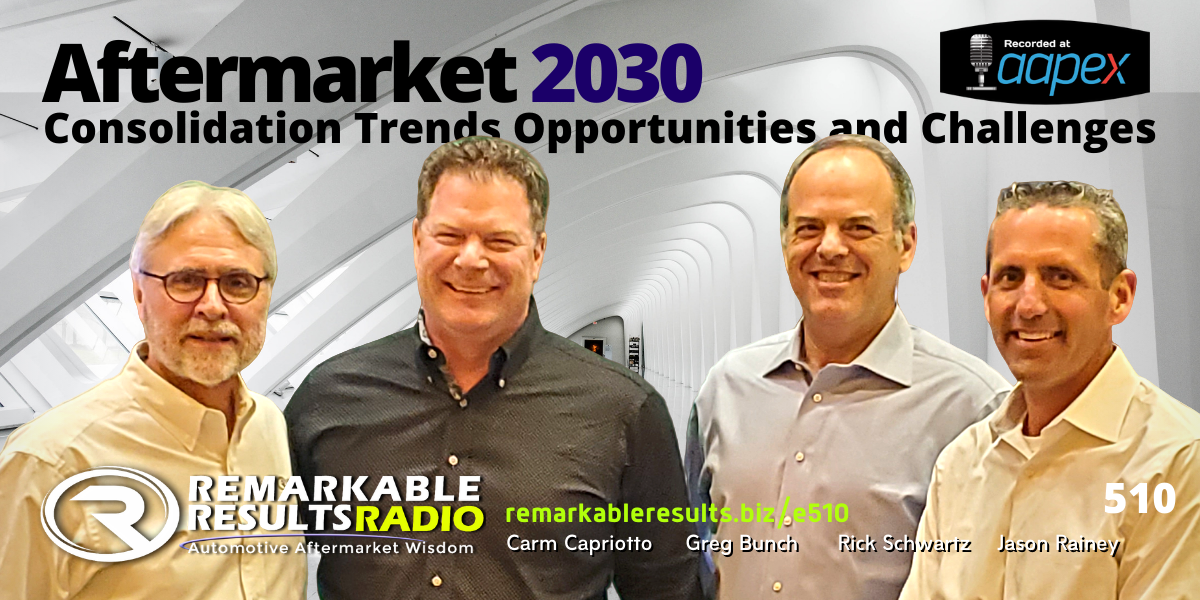 Rick Schwartz is co-founder and CEO of Schwartz Advisors LLC, a mergers and acquisition advisor and management consulting firm to the automotive and heavy-duty transportation industry. Prior to forming Schwartz Advisors, Rick's career included senior executive leadership positions in sales, marketing, and finance.
At Schwartz Advisors, Rick has advised private equity firms, aftermarket management teams and boards of directors on growth strategy, M&A strategy and due diligence projects. Rick oversees operations of Schwartz Advisors buy-side, sell-side and strategic planning consulting practices.
Rick is a former member of the Auto Care Association Board of Directors, and he received the prestigious Northwood University Automotive Aftermarket Management Education Award. Prior to starting Schwartz Advisors, Rick held various senior-level positions at Nestle, Macy's and The Upper Deck Company. Rick received an MBA from the University of Southern California Marshall School of Business and a BA in International Relations from USC. Listen to Rick's previous episodes HERE.
Jason Rainey is the Vice President of NAPA AutoCare; a program of more than 17,000 independently owned automotive repair facilities that have chosen to partner with NAPA. He currently sits on the Automotive Service Excellence (ASE) Board as well as the Automotive Maintenance & Repair Association Board where he works to keep the best interest of independent repair facilities in mind.
Before taking the reins of the industry's leading banner program, Jason spent 13 years in the NAPA Product Department. He worked with vendors on managing, sourcing and marketing in the Tool & Equipment, Batteries/Electrical, Brakes and Under Car categories on behalf of NAPA AUTO PARTS. Jason came to NAPA Headquarters after a successful career in Grand Rapids, Michigan where he worked in several NAPA Store and Distribution Center roles as well as working as a Territory Sales Manager and a Tool & Equipment District Manager. Prior to Jason joining NAPA he served in the United States Marine Corps. Listen to Jason's previous episodes HERE.
Greg Bunch is the owner of Aspen Auto Clinic, a five-location automotive and service business in Colorado. Greg started his passion for cars at 15 when he began rebuilding a 1966 Volkswagen Bug. Greg has moved from a Volkswagen mechanic to ASE Master Technician, to Management, to starting his shop 18 years ago in his garage, to an award-winning multi-location business.
Greg is currently a board member for the STEM-based charter school call "Automotive Institute of Science & Technology" and on the Advisory board of Ratchet and Wrench Magazine. Greg is also a board member of the Autocare organization and a certified instructor for the Worldpac Training Institute and Carquest Technical Institute. Greg's unwavering passion for the industry has also led him to form a company called Transformers Institute, a coaching and training company dedicated to transforming the automotive industry.
Listen to Greg's previous episodes HERE.
Key Talking Points:
Investors are looking for a good investment return
Looking for efficiencies in buying multiple shops
There is big M & A (Mergers and Acquisitions)in the entire industry and continue to look at repair and service
There is capital available
280M VIO (Vehicles In Operation) is attractive to investors
There is a lot of M & A in collision
Repair and Service shop is touching the consumer and is attractive
A study by 2020 56% of mom and pop shop owners wanted to be out of their businessMaking less money each year
Keeping employees
They are tired
Too much change needs to happen
Locations can be a challenge
They never built a brand
If you are looking to get out and sell to a consolidator:Location is key
The owner cannot be the centerpiece of the business
Will your customer accept a new owner
Run your business well so you have options
Quality of staff
If you own the real estate that can be attractive to both parties
Distribution has been consolidating and they see shop consolidation as opportunities for the top shop operatorsThere will be dedicated bays for specific repairs
Jason Rainey sees an opportunity for NAPA as their CarCare's are growing and becoming stronger operators
Don't be worried that you will have to look for or find a venture capital investor. Many local shop owners are looking to expandBring your systems and procedures to another market
Share costs
The opportunities to grow and add branches are going to be enormous going forward
Niche specialty shops are owned by master technicians from that brand (think Mercedes, BMW, Volvo, Euro)If the owner keeps up his aftermarket business acumen he/she can see a multi-store future as a specialist
Threats when a service professional is looking to sellThemselves, the owner is doing it all. They are the hub of the wheel and they have not delegated responsibilities
If the buyer does not know what they want in a transaction. Why are you buying, how will this business/location help your business? Can you fix everything that is wrong? Integration costs and time must be considered
Always talk about why you would not do the deal first.Some fixer-uppers may not be your best deal
Some businesses look to buy businesses that need fixing. That is their specialty.
Jason sees distributions role is to help their customers who want to grow stronger and ready
Attend training on how to grow stores. You may discover you are not ready. Having one successful shop does not mean you can duplicate itGreg has a class he teaches
How do buyers value the business?Financial performance first.
Offering a multiple of EBITDA or Cash Flow
Some businesses are sold on asset value from the balance sheet
What is the strategic value of the business to the buyer? Is the buyer getting something that he/she doesn't have
Selling?How will your business succeed after you?
The owner needs to be out of the day to day operation
Will your team stay
Reputations
Reviews
Profitability
Multiples can be 3 times EBITDA
Start to fix your business
It is going to be a buyers market
Once the business gets fixed the owner may not want to sell because they are making more money than ever
You may have an internal candidate
Build your relationship with your parts supplier. Stop splitting your business to too many suppliers Find a parts partner that can help in branding, systems, marketing, even financing, training etc
Strengths in partnerships with suppliers along with stronger service professionals
Single store operatorsMust get bigger. Greg calls them Garage-Marshals
May run out of bandwidth
The big consolidators are looking for independents to grow to five or six shops. They would rather buy more than one shop at a time
Consider expanding your learning outside the industry93% of shops are owned by technicians that started their business. They need to expand their horizons in the business
Investment needed to run a top shopSoftware to improve efficiency, equipment, subscriptions
Recruiting and retention of your people
The experience of your client needs to be exceptional It starts at the curb
Wifi, Keurig, Water, Clean, Comfortable, Amenities and environment and a look for your avatar
You website that reflects your place, your commitment, your reviews, your value proposition
ConsiderationsADAS
Hybrids
EVs
Watch the video of this panel discussion: http://bit.ly/2XmWRxF
Resources:
Thanks to Rick Swhwartz, Jason Rainey, and Greg Bunch for their contribution to the aftermarket's premier podcast.
Link to the 'BOOKS' page highlighting all books discussed in the podcast library HERE. Leaders are readers.
Love what we do, buy a cup of coffee HERE.
Be socially involved and in touch with the show:
Facebook Twitter Linked In Email
Listen for free on Apple Podcasts, Google Podcasts, Spreaker, iHeart Radio, Spotify, Podchaser and many more. Mobile Listening APP's HERE
Join the Ecosystem – Subscribe to the INSIDER NEWSLETTER HERE.
This episode is brought to you by AAPEX, the Automotive Aftermarket Products Expo. AAPEX represents the $740 billion global automotive aftermarket industry and has everything you need to stay ahead of the curve. With 2,500 exhibiting companies, you'll see the latest products, parts, and technologies for your business. As a result, the event also offers advanced training for shop owners, technicians, warehouse distributors (WDs) and auto parts retailers, as well as networking opportunities to grow your business. AAPEX 2020 will take place Tuesday, Nov. 3 through Thursday, Nov. 5, at the Sands Expo in Las Vegas. Therefore, more than 48,000 targeted buyers are expected to attend, and approximately 162,000 automotive aftermarket professionals. They will be from 135 countries which are projected to be in Las Vegas during AAPEX 2020. For information, visit aapexshow.com