Cecil Bullard – Parts Pricing in the Age of Online Parts Sellers [FTR 089]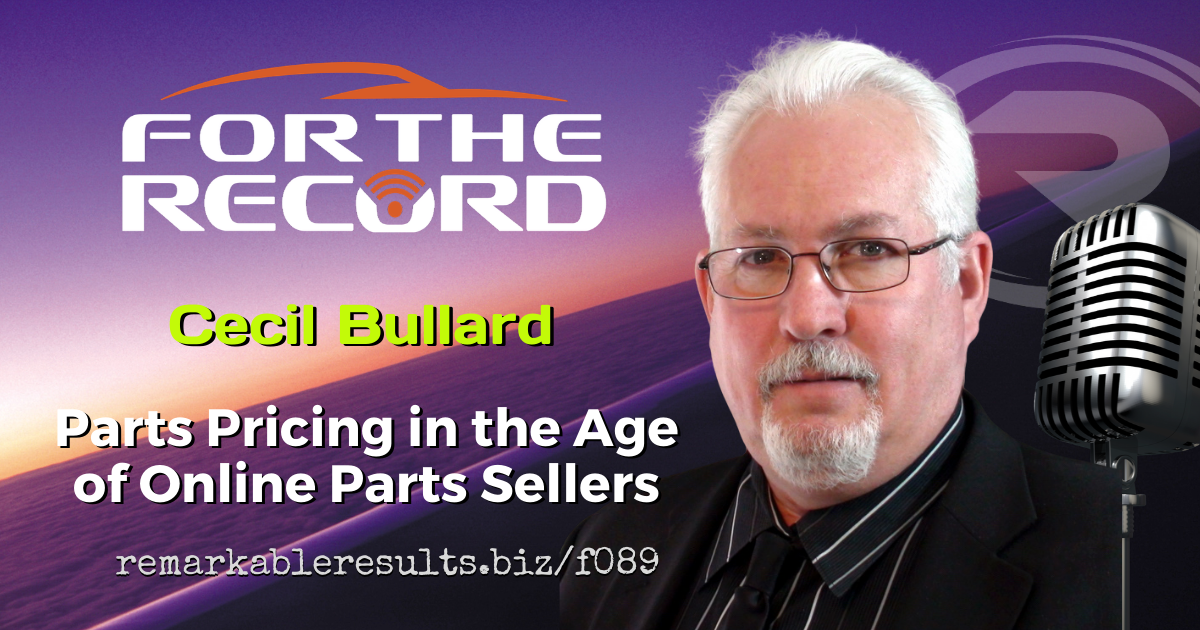 Cecil Bullard is President of the Institute for Automotive Business Excellence. He is a trainer and business coach in the automotive aftermarket working closely with service professionals.
Previous episodes featuring or mentioning Cecil, click HERE.
Institute for Automotive Business Excellence website.
Talking Points:
Re-thinking parts margins based on pricing transparency from online parts sellers
He doesn't like the strategy that we need to re-think how we
Consider what your parts and equipment suppliers do for you.Local availability
Training
Support of local and regional events
We need to dictate how we run our business not the other way aroundWe have a lot invested in our shops
Don't let the online market to influence how you run your business
If you buy parts from an online supplier you are helping them and hurting yourself
Important links below:
Be socially involved and in touch with the show:
Facebook Twitter Linked In Email
Listen for free on Apple Podcasts, Google Podcasts, Spreaker, iHeart Radio, Spotify, Podchaser and many more. Mobile Listening APP's HERE
Join the Ecosystem – Subscribe to the INSIDER NEWSLETTER HERE.

Savvy shop owners use vehicle inspections to find additional work on a vehicle that the vehicle owner may not know is needed. The most successful shop owners fully inspect every car, every time. It benefits the vehicle owner more than the shop because most vehicle owners want their autos to be reliable. FlexCheck Auto takes the power of a shop's inspection process and puts it in the palm of your technician's hand so that pictures, video, and vehicle-specific notes about a vehicle's condition can be shared quickly with vehicle owners. It improves technician efficiency in the bays, service writer efficiency at the counter, increases average repair order and builds trust with vehicle owners. Today's vehicle owners want to receive their vehicle's health status electronically, this makes FlexCheck Auto the most transparent way to do sell auto repair. Try it for free for 30 days! Go to FlexCheckAuto.com to learn more.