Knowing All About ADAS Will Make You a Smarter Technician [RR 519]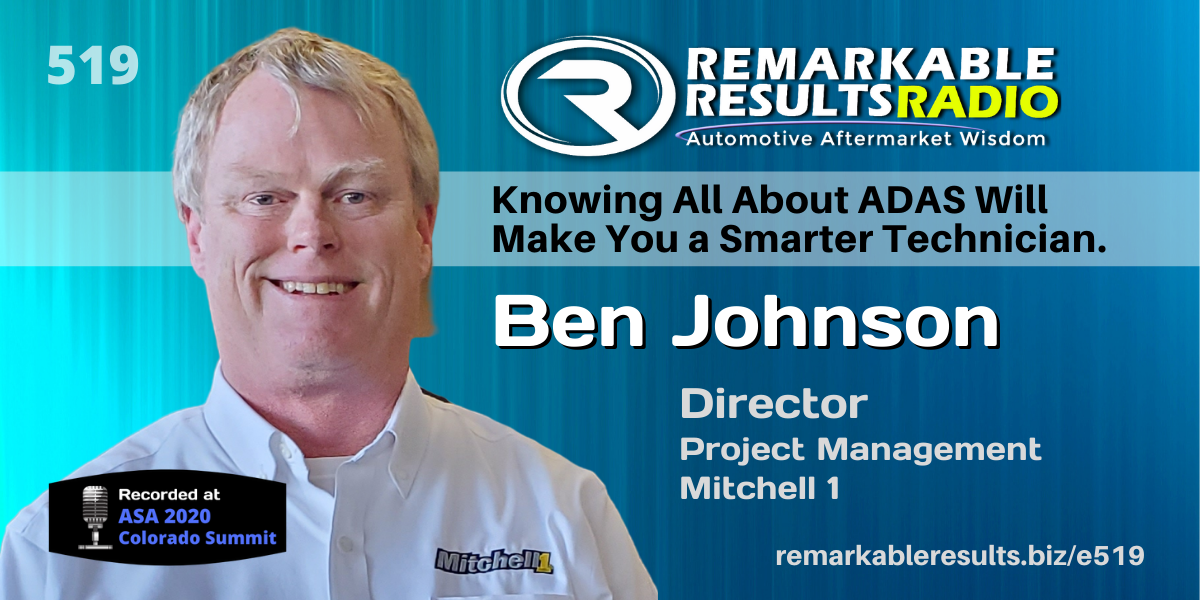 Ben Johnson, Director, Project Management, Mitchell 1
ADAS training class- training is maintenance, instructors need the training to give a training class Full class- many was their first time hearing about ADAS
ADAS is not a "thing" it is industry generated category- each car company will use different terms for ADAS systems (ex: blind-spot monitoring), no standardization
Every technician is working on an ADAS even when they don't realize it- removing the radar sensor for a different problem and reinstalling without calibrating could lead to bigger issue
Evolution of calibrations- dynamic to self-calibration
Emerging technologies- electrification of vehicle, the complexity of vehicle is happening mostly electronically
The best tool for technicians is experience
ADAS is stepping stone to autonomous vehicles- the promise of fewer accidents and less deathIn the year 2016 study showed approximately 10,000 lives could've been saved with ADAS (lane departure, emergency braking system)
How do you teach a computer to have a brain?
Resources:
Thanks to Ben Johnson for his contribution to the aftermarket's premier podcast.
Link to the 'BOOKS' page highlighting all books discussed in the podcast library HERE. Leaders are readers.
Listen for free on Apple Podcasts, Google Podcasts, Spreaker, iHeart Radio, Spotify, Podchaser and many more. Mobile Listening APP's HERE
Find every podcast episode HERE.
Every episode segmented by Series HERE.
Key Word Search HERE.
Love what we do? Buy Carm a cup of coffee HERE.
Be socially involved and in touch with the show:
Facebook Twitter Linked In Email
Join the Ecosystem – Subscribe to the INSIDER NEWSLETTER HERE.

Gold Certification recognizes top tier NAPA AutoCares with a high level of participation in the AutoCare program. The program was built by AutoCare Centers for AutoCare Centers to provide a consistent consumer experience, maximize technology leverage, and reward NAPA's most committed partners. In other words, Gold Certified AutoCare Centers are the standard bearers for the AutoCare brand nationwide. Simply put, the Gold Certified NAPA AutoCare program, powered by your local shop brand, will separate you from the rest helping you boost your bay counts and your average repair orders.
Learn more about NAPA AutoCare, Gold Certification, and the hundreds of other benefits the NAPA family has to offer by talking with your servicing NAPA store or visit www.NAPAAutoCare.com.