Boutique Training: Specific – Focused – Hands On – The Training Comes To You [THA 179]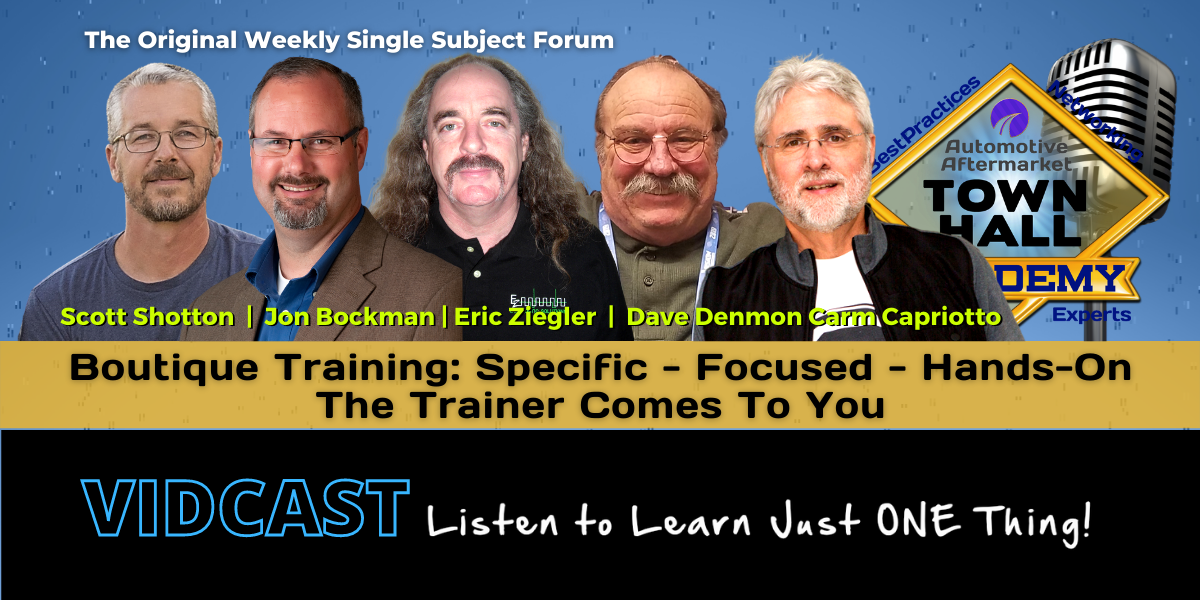 Scott Shotton has over 25 years of technical experience in automotive repair shops. As the owner of The Driveability Guys, Scott performs mobile diagnostics and reprogramming for local repair shops in the DeKalb, Illinois area as well as industry training around the United States and Canada. He was also one of the four trainers for the Illinois EPA's vehicle emissions testing program.
Scott is a former automotive instructor at Kishwaukee College. Prior to Kishwaukee College, Scott was adjunct faculty at the College of DuPage for 7 years. He has a degree in Automotive Service Technology as well as many hours of training by manufacturers and independent training entities.
Scott is also recognized as an Illinois state emissions repair technician. He was also a technical trainer during his 8 year Army career. Scott has written many technical articles for Motor Age and Gears magazines. Scott became an ASE Subject Matter Expert (SME) in 2017.
Scott currently maintains 21 ASE certifications including Master Automotive Technician, Master Truck Technician, A9, L1, L2, L3, Alternate Fuels and more. Scott's previous episodes HERE.
Jon Bockman owns two locations; Bockman's Auto Care in Sycamore, IL and the newly opened Bockman's Truck & Fleet in DeKalb, IL. Jon is a second-generation owner of a business that has been around since 1964. He is a member of ASA and sits on the local college advisory board. He is the treasurer of a NAPA Business Development Group and is the winner of the 2019 NAPA AutoCare's Shop of the Year. Jon's previous episodes HERE.
Eric Ziegler, a Mobile Diagnostician owner of EZ Diagnostic Solutions Inc in Peoria, IL. Also, an instructor for Automotive Seminars and The Driveability Guys. Eric's previous episodes HERE.
Dave Denmon founded Dave's Car Care (formerly known as Dave's Tire and Auto Corral) in 1980. He has been very active in the community, sponsoring Food for the Hungry, the Phoenix Women's Shelter, Little League, girls' softball teams, and established Sunny slope Ministers of Hope to feed local homeless. Dave's previous episodes HERE.
Key Talking Points:
As a test on 'how is business' in the face of the pandemic, both Dave and Jon are doing well
Conceptually,Specific and focused on exactly what you need
Theory and hands-on
One on one because of the smaller class
Defray cost by inviting local shops to participate
AdvantageLooking for a specialized type of training. Customize to your needsPico Scope as an example
Develop a core group of technicians to do this type of training
Save travel, hotel and some food costs
Shared training among your peers in your market
More intimate.
Instead of many generalized classes, you can pinpoint
Move from basic training quicker because of a small group
Use your shops' equipment
In today's culture, you need a commitment from your technicians that are willing to learn every day
You may hire a technician that has never used the equipment you use in your shop. Hire for this specific training
Repetition if the mother of learning. Dave Denmon
Dave has a contract with his techniciansWill get a monthly credit against a total he is investing in them with training
Download Form HERE.
This builds training buy-in and a training bond
You have to train your people
Technology explosion in the next five years
Flat Rate vs Hourly/Incentive (hybrid)
Eric: Average technician pay in US $38. That is average.
Eric does technician mentoring
Navy Seals: They all have their role
Dave is not going to run ads for technicians he will be drafting them from previous
This type of specific train is fluid. At this time just about anything goes
Dave: You need a structured training commitment and a budget between $25K – $50K per year if you want to survive in the next 3 – 5 years
Major corporations will control the quick services for vehicles but fixing cars that have drivability problems will become a real need in the future
Flat rate is irrelevant if you can't fix cars
Dave instituted a technology service access fee on invoices to help fund subscriptions and toolsIn 5 years he collected $77K
Dave: Covid-19 has opened up the job market. There are many talented technicians available. We were always held hostage by the technician shortage
You must give exceptional customer experience if you want to have the highest labor rate
Connect with your favorite trainer to come to your place to create specific training for your team
Connect with Scott or Eric:
Scott Shotton (scott@driveabilityguys.com)
Eric Ziegler (eric@ezdiagnosticsolutions.com)
LINK TO AAPEXSHOW.COM/SERVICEAWARDS
Resources:
Facebook Twitter Linked In Email
Join the Ecosystem – Subscribe to the INSIDER NEWSLETTER HERE.

This episode is brought to you by Shop-Ware Shop Management. It's time to run your business at its fullest potential with the industry's leading technology. Shop-Ware Shop Management will increase your efficiency with lightning-fast workflows, help your staff capture more sales every day, and create very happy customers who promote your business. Shops running Shop-Ware have More Time and generate More Profit—join them! Schedule a free live demonstration and find out how 30 minutes can transform your shop at getshopware.com