Aftermarket Pros Talk Tesla [RR 552]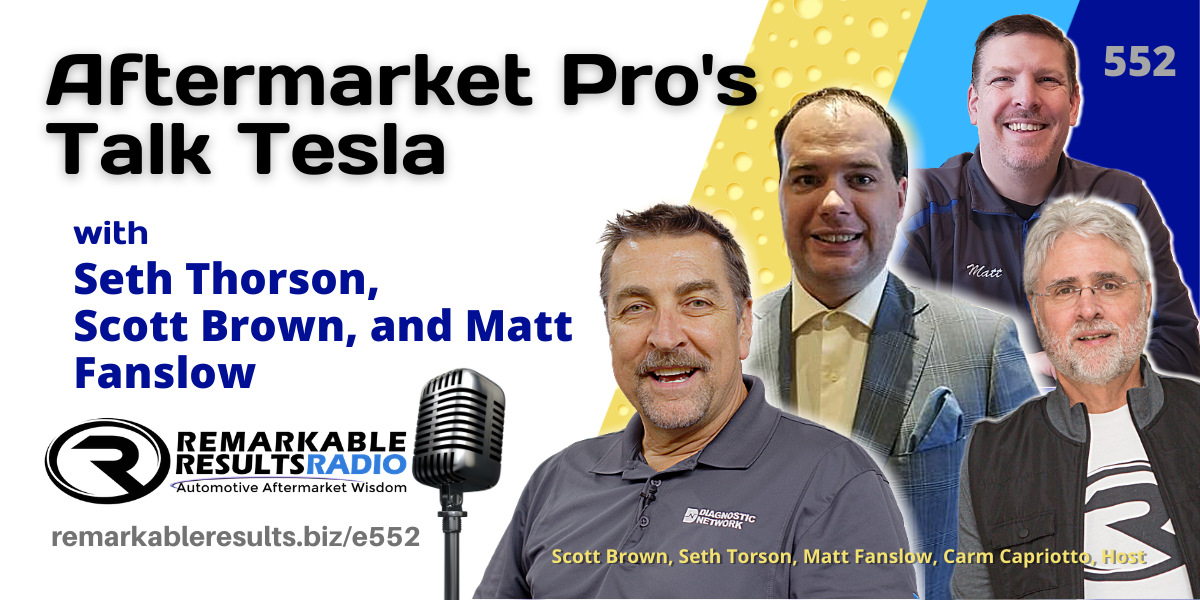 Matt Fanslow is the diagnostic tech/shop manager at Riverside Automotive in Red Wing, MN. His primary responsibilities are to diagnose driveability and electrical/electronic issues, and perform most all programming, coding, initializing, adoptions, etc. Basically, if it needs to be figured out or has wires, it goes to Matt. He's been a tech since 1996.
Matt is also a subject matter expert for ASE and has instructed at Vision Hi-Tech Training and Expo.
Matt has participated on 18 ASE technical committees for the ASE Practice Test, A6, A7, A8, and L1 tests. He's also done case studies for Standard Motor Products.
Fanslow's goal is to do everything in his power to improve the overall level of professionalism within the automotive and light truck repair trade and also raise the level of its public image. Matt Fanslow's Previous Episodes HERE.
Scott Brown is an ASE Master Certified Automobile Technician with over three and a half decades of professional service industry experience. He and his wife own Connie & Dick's Service Center Inc., a 57-year-old independent shop in Southern California.
With a strong focus on engine performance and electronics, Scott began collaborating with other industry professionals, online, beginning in the early 90's. Since 1995, he has been an instrumental resource in the development of the largest online community of automotive service professionals, the International Automotive Technicians Network — iATN where he once served as company president. Additionally, he serves on the NASTF Board of Directors and is a member of the following associations: ASCCA, CAT, ETI, I-CAR, & SAE.
Scott is the founder of diag.net. Find other episodes that have featured Scott HERE. Diag.Net HERE
Seth Thorson has specialized in the service of European automobiles since 1999. First, in Michigan and now at his current location in New Brighton, MN.
Seth was educated at a UTI in Chicago where he was at the top of his class. He then went to BMW Step to finish the master's program. Thorson was hired in at a BMW dealership in Bloomfield Hills, Michigan. From there he moved to an independent shop in Waterford Michigan and learned VW Audi. Seth's passion remained with BMW and he was offered a chance to buy an existing shop in New Brighton, Minnesota near where he grew up.
He is the owner of Eurotech which specializes in BMW, Mercedes and Audi cars. He is a firm believer in using factory tools to ensure proper repairs and coding. His team of highly trained and certified technicians are able to diagnose today's complex vehicle systems! His second location, Green Garage, works on all makes and models.
Seth also owns and runs a BMW tech support company called LMV Bavarian that provides support and programming to a growing network of over 200 shops via remote diagnostics. He also teaches national seminars on BMW diagnostics. Seth has also partnered with SSF auto parts in their unique 'hands-on' training program.
Seth belongs to AASP in MN, BIMRS as well as NASTEF. He is also a member of Cecil Bullards (Institute for Automotive Business Excellence) 20 group. He believes idea sharing and networking with other shop owners has helped grow his business. Listen to Seth's previous episodes HERE.
Key Talking Points
Seth and Scott are working on Tesla vehiclesSuspension failures
Door handles
Northern climates, you've got to pull the calipers (a brake service)
Hybrids need brake work that many are not looking at
Where do we get service information and access to scan tool informationSeth: Tesla is taking an aggressive stance to keep their information close
Newer models are showing with OBD II port on model Y and 3
Tesla will charge you an upfront diagnostic fee when you make a service appointment for a warranty issue. If it is legitimate you get a refund.
Tesla has mobile units for remote service
Seth had a friend with a noiseHe was able to diagnose the problem and told his friend what the problem was
Tesla's service and distribution model is not like the franchised dealerships
You can only buy parts from Tesla
MCUs are failingThey upped their warranty to 2/24 on that component
How do you look up parts and know what part number you needSeth purchased Tesla Service Info.com from tesla for $3,500 per yearA result of the clean air act in Massecusits. Available nationwide
You can look up your parts get a number and then call them
They don't have a retail parts ordering system
They create a service invoice. You pay it via the app and then you pick up your part
You have an APP because you are Tesla owner
Seth is active in a Minnesota Facebook forum on TeslaWeeks wait for service
Scott is doing tire rotations and cabin filers on his customer base
Eventually, BEV will need to pull an emissions reportThe vehicle will need an OBD port to get the data
Scott generates his own energy at home and uses it to fuel his Tesla
Scott ordered the upgrade for his Tesla (3.0)The unit is 21x the computing power of the previous version
Scott recently got a software upgrade that gave him more features on his camera
Seth got a 'brick' episode when he did an upgrade.He got Tesla to help him, with a router reboot and then reinstalled the software
He also rebooted the car twice
Other OEMs are moving to Over The AIr (OTA) updates
MCU: Main display. The heart and soul of the vehicleAll the charging goes through that
They provide a $1,500 refurbished unit if it goes bad
Seth is working on training courses and rebuilding MCU units to sell in the aftermarketThese are out of warranty units
If you are going to work on Tesla, you can market through social media groups
70% of vehicles get repaired in the aftermarket. Tesla needs to help get their cars repaired by the professionals so more people will want to buy one
Link to AAPEX Service Awards HERE.
Resources:
Thanks to Seth Thorson, Scott Brown and Matt Fanslow for their contribution to the aftermarket's premier podcast.
Link to the 'BOOKS' page highlighting all books discussed in the podcast library HERE. Leaders are readers.
Love what we do, buy a cup of coffee HERE.
Be socially involved and in touch with the show:
Facebook Twitter Linked In Email
Listen for free on Apple Podcasts, Google Podcasts, Spreaker, iHeart Radio, Spotify, Podchaser and many more. Mobile Listening APP's HERE
Join the Ecosystem – Subscribe to the INSIDER NEWSLETTER HERE.
This episode is brought to you by AAPEX, the Automotive Aftermarket Products Expo. AAPEX represents the $740 billion global automotive aftermarket industry and has everything you need to stay ahead of the curve. With 2,500 exhibiting companies, you'll see the latest products, parts, and technologies for your business. As a result, the event also offers advanced training for shop owners, technicians, warehouse distributors (WDs) and auto parts retailers, as well as networking opportunities to grow your business. AAPEX 2020 will take place Tuesday, Nov. 3 through Thursday, Nov. 5, 2020 at the Sands Expo in Las Vegas. Therefore, more than 48,000 targeted buyers are expected to attend, and approximately 162,000 automotive aftermarket professionals. They will be from 135 countries which are projected to be in Las Vegas during AAPEX 2020. For information, visit aapexshow.com

This episode is brought to you by Shop-Ware Shop Management. It's time to run your business at its fullest potential with the industry's leading technology. Shop-Ware Shop Management will increase your efficiency with lightning-fast workflows, help your staff capture more sales every day, and create very happy customers who promote your business. Shops running Shop-Ware have More Time and generate More Profit—join them! Schedule a free live demonstration and find out how 30 minutes can transform your shop at shop-ware.com