Fake Reviews: How to Handle Them [THA 181]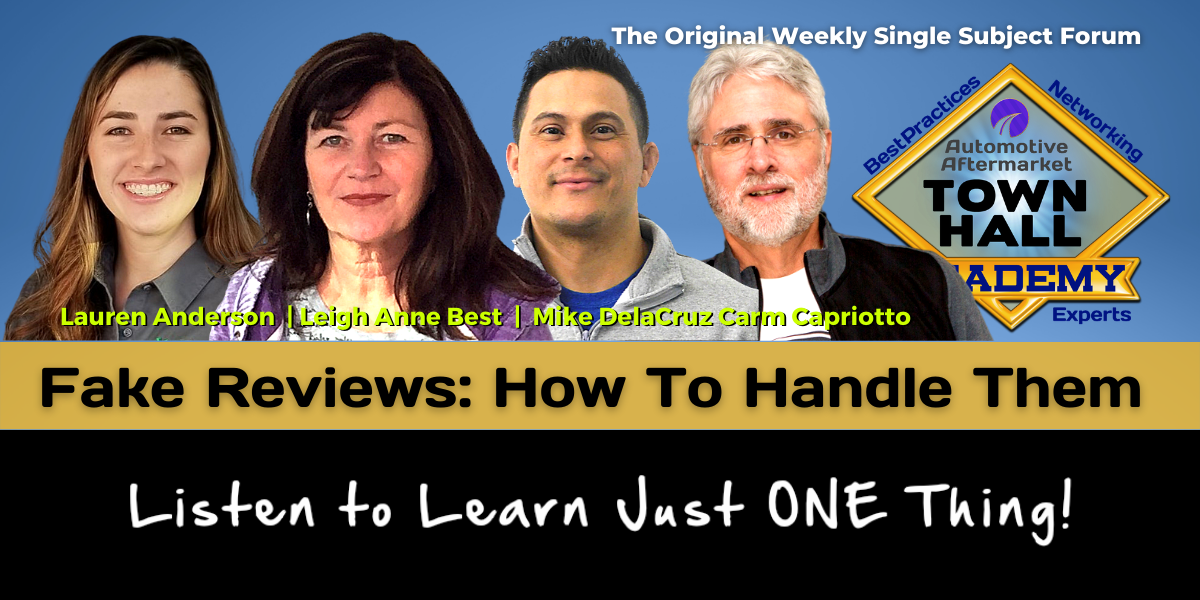 The Panel:
Lauren Anderson is an Executive Assistant to her dad at the eight location Victory Auto Service in Minneapolis, MN. In her position, she gets the opportunity to learn all aspects of the business, through her dad's experience and perspective. Her dad, Jeff Matt (his previous episodes here) gave her the Freedom to speak up on any subject at any time either to make suggestions or to ask questions. Hear Lauren's previous episodes HERE.
Leigh Anne Best has been the Marketing Director and Customer Experience expert at Mighty Auto Pro for the past 11 years. She is also the Co-Founder of Brakes for Breasts and serves on the Advisory Board of an industry magazine and is on the AAA Approved Auto Repair Advisory Board.
A great feature of Might Auto Pro is a special women's event that Leigh Anne holds called Women, Wheels & Waffles. These are very popular events. Listen to Leigh Ann's previous episodes HERE.
Mike Dela Cruz is the National Sales Manager of Broadly.com. A company who is helping businesses in the automotive aftermarket get positive reviews and making them look good online.
Key Talking Points:
Some Fake Reviews come from:Disgruntled former employees
Competitor looking to discredit your reputation online (could be an act of desperation)An inherent ethical problem in our business that pulls everyone down (Carm)
Many times the name of the reviewer is a pseudonym. It doesn't look real.
They are not frequent
People will look at Google reviews to learn of a businesses reputation
Fake reviews can upset you because they are not a real depiction of your business
Potential customers will read them. If you have more four and five-star reviews they can weight on the occasional one or two-star or fake reviews
You take pride in your hard work building your business, however, you will get the occasional fake review. Suggestions on what to do:Always keep your response professional
Be sure your headspace is proper
Don't defend yourself
Present the facts. "You are not in my database."
Keep the emotion out of your reply
Don't make assumptions
Do the research. Were they a customer
Keep the response empathetic with an apology
Provide a productive next step
Mike suggests saying: 'Thanks for taking the time to write a review or share your thoughts'. He suggests not to apologize if you didn't do anything wrong
Explain the core issues, but try to make it brief and straightforward.
Leigh Anne's number one source of new customers is Google. Google reviews can be critical to your reputation and growth
People look for patterns in reviews and the responses from the owner
Great or bad reviews present big opportunitiesYou must respond to everyone
Show your transparency
Make the customer a believer in your brand
It takes some time for a person to write a review. It could take them 12 – 15 minutes. That justified why you need to spend time responding.How fast your send will also support the relationship and bond with the customer
Don't let fake reviews bother you. Just dial down your anger and deal with it
Google will allow you to share posts
Leigh Anne send a handwritten note to customers who send reviews thanking them for the great reviews
When you are hiring the candidate will look at your reviews. Managing them and responding helps in your recruiting efforts and reputation.
Resources:
A special thanks to Lauren Anderson, Leigh Anne Best, and Mike Dela Cruz for their contribution to the aftermarket.
Link to the 'BOOKS' page highlighting all books discussed in the podcast library HERE. Leaders are readers.
Listen for free on Apple Podcasts, Google Podcasts, Spreaker, iHeart Radio, Spotify, Podchaser, and many more. Mobile Listening APP's HERE
Find every podcast episode HERE.
Every episode segmented by Series HERE.
Key Word Search HERE.
Love what we do? Buy Carm a cup of coffee HERE.
Facebook Twitter Linked In Email
Join the Ecosystem – Subscribe to the INSIDER NEWSLETTER HERE.

This episode is brought to you by Shop-Ware Shop Management. It's time to run your business at its fullest potential with the industry's leading technology. Shop-Ware Shop Management will increase your efficiency with lightning-fast workflows, help your staff capture more sales every day, and create very happy customers who promote your business. Shops running Shop-Ware have More Time and generate More Profit—join them! Schedule a free live demonstration and find out how 30 minutes can transform your shop at getshopware.com

This episode is brought to you buy Shop Marketing Pros. Your guides are Kim and Brian Walker with a rich history as shop owners and industry veterans. When someone searches for a shop, who are they finding? Your competitors? It should be you! The good people over at Shop Marketing Pros know how to drive website traffic and make Google work for you! www.shopmarketingpros.com