Africa's First Technician Holding Three ASE Master Technician Certificates and L1, L2 and L3 [RR 556]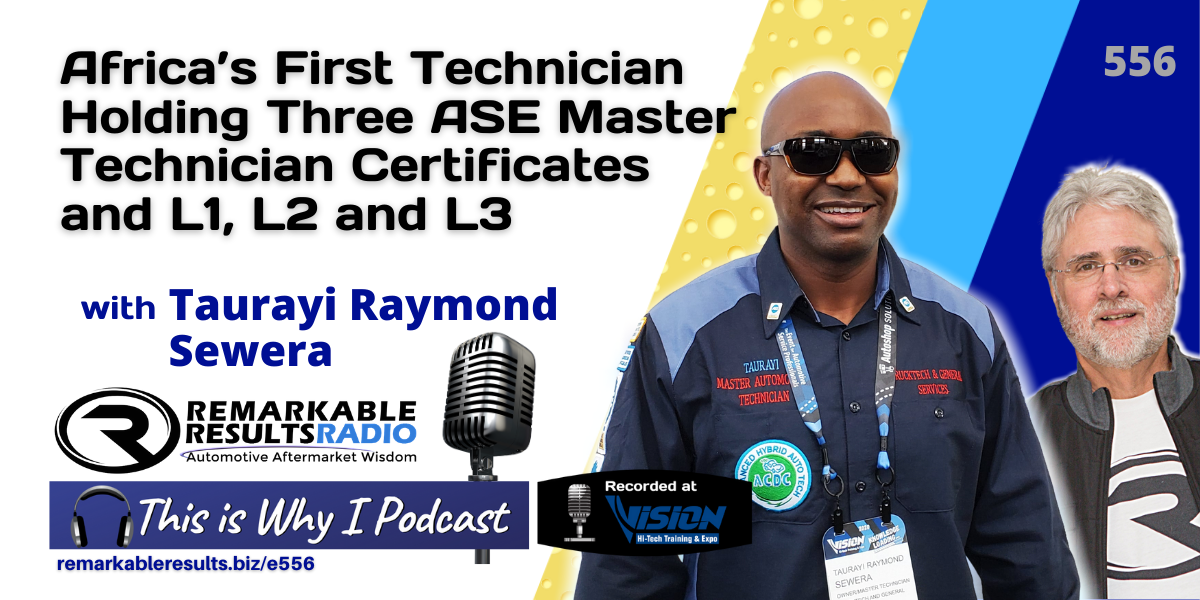 Taurayi Raymond Sewera is one of the few automotive technicians who can fix cars from gasoline, hybrid and electric vehicles, to heavy-duty diesel vehicles as well as earth-moving and farming equipment. Being the only technician in Africa who is certified by the National Institute of Automotive Service Excellence (ASE) for light duty diesel, medium and heavy-duty trucks and advanced level specialist (L1), Taurayi has broken many barriers and is still aiming for more. He is the first and only African member of the Automotive Service Association (ASA). Check Taurayi's other episodes HERE.
Key Talking Points:
Didn't have enough money to fly to Vision 2020 from Zimbabwe but had already paid for hotel and fees for conference, Vision founder sent money to Taurayi so he could still attend
Will start to import hybrid and electric cars
After Vision 2020 taking ASE Test- only 4 systems left to become ASE world class techniciansStandard in industry
Nothing should stop you from achieving goals- Taurayi currently battling chronic pancreatitis
Goal- start automotive school back home
Keynote speaker in Australia for their biggest event called Autocare in June
90% of citizens in Zimbabwe cannot afford 3 meals a day- have resources to be a rich country (gold, lithium, diamonds etc). No training for technicians
See below for Taurayi's certifications.
Resources:
Thanks to Taurayi Raymond Sewera for their contribution to the aftermarket's premier podcast.
Link to the 'BOOKS' page highlighting all books discussed in the podcast library HERE. Leaders are readers.
Love what we do, buy a cup of coffee HERE.
Be socially involved and in touch with the show:
Facebook Twitter Linked In Email
Listen for free on Apple Podcasts, Google Podcasts, Spreaker, iHeart Radio, Spotify, Podchaser and many more. Mobile Listening APP's HERE
Join the Ecosystem – Subscribe to the INSIDER NEWSLETTER HERE.

This episode is brought to you by Shop-Ware Shop Management. It's time to run your business at its fullest potential with the industry's leading technology. Shop-Ware Shop Management will increase your efficiency with lightning-fast workflows, help your staff capture more sales every day, and create very happy customers who promote your business. Shops running Shop-Ware have More Time and generate More Profit—join them! Schedule a free live demonstration and find out how 30 minutes can transform your shop at shop-ware.com
This episode is brought to you by AAPEX, the Automotive Aftermarket Products Expo. AAPEX represents the $740 billion global automotive aftermarket industry and has everything you need to stay ahead of the curve. With 2,500 exhibiting companies, you'll see the latest products, parts, and technologies for your business. As a result, the event also offers advanced training for shop owners, technicians, warehouse distributors (WDs) and auto parts retailers, as well as networking opportunities to grow your business. AAPEX 2020 will take place Tuesday, Nov. 3 through Thursday, Nov. 5, 2020 at the Sands Expo in Las Vegas. Therefore, more than 48,000 targeted buyers are expected to attend, and approximately 162,000 automotive aftermarket professionals. They will be from 135 countries which are projected to be in Las Vegas during AAPEX 2020. For information, visit aapexshow.com