Six Shops in Eleven Years: The Story Behind This Explosive Growth [RR 557]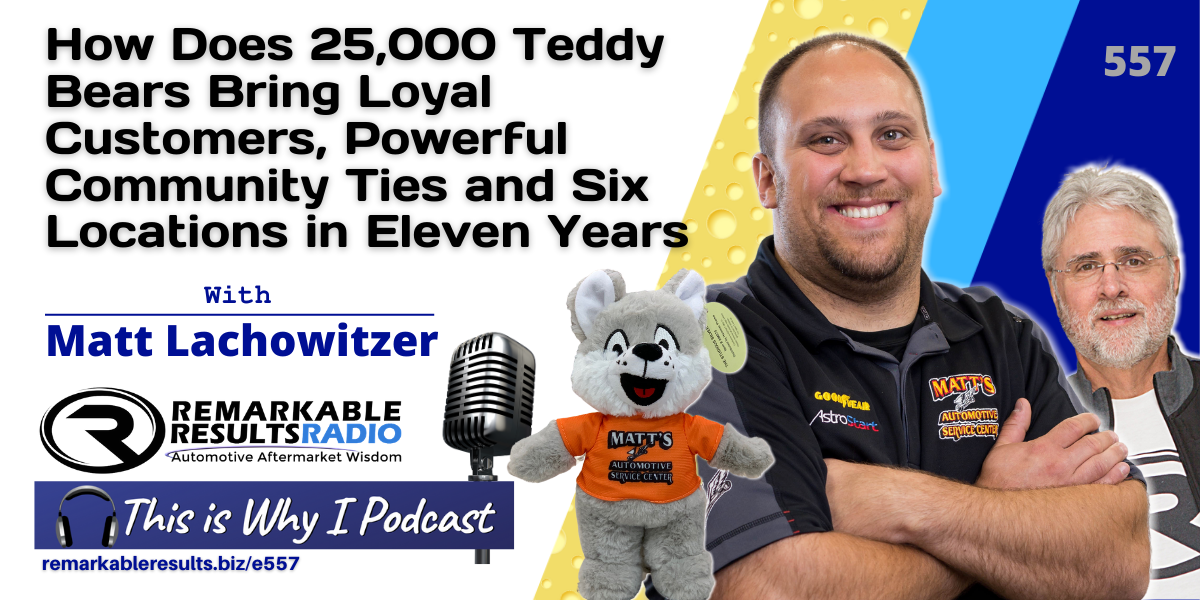 Matt Lachowitzer is a husband, father of 3, avid Minnesota Vikings fan, and owner and founder of Matt's Automotive Service Center. A Herman, MN native, Matt started this company as a two-bay shop back in 2009. He has expanded the company into 6 locations with beautiful, state of the art facilities all over the Fargo-Moorhead area. Matt enjoys being a pillar in the community, giving back in any way he can, and providing knowledge and education in the biggest ways possible. As a result of being a continuous educator and an amazing pillar in the community, Matt won Entrepreneur of the Year in 2015 through the Fargo-Moorhead West Fargo Chamber of Commerce. When Matt's not working, he enjoys fishing, riding ATV's, watching football, and traveling with his family. Check Matt's other episodes HERE.
Key Talking Points:
Grew up wanting to be a lawyer then plan B was diesel mechanics The family sold the farm, dropped out of school and started working at local GM Dealer
Opened first shop with support of wife
6 locations in 11 yearsThe secret is hiring employees that believe in your company and what you're doing and being a pillar in the surrounding communities
Culture of business- people want to feel something when they come to work, customers want to feel like they had an experience
Continue to "wow" your customer and have a relationship with them- giving them a card, blanket, flag, etc- cement that "wow" moment with the customer to create your brand
Need to have standard operating systems in order to successfully run multiple locations
Connect customer with the technician that works on their car
Training- twice a month and 3.5 hours each timeBuilt training facility
SWOT (strengths, weakness, opportunities, threats) once a quarter
A lottery system for employees to go to other training opportunities/seminars- if they go they are required to help develop training for the rest of the employees that didn't go
Connecting with the communityEncouraging entrepreneurshipGirl scout cookie badge- any girl scout that comes into each store to sell the store will buy 2 boxes (has to be the actual girl scout). Donated half of the cookies local food pantries and the other half sent to veterans overseas
Make a wish foundation Sister is cancer survivor and business strives to grant a wish to one child per year
Day of Service- 5th year The nomination process to get up to $1,000 worth of repairs on the vehicle the day after Thanksgiving
Any car that has a child seat in the back, technicians take a teddy bear and buckle it in and make note of version (change teddy bear once a year) and the customer keeps it. On pace to go through 25,000 teddy bears. This isn't just a car, it's a customer
Knowledge is power: women car care events- 14 events so far. Average attendance is around 80
Resources:
Thanks to Matt Lachowitzer for his contribution to the aftermarket's premier podcast.
Link to the 'BOOKS' page highlighting all books discussed in the podcast library HERE. Leaders are readers.
Listen for free on Apple Podcasts, Google Podcasts, Spreaker, iHeart Radio, Spotify, Podchaser and many more. Mobile Listening APP's HERE
Find every podcast episode HERE.
Every episode segmented by Series HERE.
Key Word Search HERE.
Love what we do? Buy Carm a cup of coffee HERE.
Be socially involved and in touch with the show:
Facebook Twitter Linked In Email
Join the Ecosystem – Subscribe to the INSIDER NEWSLETTER HERE.

NAPA AutoCare's recent partnership with CarVantage gives your AutoCare Center an easy way to take advantage of telematics, increasing customer retention and boosting customer spend. You provide customers with a CarVantage sensor that plugs into their vehicle and connects via Bluetooth to their smartphone. Then you set up automated marketing campaigns that target customers based on their vehicle's next maintenance interval, for example, or whenever a check engine light is detected. That gives customers peace of mind and the best experience in the market. They also love CarVantage because it's free to them. A special offer only for NAPA AutoCare Centers lets you give CarVantage a try at a very affordable price. And it includes free sensors. Other plans and enhancements are also available.
Learn more about CarVantage and the hundreds of other benefits NAPA offers. Talk with your servicing NAPA store or visit, www.NAPAAutoCare.com.