Addition by Subtraction: Letting Someone Go [THA 244]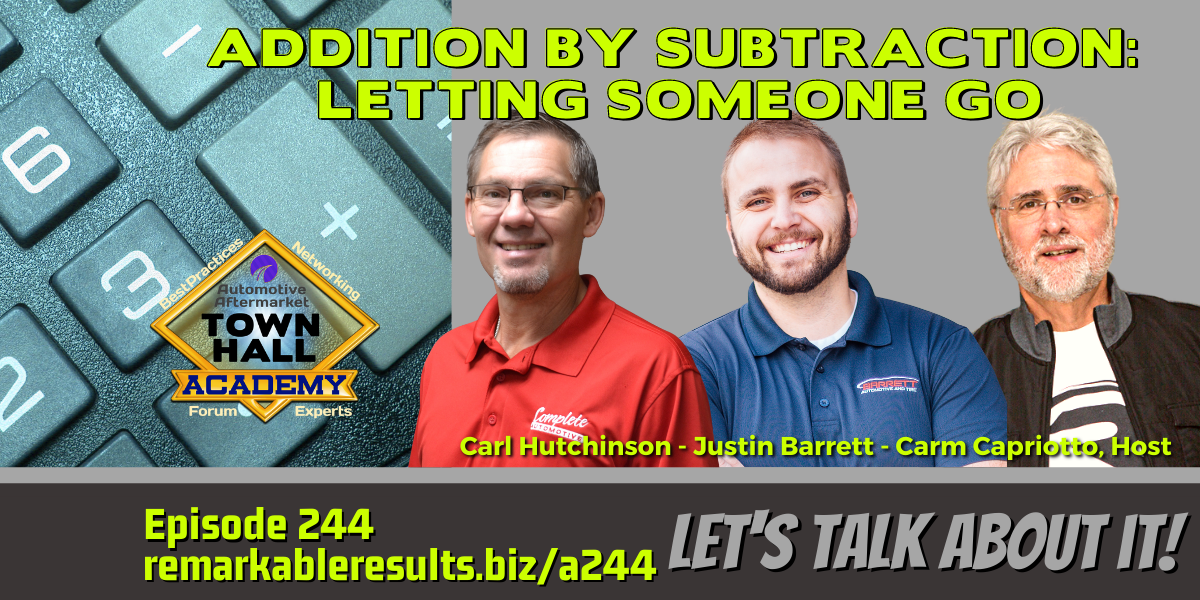 Carl Hutchinson, Complete Automotive, Springfield, MO has been in the car industry since 1982, but has worked on vehicles long before that time. He has a passion for engineering, for understanding how vehicles operate, and how to repair a customer's concern. Earlier in his career, Carl started working at a GM Dealership, then went to work at independent repair facilities as a technician and eventually became a service advisor. Carl's experience in the automotive industry led him to his current position as co-owner with Maureen Hutchinson of Complete Automotive in Springfield MO., where he works every day to provide high-quality, valuable service to all customers. Carl is an Alumni with Ozarks Technical Community College, Springfield MO Campus. He currently sits on the Automotive Advisory Board with Ozark Technical Community College, member of South East Rotary, and a member of the Springfield Midwest Auto Care Alliance chapter. Carl has his Master ASE Certification, L1 and Service Advisor certification and is an AMI Graduate.
Listen to Carl's previous episodes HERE
Justin Barrett is the owner and operator of Barrett Automotive, Cornelia, GA. He is excited about the future of this industry with autonomous vehicles and the role the independent repair shop will play in that arena, and with the changing landscape how we are going to have to be nimble and adapt to stay relevant. Leadership is something that is extremely challenging to him but rewarding when done right. He had some leadership failures and wins which are adding to his growth in that area. His biggest challenge right now is the same thing that he is working on and that is building a great team. In the last 18 months, he had gone from leading himself and one other to leading 6 and still adding to keep up with growth.
Listen to Justin's previous episodes HERE
Key Talking Points
Making a tough decision- personnel decisions can be the hardest.
Giving too many chances for people to correct flaws- consider, are they unmotivated and unwilling to improve?
1 bad apple turns the whole bushel bad- identifying the bad apple can be a challenge and can lead to more employees leaving.
"Run your business as a business. Don't run your shop as a shop"
What gets in way of making decision? Fear of the unknown: Will I have to work in the shop? Can you replace that employee? Are you better off tolerating than doing without? Rationalize.
Right seat right person- are they where they should be?
Be in tune with your employees- open and honest, open door policy
Hiring/orientation- slow the process down when you are able to, to see if they will fit in your culture, call references, what is their home life like?
Always be recruiting even when you have a full staff- offer training at your shop so other technicians can see what your environment is like
Leaders don't make excuses- own your decisions as an owner
Rip the bandaid- 3 days of hurt then move on, you're doing the right thing for the business and for that individual.
Connect with the show:
Check out today's partners:

This episode is brought to you by Shop-Ware Shop Management. It's time to run your business at its fullest potential with the industry's leading technology. Shop-Ware Shop Management will increase your efficiency with lightning-fast workflows, help your staff capture more sales every day, and create very happy customers who promote your business. Shops running Shop-Ware have More Time and generate More Profit—join them! Schedule a free live demonstration and find out how 30 minutes can transform your shop at getshopware.com

Are you seeing auto shops in your area get hundreds of 5-star Google reviews and are you feeling left behind because your shop only has a few?
Hey look, Broadly is your answer to getting more online reviews. With more reviews, your business will rank higher in search results — and that means more customers coming into your shop every day.
Broadly helps you automatically request reviews so that your customers can promote your business with just one click. When you immediately ask for a review after service, when the experience is still fresh in their mind, you're more likely to get a 5-star positive review. Plus, asking for feedback makes your customer feel valued and more connected to your business. Isn't that what you want a connected customer? See how Broadly can help grow your auto shop.  Visit www.getbroadly.com/chat to learn more.