Amazing Women in Automotive [RR 681]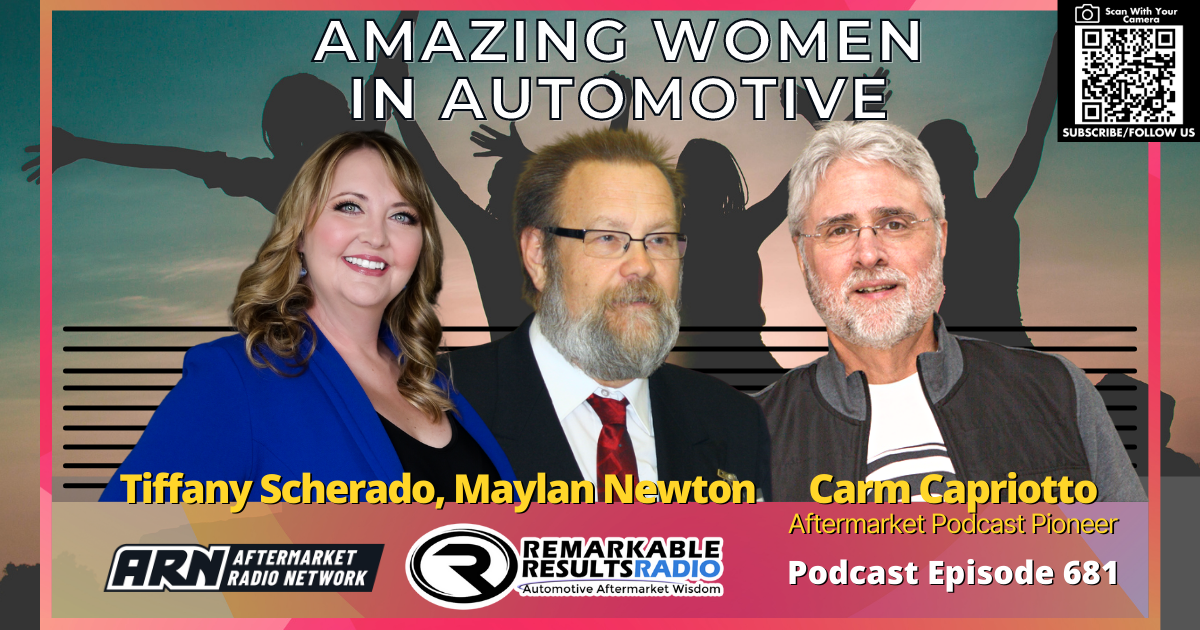 Tiffany Scherado, Lifetime Transmissions, Broken Arrow, OK, AWIA Coordinator. Tiffany's favorite part of working in the auto industry is working with the high schools and tech colleges in developing programs to assist with the tech shortage and networking and sharing knowledge and experiences with other passionate people in the industry. She looks forward to watching the family transmission business and her personal accomplishments flourish. Tiffany's main objective as leader of Amazing Women in Automotive is to support the automotive industry. She is doing this by helping to provide resources and support for women currently in the industry and increase the number of females entering the field and ensuring we retain them.
Find Tiffany's previous episodes HERE
Maylan Newton from ESI – Educational Seminars Institute is a business coach, trainer and industry speaker. Maylan is no stranger to the podcast having paid it forward many times. He is a much sought our speaker at industry events in the US. Maylan's purpose is to educate leaders to be a better owner or service writer.
Find Maylan's previous episodes HERE.
Key Talking Points
How AWIA got started – 2018 US Department of Labor released that 700 thousand male technicians in industry vs 19,000 women. Only 2% were female. Wanted to start recruiting, supporting and retaining women in the industry. Driven by the members, women talking to women,  power in numbers. Weekly 1 hour round table Zoom meetings with either a topic to discuss or support/advice for an issue a  fellow member is dealing with. Females only.
What AWIA wants to do/is doing- recruiting women/technicians needs to start young, high school level. Parents need to also know. Change the image the industry has. It's not a 'grease monkey' job anymore. Be apart of the community. It's a male dominated world and it's often not female friendly. 
Diversity and creative thinking is needed in any business
It takes over a year for 40% of women exiting military find a placement at a job. That is experience the automotive industry needs to have. Where are they going?
How to get involved with AWIA- amazingwia.com, Facebook page, email Tiffany@AmazingWiA.com to join and receive a link every week for the roundtable discussion 1pm CST
Future of AWIA- retreat for women, becoming non-profit 
Things to consider- do you have restrooms with a lock for female employees, are they happy with their uniforms?
AWIA will be attending ATRA Powertrain Expo in October, Las Vegas, NV
Connect with the show:
Check out today's partners:

The NAPA Smart Sign, previously known as Digital Menu Board, gives your shop a professional, state-of-the-art look and feel. It's a great way to educate and inform your customers about needed repairs and service, plus increase awareness of your current promotions. NAPA AutoCare Center that have installed a Digital Menu Board found one out of five consumers ask for a repair or service they've seen on the board. Targeted promotions resulted in double-digit increases. You choose the content from a library of auto care service and repair topics. The latest NAPA national promotions are downloaded to you automatically. And with the Digital Menu Board it's easy to change your services, prices, and video content anytime you'd like. Talk to your servicing NAPA store to find out more.