Culture Makes Great Customers, Keeps Great People, and Attracts Superstars [THA 255]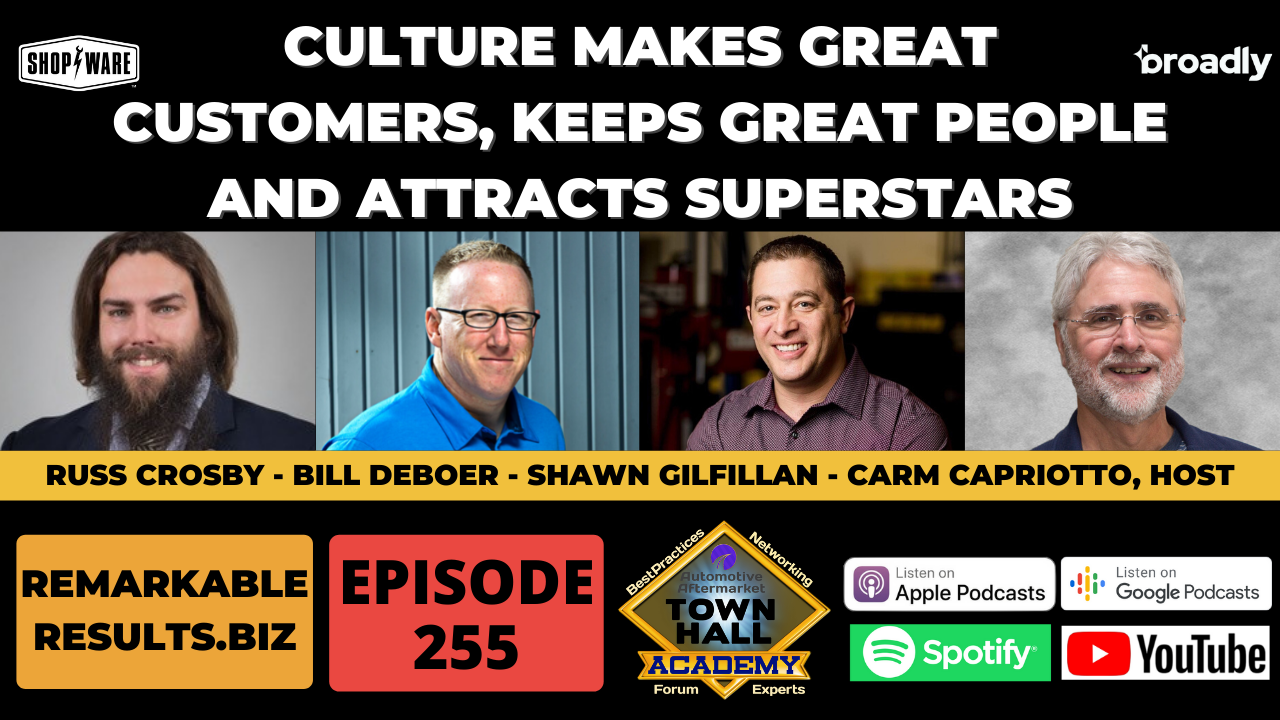 Key Talking Points
Being authentic with & about internal self-talk (like the angel & devil on the shoulders that we all have)

Hiring after growth- does it divide the existing team?

Screen and filter for core values during interview process- involve the team in the interview process

Transparency for internal employees and customers

Stay consistent

Creating goals together

"Lead from the front, it's hard to push a rope"

Vision won't go anywhere unless it is shared, written, and in front of everyone every single day. Tie the vision with what people want. 

Sharing finances and educating employees with their own finances

Empower employees- act as business owners

Community-create deep community bonds. Getting your team involved with these endeavors gives them a sense of accomplishment and starts to shape tomorrow's philanthropists 

Get connected with other shops

EOS setting company culture- r

egularly schedule meeting with same agenda (Weekly, Quarterly, Annual Meeting)

Living in a 90 day world.

Quarterly one-on-one conversations with bi-directional feedback

Dream Manager by Mathew Kelly-A business parable about how companies can achieve remarkable results by helping their employees fulfill their dream.

Special position within the company to help people dream and execute on those dreams.

Help people get what they want in life, Helps you get what you want in life.
Connect with the show:
Check out today's partners:

This episode is brought to you by Shop-Ware Shop Management. It's time to run your business at its fullest potential with the industry's leading technology. Shop-Ware Shop Management will increase your efficiency with lightning-fast workflows, help your staff capture more sales every day, and create very happy customers who promote your business. Shops running Shop-Ware have More Time and generate More Profit—join them! Schedule a free live demonstration and find out how 30 minutes can transform your shop at getshopware.com

Are you seeing auto shops in your area get hundreds of 5-star Google reviews and are you feeling left behind because your shop only has a few?
Hey look, Broadly is your answer to getting more online reviews. With more reviews, your business will rank higher in search results — and that means more customers coming into your shop every day.
Broadly helps you automatically request reviews so that your customers can promote your business with just one click. When you immediately ask for a review after service, when the experience is still fresh in their mind, you're more likely to get a 5-star positive review. Plus, asking for feedback makes your customer feel valued and more connected to your business. Isn't that what you want a connected customer? See how Broadly can help grow your auto shop.  Visit www.getbroadly.com/chat to learn more.
The Panel
Russell Crosby is the owner of Russ's Wrench Auto Repair located in Clinton, NJ. Russ's previous episodes HERE
William J. DeBoer (Bill Jr.) is Co-owner and Vice President of DeBoer's Auto Sales & Service. Bill has been responsible for bringing innovations in daily operations to the full-service, high-tech auto repair facility for 20+ years. Bill was able to fuse his passions for technology and cars with a Certificate in Automotive Technology, followed by a B.S. in Business Management from Penn State. Bill is an Accredited Automotive Manager from the Automotive Management Institute as well as a CERTIFIED MASTER DEALER® from the National Independent Automobile Dealers Association. His National Institute for Automotive Service Excellence (ASE) credentials includes: Master Technician, L1 Advanced Engine Performance, P2 Parts Specialist, and X1 Undercar Specialist. Listen to Bill's podcast episodes HERE.
Shawn Gilfillan, Automotive Magic, Kenvil and Lake Hopatcong, NJ