The Four Pillars of Marketing – Tony Mercury [RR 703]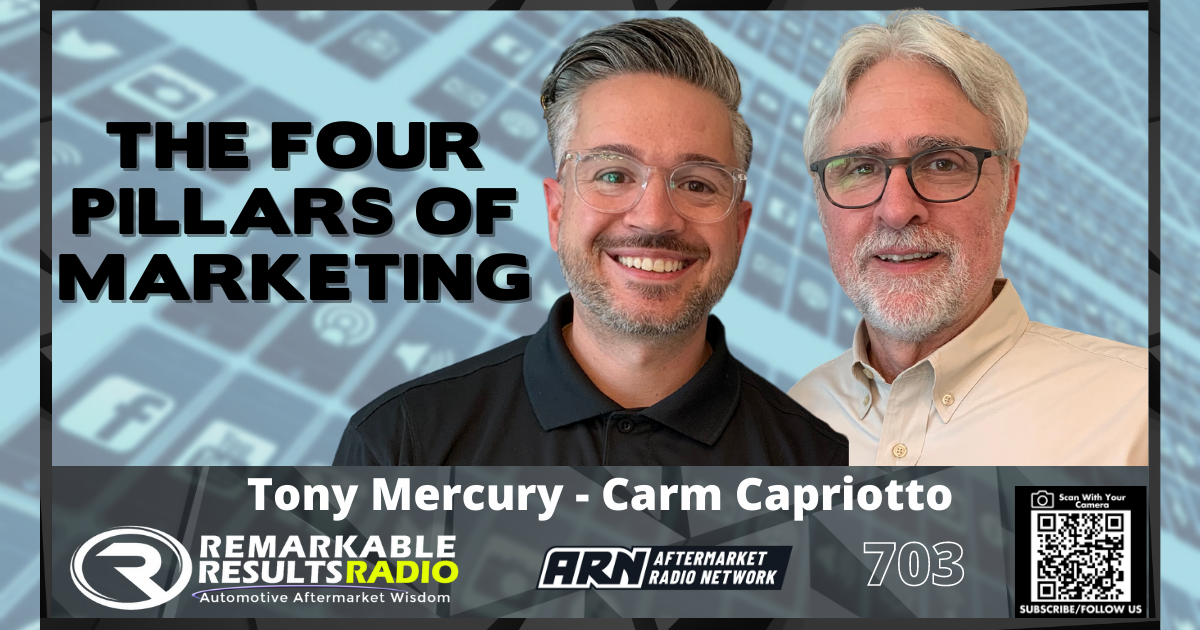 Key Talking Points
"Top Internet Marketing Trends for your Repair Shop"

OMNI channel marketing- be everywhere at all times

Producing video content- It's easier than you think, everyone has a cell phone to use, you don't need a high budget. 

Contact hack for blogs- start typing in google and google will show what people are searching for. The goal is to get someone in the local market to find the blog.

Grassroots marketing- birthdays, customers, 

Four pillars of marketing: website (70% of searches are mobile), SEO, paid search, social media 

Call to action on a website- click to call, click to schedule, click to ready google reviews, live chat

How are people interacting? How do your customers want to interact? Are you future thinking?

Update your website every 18-24 months to keep it fresh- research other websites in and outside of the industry. Ask others for their opinion
Connect with the show:
Check out today's partner:

NAPA AutoCare's PROimage program makes it easy for you to make the most of the NAPA brand. A PROimage upgrade lets you maintain your shop's identity as a reliable, locally-owned business while letting your customers and potential customers know you're partnering with NAPA, the most recognized and trusted name in the automotive aftermarket. AutoCare Centers that have completed a PROimage exterior upgrade enjoy an average 23 percent sales increase during the first year. You can also choose to go PROimage on the interior and transform your customer waiting area from merely utilitarian to warm and welcoming. You can even get a free look by visting www.NAPAAutoCare.com and clicking on the NAPA PROimage link under the NAPA PROimage tab. Of course, the AutoCare site is also the place to go to find out about all the advantages being part of the NAPA family has to offer. www.napaautocare.com 
Tony Mercury is the Vice President of Revenue for Autoshop Solutions. He's been helping shop owners market their businesses since 2015.