The Extreme Value of a 'SWOT' for your Business [THA 283]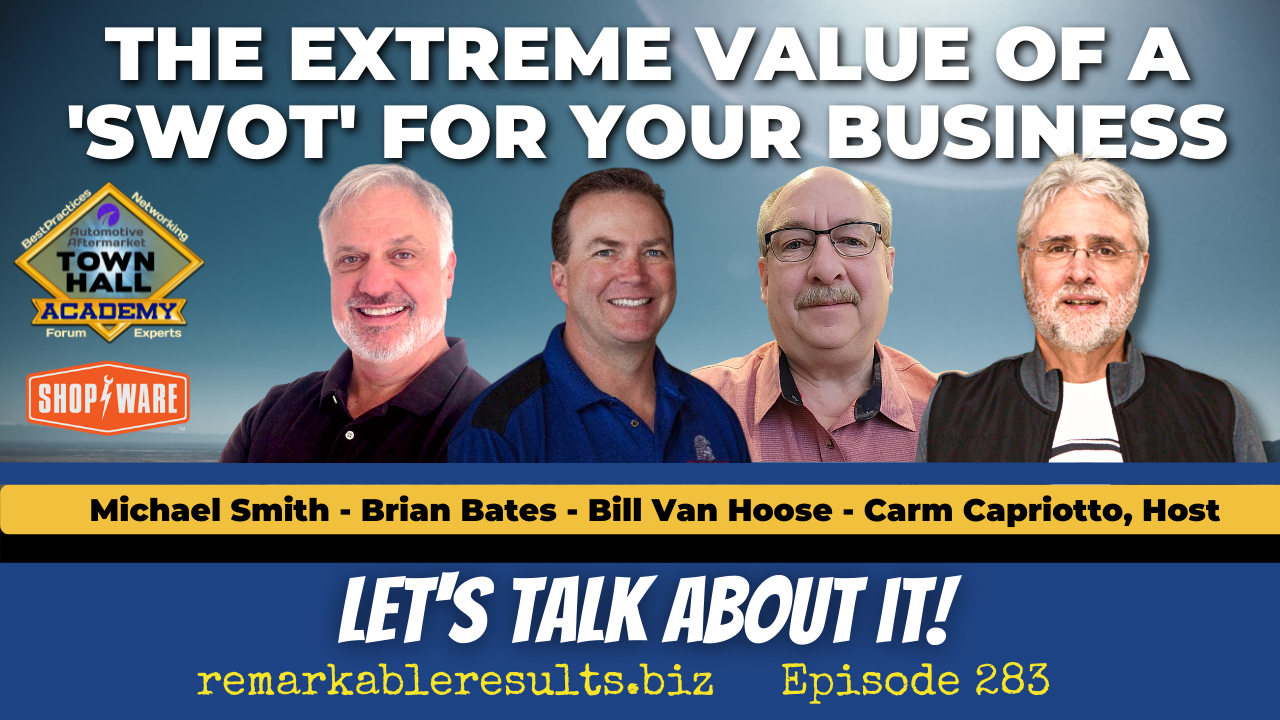 How often are you checking on the overall health of your business with your team members involved? Are you identifying and working on the strengths, weaknesses, opportunities, and threats, known as SWOT? How do you start a SWOT analysis? What are the benefits? How do you find your blindspots? Does knowing your SWOT give you a competitive advantage? My panel takes a deep dive into the value of SWOT and shares their own experiences.
Watch the Episode on YouTube
Brian Bates, Eagle Automotive Service, Littleton, CO, 9 locations. Brian's previous episodes HERE
Michael Smith, Managing Partner, Herzberg Smith and Co, Michael Smith's previous episodes HERE
Bill Van Hoose, General Manager, Eagle Automotive Service, Littleton, CO, 5 locations
Key Talking Points
SWOT Analysis

is just one component of a comprehensive approach to

continuously reassessing and improving a company's structure, performance & results over time

.

SWOT is Step #1 in a 5-step value building cycle

– As-Is discovery, To-Be future, gap analysis, gap closure, and begin again.

Strengths & Weaknesses are INTERNALLY-focused and  Opportunities & Threats are EXTERNALLY-focused.
Path to Mastery

– Achieving

mastery requires continuous assessment & development

; SWOT plays a crucial role

A comprehensive (breadth) SWOT analysis

examines

ALL value-levers & business functions

.

A deep-dive (depth) SWOT analysis

includes an alignment-assessment for each lever & function,

from vision down through deliverables & success metrics

.

People do business with people

Consider doing a SWOT post Covid

Starting- pick 1 problem area first, you will uncover other problem areas naturally. Remove your arrogance during the process. Add humility. Ensure your team is aligned with your culture, business and SWOT. It is a collaborative effort to improve, you are not assigning blame.

Implementing SWOT with a qualified moderator to dig deep, unveil blindspots and ask the hard questions

"What's your legacy? What is your exit strategy?" Have the end in mind. What is your value proposition?
Connect with the Podcast
Check out today's partners:

More Time. More Profit. Shop-Ware Shop Management getshopware.com