Customer Amenities [THA 291]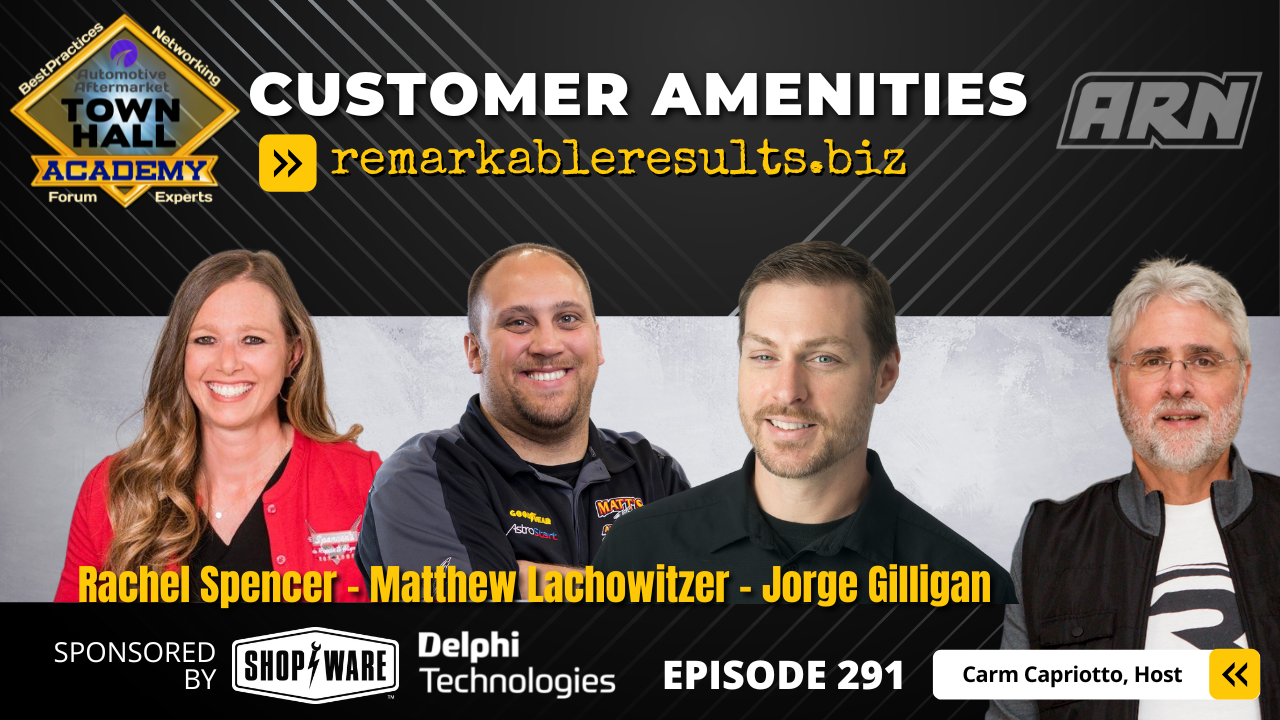 Customer amenities aren't just a snack bar and some coffee k-cups. It takes more to deepen a relationship.  My panel of shop owners goes beyond the free wifi and beverages to really wow their customers and make that lasting impression. Amenities are your ultimate marketing tool for your business. Take Note!
Watch the Episode on YouTube
Rachel Spencer, Spencer's Auto Repair, Krum, Texas. Rachel's Previous Episodes HERE
Matt Lachowitzer, Matt's Automotive Service Center, Fargo-Moorhead, North Dakota and Minnesota. Listen to Matt's previous episodes HERE
Jorge Gilligan, Revolution Motor Works, Finksburg, MD Listen to Jorge's Episodes HERE.
Key Talking Points
Why Amenities- loaner cars, coffee, tea, branded water bottle, free wifi, hand sanitizers, ice scrappers, little things make a big difference.
Customer experience- 'be so good they won't forget you,' it's your ultimate marketing tool. Customers expect the repair to be done correctly, but what gives them a lasting impression?
As an owner, show your team members and vendors the same amount of service as you do your guests
FORD- family, occupation, recreation, dreams
Any car seat gets a buckled bear in the car seat by technicians- notes are saved in a customer file
Wow Budget- empowered employees
Swag- normally under $1, $30-40 swag bag for VIP customers
"Any way you slice it, we're grateful for you" $1 pies for customers with VIP card
"Thanks for being the heart of our business" Valentine's day mug of treats
"Thanks for making our spirit's bright" Christmas Candle
"We like the way you roll; thanks for coming in." Tootsie roll
Here is a picture from Matt Lachowitzer. A welcome to his customer:
Connect with the Podcast
Check out today's partners:

Shop-Ware: More Time. More Profit. Shop-Ware Shop Management getshopware.com

Delphi Technologies: Keeping current on the latest vehicle systems and how to repair them is a must for today's technicians. DelphiAftermarket.com