Strategies to Communicate Pay: The Good, Bad and Ugly [THA 309]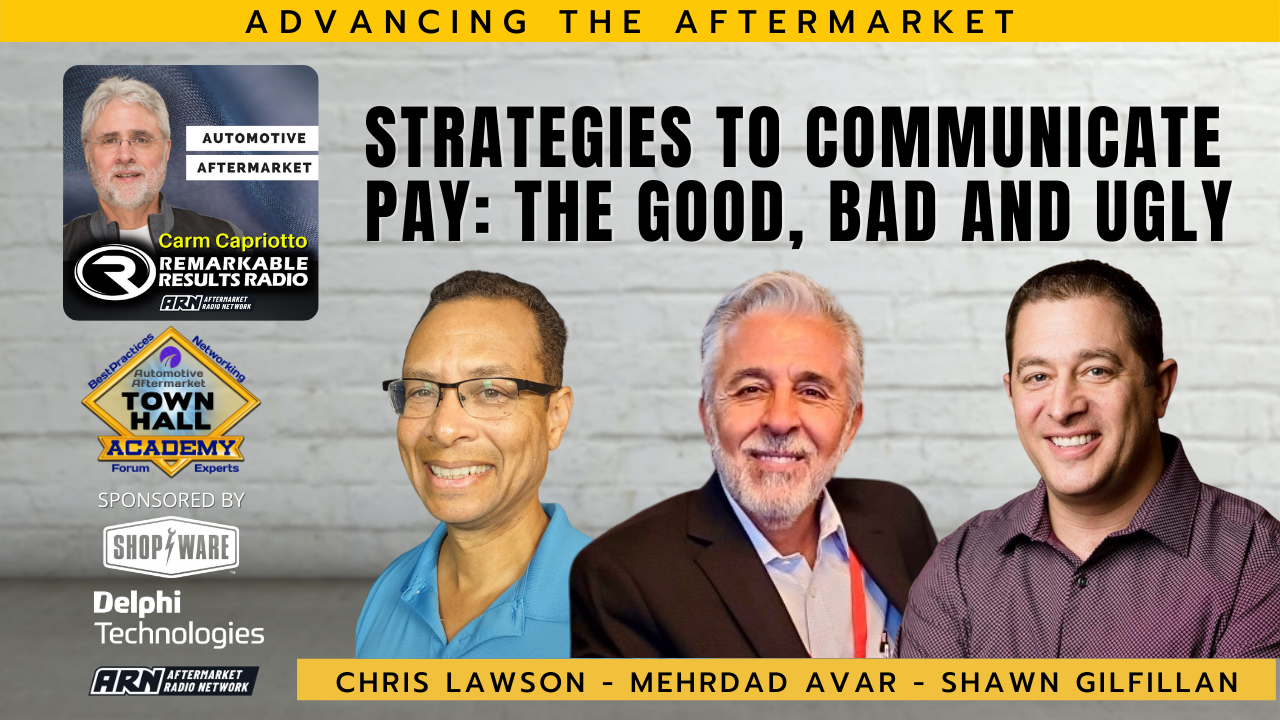 Join 3 industry peers as they share some great stories and wisdom about what works and what doesn't when talking about pay. Can you show how to earn the pay they want? How can you bring the team together when there are earning discrepancies?
Watch Episode HERE
Chris Lawson, TechnicianFind.Com. Chris' previous episodes HERE
Mehrdad Avar, Haven Auto Repair, Rancho Cucamonga, CA
Shawn Gilfillan, Automotive Magic, Kenvil and Lake Hopatcong, NJ. Shawn's previous episodes HERE
Show Notes:
When in doubt about what to list as pay in an ad, look at your top compensated tech and use that as a benchmark. 

Commitment to training- investment, not a liability, not a cost.

It's always best to put your best foot forward with respect to salary in an ad.

 "What's the highest pay level you feel comfortable having a conversation about?"

In other words,

"If you were sitting across your desk from a tech and they asked for that salary/compensation, do you feel comfortable having a conversation where you show them how they can earn that level of income?" (production and efficiency levels needed + salary, bonuses, profit sharing, etc.)

Changing the perception of your technicians not wanting to hire another. Asked, "Did your income get better or worse?" Sharing profit and loss, where and how the shop will continue to grow.

Make sure your salaries and job titles match up and are in alignment with market rates.(you can verify this on Indeed Hiring Insights)
As the owner- look at yourself from the inside out. Make yourself worthy of the top employees. What is the perception of your business from the outside? Your business is a reflection of yourself.
Interviewing technicians- you will spend more time at work than at home. Is 1-hour interview worthy of a 'marriage?' Listen closely to the interviewee's questions. Get your team involved in the process, and consider a trial period.
Comebacks- learning experiences with the whole team, quality control employee
Zero sum decision making- knowing what you know now, would you make the investment in XYZ, if you wouldn't make that decision again, move on.
Connect with the Podcast
Check out today's partners:

Shop-Ware: More Time. More Profit. Shop-Ware Shop Management getshopware.com

Delphi Technologies: Keeping current on the latest vehicle systems and how to repair them is a must for today's technicians. DelphiAftermarket.com