Doubles Sales to $2 million in 18 Months [RR 812]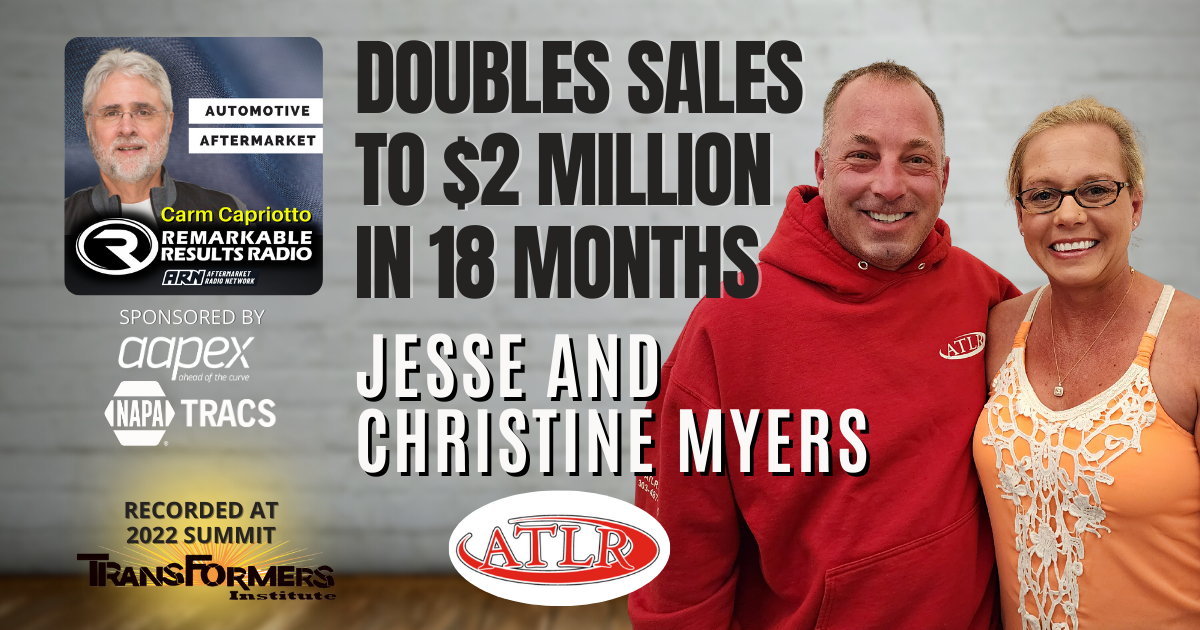 Recorded Live at the 2022 Transformers Summit with Jesse and Christine Myers. They joined a peer group and it changed their entire business, doubling their sales to $2 million in 18 months.
Jesse and Christine Myers, ATLR (All Toyota Lexus Repair), Arvada, CO.
Show Notes
Started in 2003, biggest growth was in 2019
Jesse became a master technician at Toyota 21 years old- quit Toyota because he wanted his own team. Worked on fleets overnight to keep account with WorldPac.
Joining peer groups changed their entire business
Won trip to Nashville from WorldPac- met Kim Auernheimer. Kim invited them to a Smart Group meeting in Texas and helped them increase their numbers so they could attend.
Chris stayed home with the kids- they had $3,000 per month for both personal and business. When their youngest went to school, Chris became a part of the automotive business.
2018 gross profit $375K and in 2019 just under 1 million- with 3 people total (2 techs and Kris). 2020-now is almost 2 million.
Defining roles and 'staying in your lane' with the help of Transformers Institute- who needs to be in the day-to-day operations (Jesse)? Who oversees everything as a whole (Chris)?
Looking to expand to multi shops in the next 5 years
Implementing change from the conference- working on goals together outside of the shop/house at a restaurant.
"We want to change lives"
3 different salary ranges- low, medium and high. Backwards math to find out how many labor hours per day to reach that salary. Attainable goals.
How to flourish- accountability, consistency and training. Chris and Jesse took their team and their spouses to dinner to explain their vision and how it will work. The spouses were very touched that Jesse and Chris cared so much for their lives.
Connect with the Podcast:
Check out today's partners:

Set your sights on Las Vegas in 2023. Mark your calendar now … October 31 – Nov 2, 2023, AAPEX – Now more than ever. And don't miss the next free AAPEX webinar. Register now at AAPEXSHOW.COM

NAPA TRACS will move your shop into the SMS fast lane with onsite training and six days a week of support and local representation. Find NAPA TRACS on the Web at NAPATRACS.com