Keeping Up with Technology [THA 333]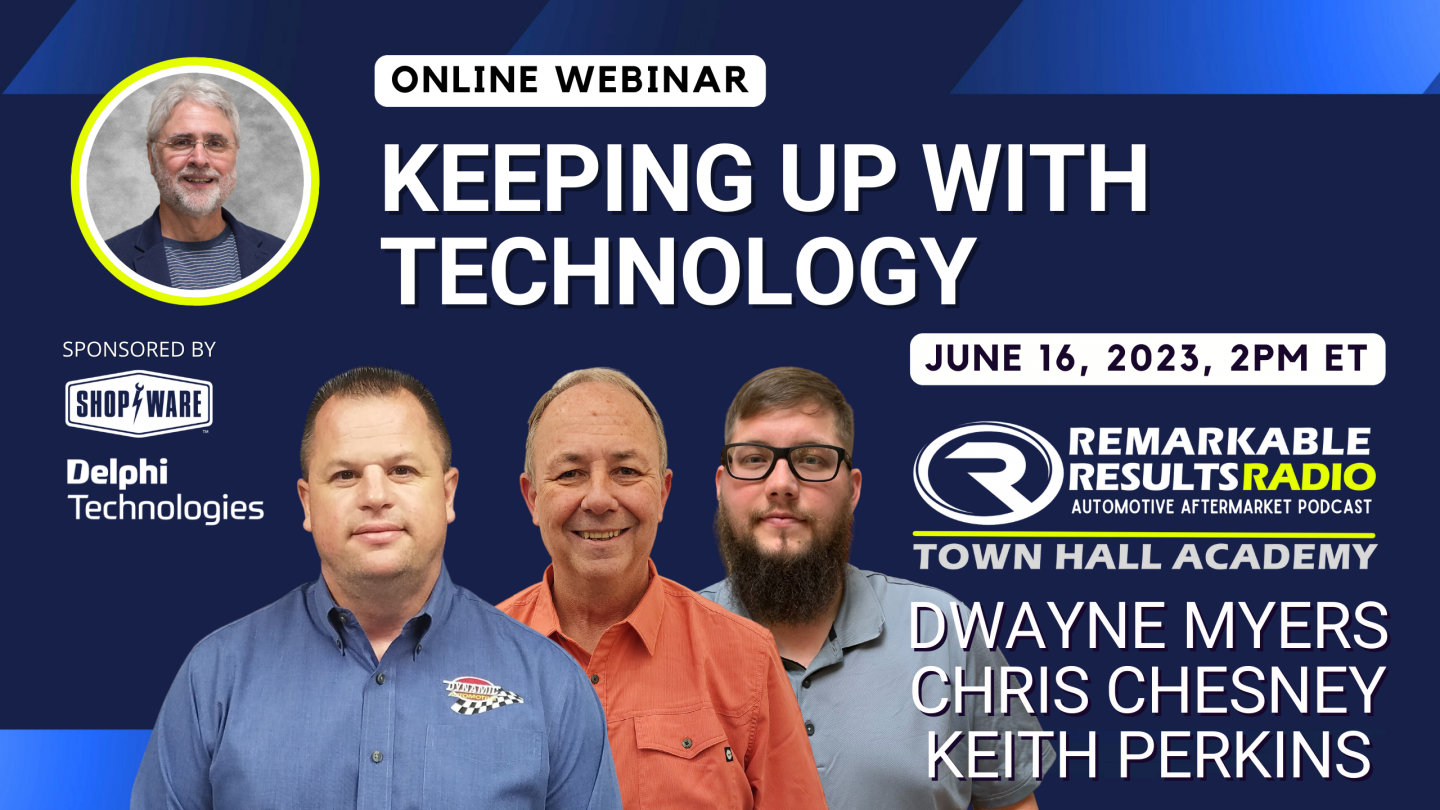 As technology continues to advance, it can be difficult for businesses to keep up with the latest tools and updates. This is especially important as it directly affects the quality of service provided to customers. Our panel discusses the challenges of keeping up with technology and shared their tips for staying ahead of the curve. They discuss the need for specialization, individualized training, and networking to solve problems and keep up with new tools and updates.
Dwayne Myers, Dynamic Automotive, 6 locations, Maryland. Dwayne's previous episodes HERE.
Chris Chesney, Training and Organizational Development, Repairify. Chris' previous episodes HERE
Keith Perkins, L1 Automotive Training, Listen to Keith's previous episode HERE.
Show Notes:
Watch Video Episode HERE
Specialization and networking (00:04:02) The panelists discuss the need for specialization and the difficulty of trying to do everything within one's own business. They also emphasize the importance of networking and building relationships with other professionals in the industry.
Specialized Training (00:11:51) The need for specialized training for technicians and the importance of catering to different learning styles.
Networking and Building Relationships (00:15:24) The panel emphasizes the importance of networking and building relationships with other professionals in the industry, and the need for technicians to engage in networking as an outside resource.
Creating Local Networks (00:17:25) The need for creating local networks for technicians to get together and talk about their trade, and how shop owners and trainers need to drive this direction.
Identifying deficiencies (00:19:13) The importance of recognizing where there are deficiencies in their knowledge and seeking out training or help to address those gaps.
Creating a diagnostic network (00:22:09) The panelists discuss the idea of creating a separate slack channel for technicians within a company to share knowledge and help each other troubleshoot.
Hiring for critical thinking skills (00:24:27) The importance of hiring individuals with good critical thinking skills and a willingness to learn, rather than just hiring based on technical expertise.
Budgeting for Scan Tools (00:27:14) Budgeting for scan tools and researching which tools to buy.
Thanks to our Partners Shop-Ware and Delphi Technologies
Shop-Ware: More Time. More Profit. Shop-Ware Shop Management getshopware.com
Delphi Technologies: Keeping current on the latest vehicle systems and how to repair them is a must for today's technicians. DelphiAftermarket.com
Connect with the Podcast
-Join our Insider List: https://remarkableresults.biz/insider
-All books mentioned on our podcasts: https://remarkableresults.biz/books
-Our Classroom page for personal or team learning: https://remarkableresults.biz/classroom
-Buy Me a Coffee: https://www.buymeacoffee.com/carm
-The Aftermarket Radio Network: https://aftermarketradionetwork.com
-Special episode collections: https://remarkableresults.biz/collections