How Do You Define Professionalism? [THA 340]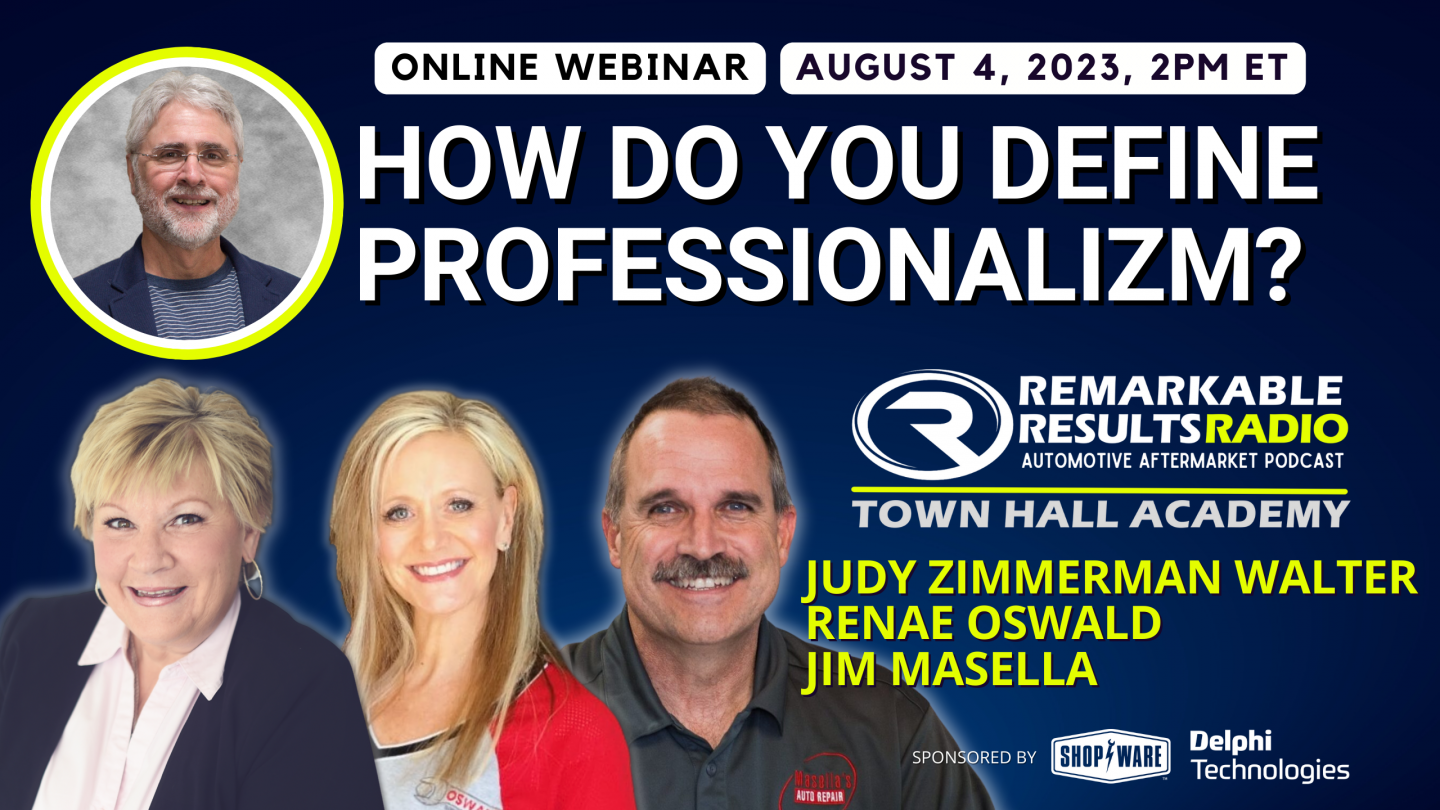 How do you define professionalism? It's not just about how we dress but how we act and conduct our business. In this episode our panel dives into how professionalism is key in the automotive industry, and how it affects our businesses. They discuss the impact of professionalism on customer perception and satisfaction, and share personal experiences of creating a positive and welcoming environment in their auto repair shops. By prioritizing both the physical appearance and the customer experience, auto repair shops can set themselves apart and create a loyal customer base.
Judy Zimmerman Walter, Zimmerman's Automotive, Mechanicsburg, PA. Listen to Judy's other episodes HERE.
Renae Oswald, Oswald's Service, Idaho Falls and Rexburg, Idaho.
Jim Masella, Masella's Auto Repair, Venice, FL.
Show Notes:
The importance of culture in professionalism (00:03:20) Discussion on how a healthy culture of professionalism is crucial for retaining great technicians and employees.
Believing in professionalism and living it (00:05:34) Exploration of the belief that living the values of professionalism is essential for attracting the right people and running a successful business.
Customer service as a foundation for business success (00:07:57) Prioritizing customer service and building a strong customer base can lead to business growth and reduce the need for extensive marketing efforts.
The importance of professional appearance (00:10:14) Dressing professionally and the impact it has on customer perception and respect.
Adapting to societal changes in appearance (00:11:17) Exploration of how societal norms and personal choices in appearance can vary depending on location and customer demographics.
The importance of leadership in setting an example (00:20:50) Discussion on how the leader of an organization sets the tone for professionalism and accountability.
Being accountable as a leader (00:21:30) Leaders should hold themselves to the same standards they expect from their team and take responsibility for their own actions.
The connection between pride, professionalism, and image (00:25:48) Highlighting the relationship between being proud of one's work, maintaining professionalism, and the importance of image in the automotive industry.
The importance of a well-designed bathroom (00:29:46) Updating the bathroom in an automotive shop can make a significant impact on customer experience and perception.
Creating a pleasant smell in the shop (00:30:53) Using aromatherapy and pleasant scents can improve the overall atmosphere of the shop and make it more appealing to customers.
The significance of happy and welcoming staff (00:34:46) Having a team that is genuinely happy and welcoming can greatly enhance the customer experience and make them feel valued.
The Inspiration and Gratitude (00:39:32) Expressing gratitude to the guests for their inspiration and thanking them for being on the podcast.
Thanks to our Partners Shop-Ware and Delphi Technologies
Shop-Ware: More Time. More Profit. Shop-Ware Shop Management https://getshopware.com/
Delphi Technologies: Keeping current on the latest vehicle systems and how to repair them is a must for today's technicians. http://DelphiAftermarket.com
Connect with the Podcast
-Join our Insider List: https://remarkableresults.biz/insider
-All books mentioned on our podcasts: https://remarkableresults.biz/books
-Our Classroom page for personal or team learning: https://remarkableresults.biz/classroom
-Buy Me a Coffee: https://www.buymeacoffee.com/carm
-The Aftermarket Radio Network: https://aftermarketradionetwork.com
-Special episode collections: https://remarkableresults.biz/collections